08 May 2023

Secretary Slater to deliver Clinton School commencement address

Posted at 6:11 PMh

in

News

LITTLE ROCK — Secretary Rodney Slater will deliver the commencement address to the Clinton School of Public Service's graduating class of 2023 on Saturday, May 20.

The commencement ceremony begins at noon and will be held in the Great Hall of the Clinton Presidential Center.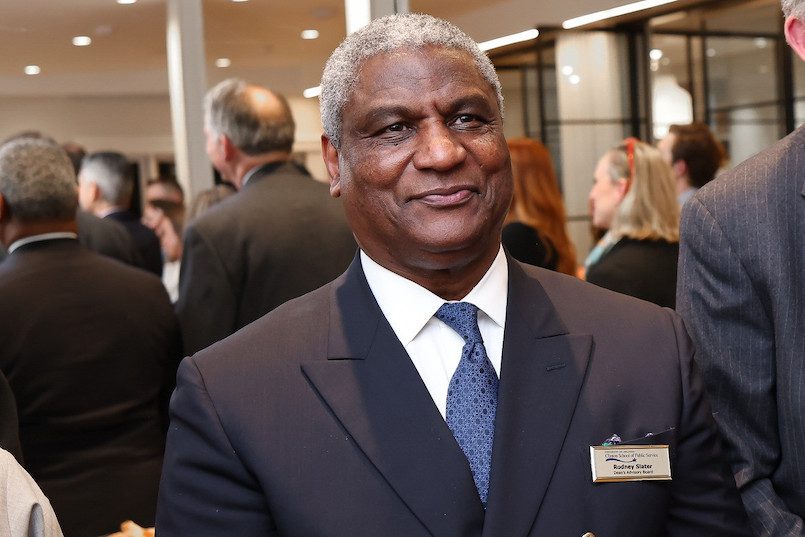 "President William Jefferson Clinton said in the opening paragraphs of his first inaugural address, 'There is nothing wrong with America that cannot be cured by what is right with America,'" Secretary Slater said. "I am honored to serve as the 2023 Commencement Speaker at the University of Arkansas's Clinton School of Public Service, which is committed to testing this proposition through the rigorous encouragement and education of gifted students and the engagement of dedicated faculty."

Secretary Slater, who served as the United States Secretary of Transportation under President Bill Clinton from 1997 through 2001, is now a partner at Squire Patton Boggs, co-leading the international law firm's transportation, shipping, and logistics practice.

"All Clinton School graduates aspire to create impact in their careers, and the impact Secretary Rodney Slater has had personifies the power of public service," said Dean Victoria M. DeFrancesco Soto. "From leading the U.S. Department of Transportation to his numerous roles in Arkansas under then Governor Bill Clinton, Secretary Slater's career impact is unique and outstanding. We are honored to have him as our commencement speaker."
Secretary Slater's practice focuses on many of the policy and transportation objectives that were set under his leadership, including automobile use and development, aviation competition and congestion mitigation, maritime initiatives, high-speed rail corridor development, and overall transportation safety and funding. 
As U.S. Secretary of Transportation, Secretary Slater passed several historic legislative initiatives over his tenure, including the Transportation Equity Act for the 21st Century (TEA-21), which guaranteed a record $200 billion in surface transportation investment through 2003, and the Wendell H. Ford Aviation Investment Reform Act for the 21st Century (AIR-21), which provides a record $46 billion to improve the safety and security of the nation's aviation system. 
Slater previously served as administrator of the Federal Highway Administration, where he oversaw development of an innovative financing program resulting in hundreds of transportation projects completed ahead of schedule and with greater cost efficiencies. 
Secretary Slater is a member of the inaugural Clinton School Dean's Advisory Board. He earned his bachelor's degree at Eastern Michigan University and J.D. at the University of Arkansas, Fayetteville.