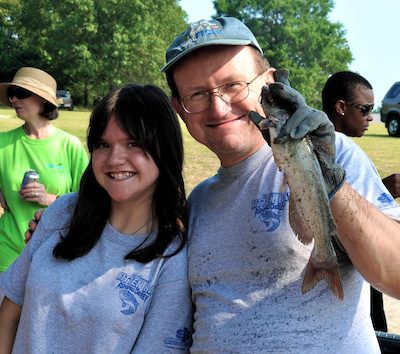 22 Jul

School receives grant for fishing pond

Young people will now have a unique opportunity to enjoy the outdoors and learn to fish thanks to the "Hooked On Fishing, Not On Drugs" (HOFNOD) Program and the Arkansas Game and Fish Commission.

Carl Stuart Middle School in Conway applied for a $75,000 grant to create the fishing pond on campus.

Tammy McCollum, a career orientation teacher at CSMS, has been working on the project since October 2008. While attending a professional development workshop, she learned that federal money was available to build a pond.
According to McCollum, with a pond on campus, students can be involved in a fishing club and derbies and learn fish anatomy, identification, water ecology, habitat and human impact studies. The AGFC fishing program also promotes and educates about the sport of fishing and stewardship of aquatic resources while presenting fishing as a positive alternative to drinking and drugs.
The pond – named Kitten Bay – is 0.83 acre in size with a boardwalk that includes a shaded area in the middle for teachers to use as an outdoor classroom or the public to use as a place of shade during fishing.
The pond is open to the public with hours posted. Groups are welcome to host fishing derbies, and the pond will be stocked free of charge before each event. For more information, please contact McCollum at [email protected].
"My administration at this school has been very open to the idea, as well as my superintendent, Dr. Greg Murry," McCollum said. "A special thanks to Chief Bart Castleberry for overseeing the fill of the pond, and to Richie Arnold, chief executive officer at Conway Corporation, for giving the water to our school to fill it."
Carl Stuart Middle School held a fishing derby to officially open Kitten Bay. Sen. Gilbert Baker made the first cast.

Fishing derby winners:
First catch – Luke Murphy
Largest fish – Hailey Hughes
Smallest catch – Cathleen McNutt
Longest fish – Hailey Hughes
Shortest fish – Chase Tucker
Most colorful fish – Paige Ashcraft
Resembles Wampus Cat – Nick Alexander
Longest whiskers – Alex Kinney
Resembles Principal Harvey Benton – Victoria Kio
Ugliest Fish – Thomas Favre
Mr. Marlow's TWIN Fish – Jesus Martinez

Trophies were donated by Central Arkansas Trophies & Awards. 501 LIFE participated in the event by distributing magazines and assisting with the awards presentation.