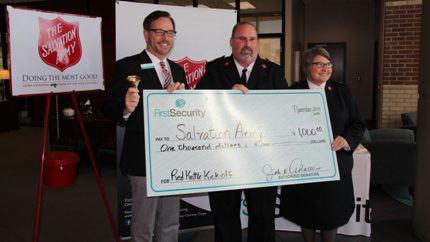 17 Nov

Salvation Army kicks off giving season

First Security Bank in Conway helped kick off the 2014 Red Kettle Season for The Salvation Army with a $1,000 donation.

The season began at 10 a.m. Monday.


"We appreciate the bank allowing us to do the kettle kickoff here," said Salvation Army Major David Robinson, thanking First Security for its support.

The goal for this year's campaign is $100,000. "We're hoping to do more than that but people are recovering from the tornado and other things going on this year," Robinson said. "We just want them to get back to normal, whatever normal is, and this is a good way that we can help do that."
Volunteers are needed to man the Salvation Army kettle at local businesses as well as sort Angel Tree gifts.

For more information about The Salvation Army of Conway or to make a donation, call 501.329.1712 or visit the office at 2125 Harkrider St., Suite 12, in Conway.