09 Feb 2022

Rudolph expanding impact for Perryville

By Levi Gilbert

As the district tournament looms, Alyssa Rudolph and the Perryville Lady Mustangs are staying focused on what they can control.

"We hope to make it to state," Rudolph said. "This is a reasonable goal for our team as long as each member does their part and understands that they are valuable and needed for success."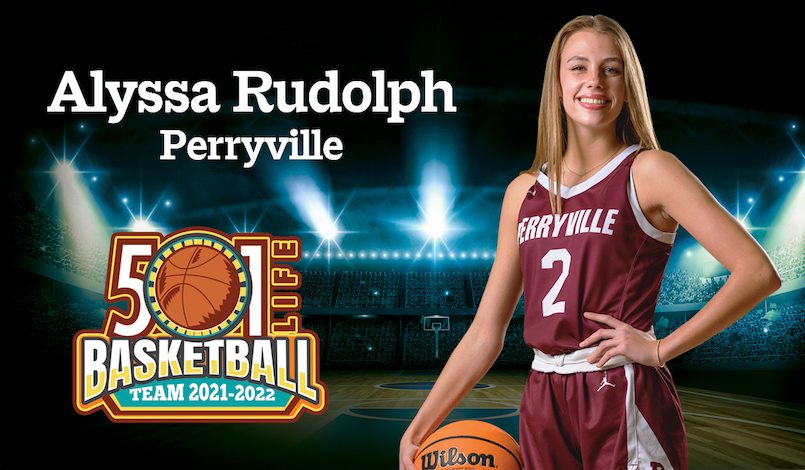 Rudolph, a junior point guard for the Lady Mustangs, earned all-conference honors last year as a sophomore. This year, she set goals on personal improvements (for example, shooting 80 percent or higher from the free throw line), but her focus went beyond just the scoreboard.
"My goal is to continue to be a humble player while trying to score more," Rudolph said. "I would love to be remembered as someone who simply worked hard every chance I earned to be on the court. My favorite thing about basketball is what I learn from that sport and being able to do something I love for my God."
Rudolph was selected to this year's 501 Basketball Team — 40 players representing the best the 501 has to offer both on and off the court. The team is sponsored by Velda Luders of Coldwell Banker RPM Group, Moix Equipment and Toy Company, Conway Regional Health System and First Security Bank. She was nominated by her head coach, Troy Denn.
"Alyssa gives a 110 percent every day," Denn said. "She leads by example, and she is willing to do whatever it takes to make the team better. She is our best defender, and she has great court vision. She is the definition of a team player.
"Alyssa drives almost an hour every day to school, and she is never late to 7 a.m. practices."
Rudolph has previously won the 3A-5 district cross country meet and finished fifth in the 3A state tournament meet last year. She was also named all-state in cross country. She also plays softball for Perryville. Beyond athletics, Rudolph participates in Fellowship of Christian Athletes; Family, Career and Community Leaders of America; Beta Club; Future Business Leaders of America; Spanish club and chess club.
Her plans after high school are to attend the University of Arkansas and pursue a nursing degree with the ultimate goal of becoming a nurse anesthetist. 
"If you honestly keep a positive attitude and trust God no matter how hard it gets, then life will be full of opportunities instead of disappointments," Rudolph said.

Latest posts by Levi GIlbert
(see all)