29 Dec 2019

Robotic technology in surgery growing in Faulkner County

Posted at 6:03 PMh

in

News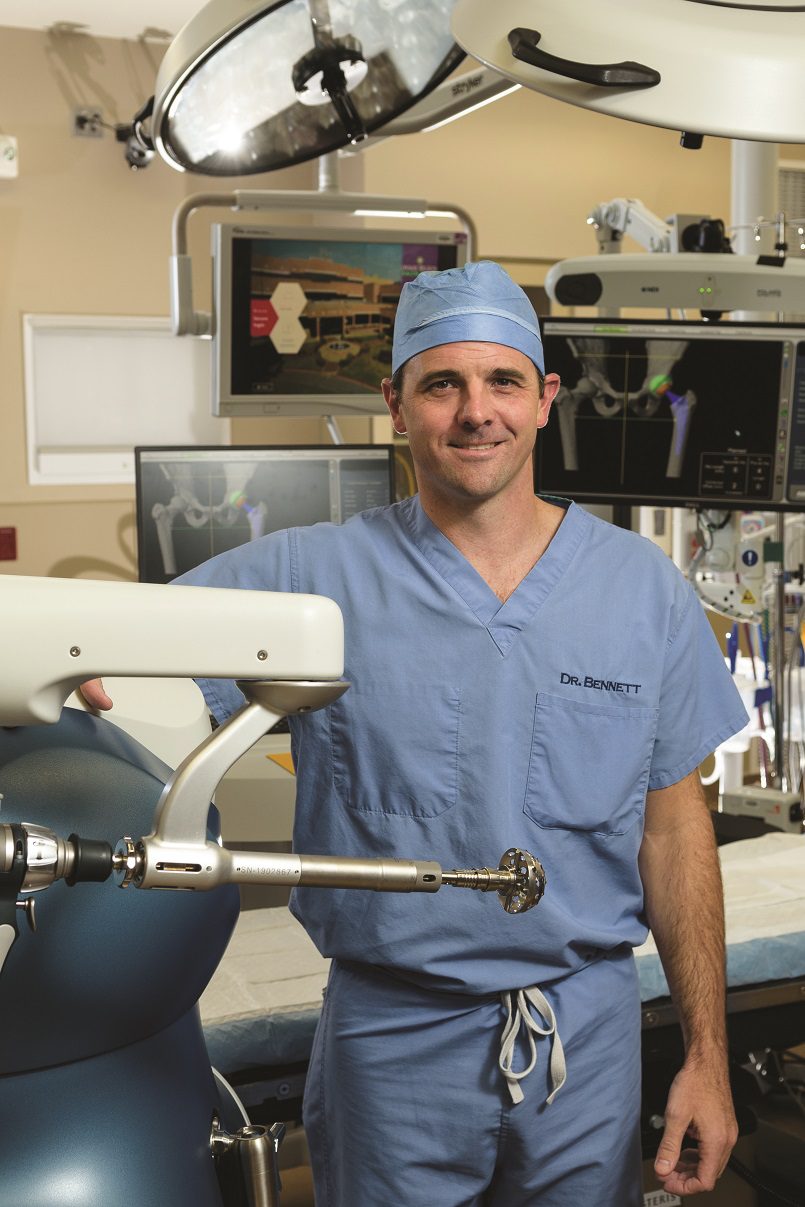 Since Mako robotic arm-assisted technology arrived in Faulkner County last September, the number of knee and hip replacements using the surgery system has steadily increased.
More than 400 total Mako procedures have been performed, including about 300 total knee replacements, according to information provided by the manufacturer and Conway Regional Health System. Conway Regional is the only hospital in Faulkner County, and one of only a few in Arkansas, offering Mako robotic arm-assisted joint replacement.
Mako is a new approach to joint replacement that offers the potential for more precise, customized positioning of implants for each patient. A CT scan of a knee or hip is uploaded into the Mako System Software, where a 3D model is created. This 3D model is used to pre-plan and assist surgeons in performing a knee or hip replacement.
The surgeon can then proceed with or adjust that plan once in the operating room by controlling the robotic arm that helps execute the procedure with greater precision and accuracy.
The Mako has advantages over the traditional manual replacements, according to Dr. Grant Bennett, an orthopedic surgeon with Conway Orthopaedic and Sports Medicine Clinic. Bennett, along with surgeons Dr. Tod Ghormley and Dr. Scott Smith, have performed knee and hip replacements using the Mako for more than a year.
"I believe in the technology," said Bennett. "If I were going to have my knee replaced, this is the way I would choose to have it done." Bennett has performed numerous orthopedic procedures over the past seven years. 
"From my patients' perspective, the only difference they will notice is that the CT scan will be performed preoperatively; the incision will look the same and we will use the same implants," he said. The Stryker Triathlon Total Knee Package has an excellent 10 plus-year data record in the replacement market, he added.
The advantages from a surgeon's perspective are the precision and intra operative customization provided by the Mako. Many times, that precision enables Bennett and his colleagues to remove less bone or decrease the amount of soft tissue trauma. "For many patients, this may translate into improved range of motion and less time on crutches or a walker," Bennett said, adding that the majority of his patients return home the day after surgery.
Another advantage from a community perspective is the accessibility of this technology with having three surgeons performing Mako procedures at Conway Regional. "I tell my patients that we have the innovative Mako technology in Faulkner County and it's providing excellent results in joint replacement surgery."
Bennett joined Conway Orthopaedic and Sports Medicine Clinic in August 2012 after completing a Sports Medicine Fellowship at Steadman-Hawkins Clinic of the Carolinas. He holds a medical degree from UAMS and completed his Orthopedic Surgery Residency at Greenville Hospital System University Medical Center in Greenville, S.C. He is a board-certified orthopedic surgeon. 
After he completed his fellowship training, Bennett was looking for a new home for his family and practice when a relative encouraged him to check out the Faulkner County community. "It's a great place to live, especially with all the growth that is taking place here," he said. In his spare time, Bennett enjoys spending time with his wife, Meg, and their two children and participates in a number of sports and outdoor activities.
In addition to general orthopedic surgery, his professional interests include the prevention and treatment of sports-related injuries and involvement with the athletic programs at Conway Public Schools, Conway Christian, Greenbrier and Vilonia, as well as Hendrix College, the University of Central Arkansas and Central Baptist College.