21 Dec 2019

Renovation: Church building 'feels like home'

Posted at 4:43 PMh

in

Home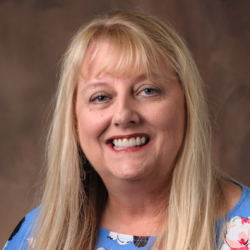 Latest posts by Sonja Keith
(see all)
Jodi and Jeff Pryor have a gift of seeing the potential in a structure and applying their talents to make a space their own. The couple bought a United Methodist Church in Bigelow that was built in 1908 and converted it into their home.
Jodi and Jeff were high school sweethearts. Jeff was born in Texas and Jodi in Tulsa. Both were raised in southeast Oklahoma and met in 1985 at Panola Public School in Wilburton. "We started dating at 16, got married in 1990 and have been together ever since," said Jodi. 
A job transfer for Jeff brought the couple to Arkansas in 2001. In 2007, Jeff started his own business, Advance Fleet Management in Little Rock. It is a trucking company and a diesel repair shop for corporate fleets. "I have been an accountant and business teacher for years, but this year started my own company, Blue Wren Logistics, as a freight broker," said Jodi.
The couple has two sons, Jarin and Justice. They were living in Alexander when they decided it was time for a change. "The boys were getting ready to move out and we wanted to downsize. Jeff, just on a whim, looked at realtor.com for listings under $50,000 within a 30-mile radius of Little Rock," said Jodi. "He saw this church building, was intrigued and we asked for a showing. We've always enjoyed remodeling/fixing up any homes we've bought, and this was no exception. 
"It is the most intensive remodel we've ever done!"
The church building is about 2050 square feet and sits on five city blocks. Jeff describes it as a "cottage church" that was built when Bigelow had three lumber companies. He said the lumber for the building was all rough cut.
"It had been let go for some time," Jeff said, describing the condition of the building.
"We believe the last service held in this church building was 2001. No one has been able to tell us for certain," said Jodi. "Another couple had purchased it with hopes of doing something with it, but never did, so they listed it."
The couple purchased the property in October 2016.
"We didn't start doing anything on it until spring 2017, and took it slowly. I designed it all and later decorated it all. It was different than anything I'd designed before, so I wanted to take my time and let the ideas come to me."
"Jodi is a real good designer," Jeff said. "She does a good job making it feel homey."
Jodi drew inspiration for the renovation by sitting in a lawn chair in the middle of the former sanctuary, turning in every direction and thinking about what they wanted in a house. Pinterest and Houzz were also helpful.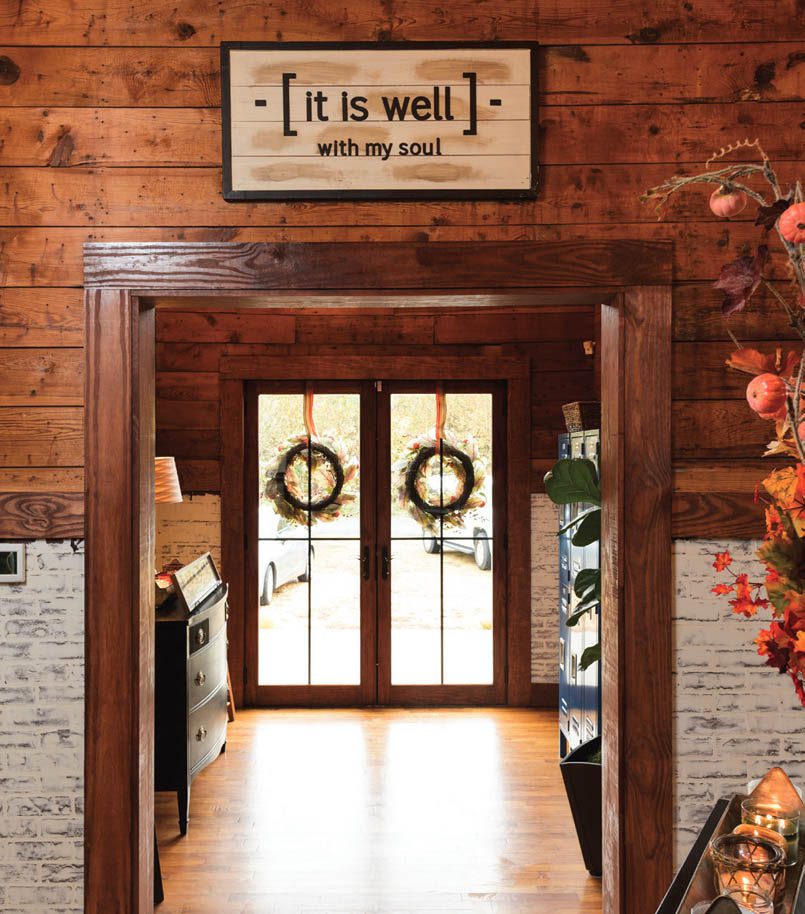 "We had a handyman do some of the remodeling in 2017. We hired licensed electricians and plumbers for those specific areas," Jodi said. 
The couple listed their house in Alexander in April 2018, thinking it would take about six months to sell. "We had a full price offer within 48 hours," said Jodi. "We had to move much faster at that point! Jeff and I then did a lot of the work ourselves." 
Windows and doors for the structure were custom made. The original chandeliers were in bad shape but the couple was able to incorporate them into their plans. The wood floors had been stained a blonde color and the Pryors restored them to their original color.
Structurally, a wall was added in the former sanctuary area to create a master suite. The couple also went with a metal roof.
When they acquired the property, Jodi and Jeff discovered some things left from when the building was a church, including pews and hymnals. The 1886 church bell, made in St. Louis, was still in the bell tower. It was removed and placed in the living area.
Jodi's creativity shines through in several features in the home. She relocated the doors that were in the foyer to use as an art element above the copper tub in the master bathroom. One of the pews found in the building was taken apart to create a mantle. She also cut sections of the original floor, which was replaced in the master bedroom, to create two unique art pieces. "That was a fun little project," she said.
In addition to the renovation work, the couple added a detached garage and a shop building.
The most challenging aspects of the renovation were related to the age of the structure. "We had to realize and accept the fact that this was most definitely built over 100 years ago and it was a community project – thus, nothing is square or plumb," said Jodi. "We had to be ok with that."
Still, Jeff said the craftsmanship and quality of the wood products is evident. "It's really built well," he said.
The Pryors bought the property for $30,000 and have put about $70,000 into it. While it is nearly finished, they have plans for landscaping, privacy fencing and paving the driveway/parking area.
Jodi and Jeff have had a few visitors who recalled when the structure was a church. They have been pleased to see the old church revitalized.
Jodi and Jeff are especially pleased with the results of the renovation and have settled in to their home. "I love walking into my house every day," said Jodi, adding that it doesn't feel like a church. "We respected the history and architecture of the premises, but had the liberty to make it our own. We kept the 13-foot ceilings in the former sanctuary and made it what I like to call our Great Hall. We have an open concept living/dining/kitchen. I really like the ceiling height, original hardwood floors and original chandeliers.
"It feels like 'home.'" 
Jeff's favorite thing about the home is the "quiet, country living" that Bigelow offers. 
"A huge plus, though, is we're only 14 miles from Conway, where we can get basically anything I need," added Jodi.
For others considering similar renovations, Jodi has good advice. "People can make a home out of unconventional structures," she said. "Don't put yourself in a box and think it can only be done one way. If you have vision and determination, you can accomplish anything."