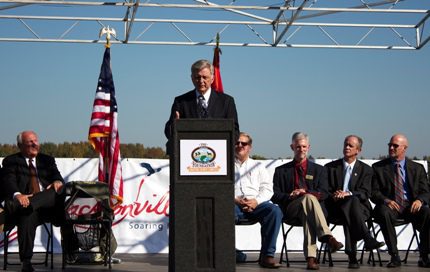 17 Oct 2012

Premier shooting range to be built in Jacksonville

The Arkansas Game and Fish Foundation, in partnership with the Arkansas Game and Fish Commission and the City of Jacksonville, announced plans for a state-of-the-art shooting range facility to be built in Jacksonville.

The facility will be used for shooting sports and archery, and will be the largest of its kind in the state with 13 ranges and room for expansion. A groundbreaking ceremony was held this week at the site, attended by supporters of the range mission and Gov. Mike Beebe. The range will be called the Arkansas Game and Fish Foundation Shooting Sports Complex.


"We are very pleased to announce the groundbreaking for this one-of-a-kind facility," said Bobby Martin, current chairman of the Arkansas Game and Fish Foundation. "Upon completion, this will be the premier shooting range facility in the state."


Arkansas leads the nation in shooting sports participants, thanks largely to the Arkansas Youth Shooting Sports Program (AYSSP), which is an Arkansas Game and Fish Commission program. More than 7,000 students participate in the program each year. Teams are made up of participants from both public and private schools, 4-H and other community organizations. The junior division is made up of sixth through eighth grade students, and the senior division is made up of freshmen through seniors. The Arkansas Game and Fish Commission will utilize the range for activities and tournaments.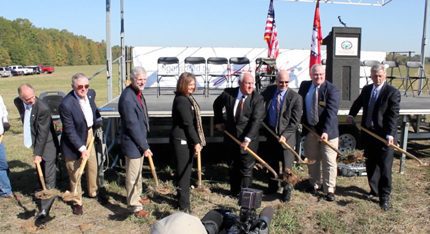 Jacksonville Mayor Gary Fletcher said, "This range is going to be a tremendous asset to Jacksonville and the state of Arkansas, and we are excited to be a part of such a large project. The City of Jacksonville has donated the land for this fine facility and fully supports this initiative."

A capital campaign will be launched in early 2013 to support the plans for building the facility. The Game and Fish Foundation is funding the project, along with contributions from the capital campaign. Bond Engineering is developing the site and Wittenberg, Deloney and Davidson Inc. is the architectural firm designing the complex.

"Now more than ever, it is important that we provide our young people with the space to learn about shooting sports, archery, hunting and fishing, and this range facility is a gateway to a lifelong path of enjoying these things," said Martin.