05 Jan 2022

Peterson provides encouraging presence for Lady Warhawks

By Levi Gilbert

It was no easy task for Piper Peterson to get back on the court this season, but the senior isn't afraid to put in the hard work to achieve her goals.

Peterson, a 6-foot-2 post player for Mt. Vernon-Enola, has returned from a season-ending injury a year ago to help push the Lady Warhawks to an 18-2 record as the new year begins.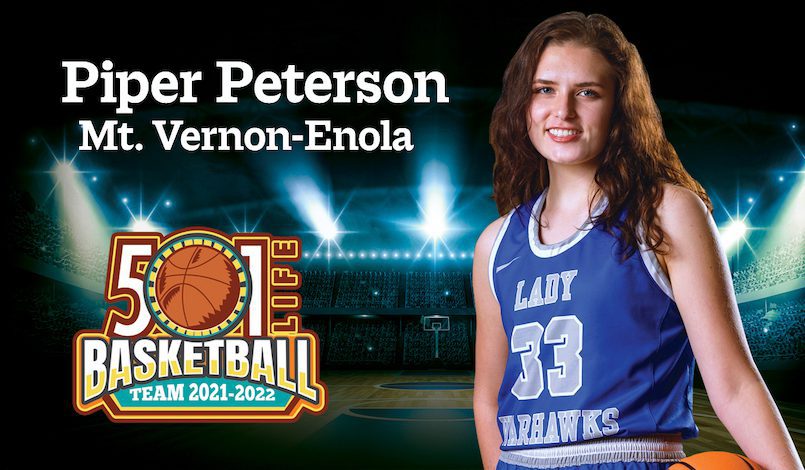 "Last year, I dislocated my left knee for the second time, and I ended up having to have two surgeries in order to fix that," Peterson said. "So, coming back and being ready to play was a challenge that I had to overcome. I want to be remembered as a hard worker and to be able to be the best asset to my team."
Peterson was selected to this year's 501 Basketball Team — 40 players representing the best the 501 has to offer both on and off the court. The team is sponsored by Moix Equipment and Toy Company, Conway Regional Health System, First Security Bank and Velda Luders of Coldwell Banker RPM Group. The senior was nominated by her head coach, Adam Carlton.
"Piper is a very hard worker," Carlton said. "At 6-foot-2, she does a great job protecting the rim. She is always encouraging others. Even when she was hurt, she was always a voice on our team. We look for her to help us out on rebounding and being a physical presence inside."
As 1A-4 conference play picks back up this week for the Lady Warhawks, Peterson and her teammates look to continue their perfect 6-0 conference record on the road at Wonderview (18-4, 5-1).
"Overall, we are a young team, so the big goal this year for us is to learn how to adapt to different situations quickly," Peterson said. "We do this by playing teams who use a variety of defenses, and we practice what to do in different situations as well."
Off the court, Peterson is involved in Beta Club and Future Business Leaders of America at Mt. Vernon-Enola High School. In her spare time, she has recently started diving into classic novels like Anna Karenina, Jane Eyre and Dracula. When she's not protecting the rim for the Lady Warhawks, she can usually be found on the farm with her family.
"My inspiration comes from my family," Peterson said. "They have always supported me. My dad, especially. He would drive me to practices and games, and he would help me practice outside of school even when it was late."
Peterson plans on continuing her education after high school by attending college and pursuing a medical degree.
Mt. Vernon-Enola picks up 1A-4 conference play at Wonderview at 6 p.m. Friday, Jan. 7.

Latest posts by Levi GIlbert
(see all)