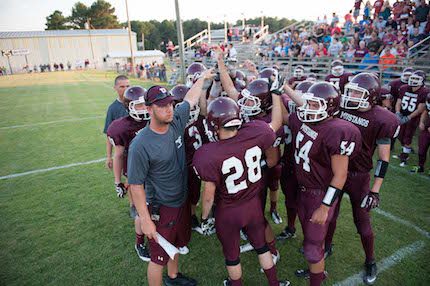 12 Aug 2014

Perryville: Mustangs riding ground game to success in 2014

Conference: 2-3A
Coach: Ed Baker
'13 Record: 3-7 (1-6)

The Perryville Mustangs gained ground in 2013, making strides across the board. It may not have always shown up in the win column, but Ed Baker's crew is on the upswing.

"[2013] was better than the previous season," Baker said. "We went from one to three wins and were a few plays away from two to three more wins."


According to Baker, Perryville's defining moment came in Week 3. "We had a last-second loss to Subiaco," Baker said. "Our senior class pulled the team together and displayed outstanding leadership."


The Mustangs return three starters on both sides of the ball.
One strength for Perryville last year was the team's rushing attack, which accumulated more than 2,500 yards. Kyler Gossett and Cory Ireland both return in the backfield at running back. Gossett rushed for 893 yards and eight touchdowns on 84 carries, and Ireland rushed for 837 yards and seven touchdowns on 170 carries. Ireland is also a member of this year's 501 Football Team — he's the first Mustang to be named to the team.

"We expect Cory to be a leader, not only for his playing ability, but also by how he carries himself," Baker said. "He has a positive, outgoing personality that lends itself to people wanting to follow him."
Junior Dalton Everett returns at linebacker after recording 67 tackles in 2013. Senior Tyler Wood and junior Jacob Hill will be two Mustangs to keep an eye on — they will see action on both the offensive and defensive lines.

"Offensively we expect to be more efficient passing," Baker said. "Defensively we expect to be better in pass defense. Our work ethic and attitude are strengths. Our weaknesses are a small senior class and lack of depth."