23 Jun 2019

Patient advocate: Nurse recalls changes in health care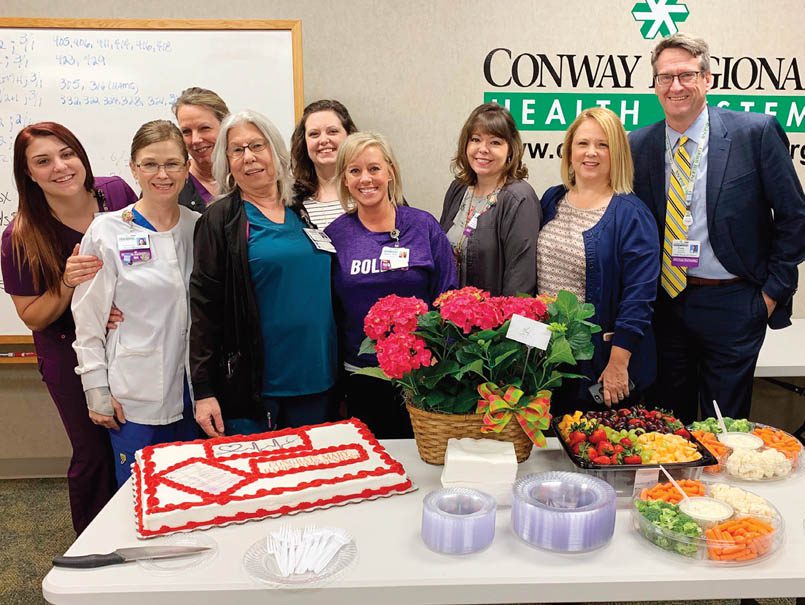 by Sonja J. Keith
While Mary Hagenlocker has seen many changes in health care since she began work in the 1970s, her love for patient care has remained constant throughout her career.
Conway Regional Health System recently celebrated Mary's service at a retirement reception in her honor.
Originally from North Little Rock, Mary attended the University of Central Arkansas after she graduated from high school. Mary, who started working when in the eighth grade, said she originally planned to be a secretary, and it is only by chance that she found her career in the healthcare field. "I loved it," she said of her nursing training. "I thought it was the best thing I ever did."
Mary, who is an RN, started at Conway Regional Medical Center in 1973. She left for a few months in 1977, but returned to the Conway hospital in 1978. "They were short on charge nurses for the critical care unit. That's what I loved, and that's what I did," she said. "I loved the action of critical care…When you are young, you want to learn everything."
Mary said patient care was different during the early years of her nursing career with many and varied responsibilities.
In the early 80s, Mary became certified in advanced cardiac life support and was probably the first at Conway Regional. She also learned to read the cardiac rhythms and what drugs to administer because when a patient went into cardiac arrest, an RN led the code until a doctor responded and took over.
In 1992, Mary went into nursing administration. In the mid-90s, she helped develop the hospital case management program at Conway Regional, an area she has enjoyed working in until her retirement. Describing the position as a patient advocate, Mary said she worked with the doctor on discharge planning and identifying what the patient would need when returning home. She also helped ensure the patient was placed correctly in the system for insurance reimbursement.
"That's probably the fun part, dealing with the patients, but the others are necessities," she said. "I think most nurses are patient advocates – that's why you do it."
Mary said during her years as a nurse "making things better for patients" has been what she has enjoyed most. "That's the best thing about it. It is knowing that you were able to take care of someone, the hugs from family, the appreciation that they knew you did everything possible. Sometimes it worked and sometimes it didn't, because in my areas you saw happiness and you saw death." She added there was a lot of satisfaction in knowing the best care was provided to the patient. 
Today, the challenge is with insurance. "We are trying to give that same patient care and deal with insurances," she said. "That's a tough challenge. You can take the challenge of caring for the patient the right way and giving them the right drugs, (but) it's being told by insurance what to do that is the biggest challenge. They change the rules every six months. It changes constantly."
There have been significant advances in treatment, Mary noted. She said treatment for a cardiac patient was limited, but today, at the Conway Regional cath lab, problems are detected and addressed. "That's just the greatest improvement, being able to stop that MI (myocardial infarction) from doing damage is fantastic. And we do it very quickly here."
Mary has seen many changes at Conway Regional, including the addition of the patient tower and physician specialists.
There has also been growth. Mary recalls that in the 1970s, there were three nursing units and a six-bed critical care unit. In the mid-1980s, when she became a supervisor, there were 12 CCU beds and 14 in stepdown. "It was such an improvement over what we had before."
Today, there are 12 CCU beds, five in the cardiovascular intensive care (CVIC) and 34 stepdown beds. The hospital has five nursing units in addition to the groups at the women's center and in transitional care. "We have grown tremendously."
Mary, who will be 68, said she woke up one morning and decided it was time to retire. "I intend to do everything we do on the weekends during the week so on the weekend we can play," she said of spending time with her husband, Matt. 
Their daughter, Megan, lives in Fort Worth, and hopes that she and her mom can meet in Texarkana for visits. 
Retirement will also provide more time for other activities that Mary enjoys, including painting, crafts, gardening, cooking and sewing. "I have enough stuff to keep me busy."
Mary said she will miss most her co-workers and the patients. "The staff in case management, we're very close. It's fun. We help each other out. If someone is busy, we see who we can help. It's a team," she said. "I'm going to miss them very much."
Mary said she isn't big on goodbyes and was hoping to leave without any fanfare, but a retirement reception was held in her honor. "They wouldn't let me go out quietly, I tried," she said with a smile. "It's been wonderful. It's like family. The doctors are great. They are great to work with and always have been."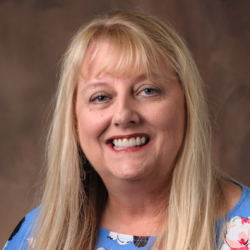 Latest posts by Sonja Keith
(see all)