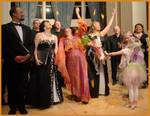 13 Aug 2010

Opera Gala Features "Viennese Ball" Theme

"Ball gowns and masks are optional, but fun is guaranteed during the Gala, which has 'A Viennese Ball'; as its theme,"; said Hot Springs philanthropist Dorothy Morris, who along with fellow benefactor Don Munro serves as event co-chair. Concert goers will even have the opportunity to dance, or at least tap their toes, during the music-filled evening.

The Gala features performances by 20 singers, instrumentalists, actors and dancers. It centers around "Die Fledermaus," a light-hearted operetta performed in English. Other works by Strauss, Bach, Shakespeare, Verdi and Bernstein will delight the audience with styles ranging from opera, classical and sacred to Broadway, contemporary and jazz.

The Muses Creativity Artistry Project is a non-profit organization dedicated to preserving classical art and music through performance, education, wellness and music therapy. World-renowned soprano Deleen Davidson, who holds honor degrees in history, fine art, music and German, leads the artistry project as president and principal artist. Based on nature's four seasons, The Muses offers a regular series of concerts, art exhibits and creativity seminars designed to enhance the cultural life of the region and to grow the arts-based economy.

Gala tickets, $150 each or $1,500 for a table of ten, can be purchased online at www.themusesproject.org or by contacting The Muses, 501.463.4514. Event sponsorships, which include a table for ten, an exclusive sponsor's concert and recognition throughout the year, are also available, along with other patron levels. Proceeds from the concert funds the educational programming of The Muses throughout the coming year. For more information on The Muses, contact Davidson, 501.463.4514, [email protected].