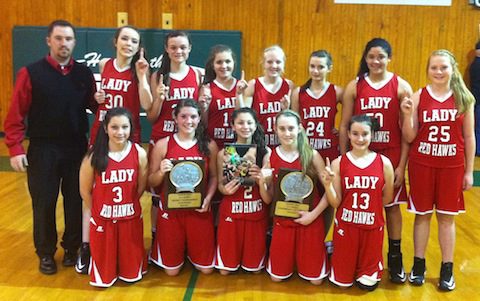 20 Feb 2013

Nemo Vista wins district, records undefeated season

The Nemo Vista Jr. Lady Red Hawks recently took their undefeated season into the 1A 5 North District Tournament at Wonderview.


In the first round game on Feb. 4, the Red Hawks faced the ladies from Academics Plus.

After jumping out to a 30-0 lead at the end of the first quarter, the Lady Red Hawks cruised to a 54-6 victory, advancing them to the semi-finals.

Sade Harrison led the way for the Red Hawks with 12 points, followed by Maggie Mahan with nine, Ashton Andrews with seven and Chase Paladino and Adrianna Munoz with six points each.


In the semi-final game held Feb. 7, the Lady Hawks faced Mount Vernon-Enola. Again, the Red Hawks were able to jump out quickly to a 15-1 lead. After leading 23-9 at halftime, the Red Hawks defensive pressure increased as they held Mount Vernon to one field goal the entire second half allowing them to advance to the championship game.


The final score was 47-11. Sade Harrison had 18 points in the game. Chase Paladino contributed seven as well as Maggie Mahan with six. Jacie Andrews and Adrianna Munoz each hit a three-point goal in the game.


In the championship game, the Lady Red Hawks faced the Wonderview Daredevils. After a slow start for both teams, the game quickly grew in intensity. Both teams played well and combined to hit 16 three-point shots.


The Red Hawks took a 22-11 lead into halftime after Chase Paladino hit four three's in the first half.


In the second half, Wonderview made a run to cut the lead down to three points late in the fourth quarter. The Red Hawks were able to hold on to the lead after a big offensive rebound with 15 seconds left by Sade Harrison in which she was fouled and hit one of two from the line to give the Red Hawks the championship, 38-34.


Chase Paladino hit six from downtown on her way to 23 points in the game. Jacie Andrews added three deep balls as well for nine points in the game. Adrianna Munoz also added a three.