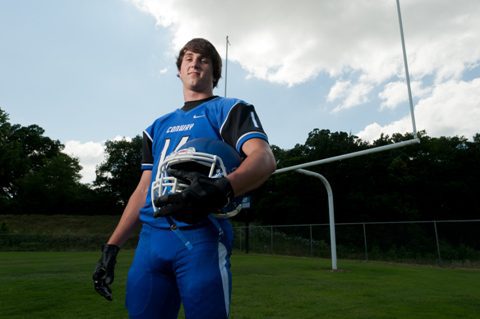 05 Nov 2014

Mitchell, Wampus Cats have 'hunger to win'

by Levi Gilbert


The Conway Wampus Cats have had a season for the ages, but there is still more to accomplish in the final week of the regular season.

The undefeated Wampus Cats travel to Bryant on Friday in a showdown for the 7A/6A Central crown. For senior Brock Mitchell and his classmates, Bryant is a fitting foe for the end of the line.


"Bryant is a well-respected team that always comes to play hard, and it will take a good week of practice and being dialed in to our game plan to beat them," Mitchell said. "Bryant being a big rival every year, you can bet on it being a physical and emotional game. It would be a big win for Conway and secure good seeding for the tournament."


Mitchell was selected to this year's 501 Football Team — 24 players representing all 11 counties of the 501. The team boasts the best the 501 has to offer both on and off the field. Mitchell was nominated by Conway's head coach, Clint Ashcraft.


"It has been great to watch Brock become a leader on and off the field for the last three years," Ashcraft wrote in his nomination in the summer. "He plays with tremendous effort and heart. You wish everyone on the team had his determination to win!


"Our players like and respect Brock a lot. He [did] a great job in the off-season helping our incoming sophomores get comfortable and learn to do things the way the coaching staff wants them to be done."


Jeff Matthews, play-by-play announcer for Wampus Cat football on Conway Corporation Channel 5 Sports, echoes Ashcraft's view of Mitchell's leadership qualities.


"One of the things I recognized in him is how serious he took mentoring younger players and teaching the legacy of the Wampus Cats," Matthews said. "He took that role on as a senior. It was important to him. Even if he didn't play a down this year, he would have made an impact on this program in how he works and leads."


Mitchell is one of several talented seniors in the Conway receiver corps. So far this season, Mitchell has accumulated 36 receptions for 500 yards and six touchdowns. He earned a starting spot in the rotation early last season.


"Working my way up my junior year into a starting spot has been my biggest challenge," Mitchell said. "Coming up little and not as big as I probably needed to be to play in 7A — that's been my biggest challenge. But I just get out there and play hard. Our motto as receivers is to be blue collar — head down, work hard, business mode."


Mitchell's favorite memory on the football field came last season in the quarterfinals at Springdale Har-Ber.


"It was third and 20, we had the ball on their 35 and we needed to push it down the field to get it to the other side and put the game away to move on to the semi-finals," Mitchell said. "I caught about a 45- or 50-yard pass from Breylin. It was a great moment. Sealed the game. One of the best memories."


The Wampus Cats fell short the next week in the semi-finals at Bentonville. It's a loss Mitchell and the Cats can't forget.


"My goal every game is to motivate the team to the best of my ability," Mitchell said. "I try to keep everyone in tune and not let up. We have to keep everyone on the same track for the state championship. We came up a little bit short. Everyone has that hunger to win it. My focus is to keep everyone on that path to victory.
"Making it to the semi-finals was a great experience for our offense. We only lost three guys. It gives everyone that experience of being there. It just takes everyone coming together and putting every other distraction away and focusing on playing hard, executing the play and trusting our coaches. If we do that, our talent can lead us to big things."

If the Wampus Cats beat Bryant, they will secure one of the top seeds in the 7A and earn a first-round bye before hosting a playoff game on Friday, Nov. 21. If they lose, Conway will earn a two seed and host a playoff game on Friday, Nov. 14. The stakes are high in Week 10.

Regardless of how the season finishes and how the Wampus Cats fare in the playoffs, Conway will be losing an important presence both on and off the field after Mitchell graduates in May.

"Brock is a steadying force on the offense," Matt
hews said. "He's a reliable possession receiver. The way the Wampus Cats use him reminds me of the way the Patriots and Broncos have used Wes Welker. I've always thought that. If you need 12 yards, he's going to get 14. He's so reliable."

"He is an encourager," Ashcraft said. "He is a leader with his work ethic and vocally as well. There is no quit in Brock. He never misses anything we are doing. He is always striving to get better!"