20 Oct 2021

Miller, Harding Academy aim for three-peat

By Levi Gilbert

Andrew Miller and his fellow seniors at Harding Academy have the chance to do something rare in the nation — winning three straight high school football championships.

Last fall as a junior, Miller carried the ball 161 times for 1,347 yards and 26 touchdowns. The running back also hauled in 38 receptions for 462 yards and nine scores. He led the state in total touchdowns from scrimmage.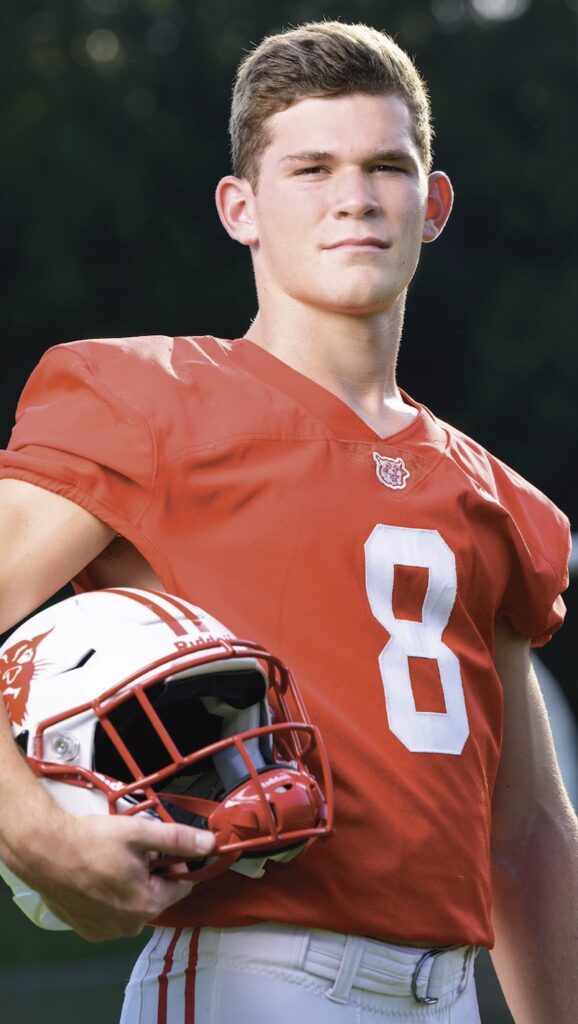 This year, the senior team captain knows what lies ahead in the postseason, and the goal is to reach the top, one final time.
"Winning back-to-back state championships with my team, cousins and brother have made for great memories," Miller said. "I simply want to be a good teammate this year and help my team go undefeated, win conference and then win the state championship. If we work hard, stay focused and if everyone does their job, we have a good chance."
Through his first six games of the season, Miller has been back to his productive ways (86 carries for 680 yards and 12 touchdowns), and Harding Academy is no doubt right back in the thick of it.
"Andrew has a very good combination of strength and speed, great hands out of the backfield, he's coachable, his effort is never in question, and he's risen to the occasion every time we've needed him," said Harding Academy Head Coach Neil Evans. "He had a strong desire to improve his game in the offseason. He's respectful to his classmates and teachers, studies lots of film and is always asking questions in preparation for our opponent the next week. He's very appreciative of his offensive linemen and deflects the praise he is given."
Miller was selected to this year's 501 Football Team — 23 players representing all 11 counties of the 501. The team, sponsored by Conway Regional Health System, First Security Bank, Moix Equipment & Toy Company and Velda Lueders Coldwell Banker RPM Group, boasts the best the 501 has to offer both on and off the field. The senior was nominated by Evans.
"Andrew works very hard at his school work, and he is well respected by his teammates and peers," Evans said. "They all recognize how much he invests into our team. He moved from defense to offense last year, and his teammates didn't flinch on either side because they knew he was ready for the challenge of going from defensive back to running back."
Miller also competes in basketball and track for the Wildcats. He has accepted a scholarship to continue playing football at the next level at Harding University.  
Harding Academy (5-2, 2-0) plays host to Melbourne in 2-3A play at 7 p.m. Friday, Oct. 22.

Latest posts by Levi GIlbert
(see all)