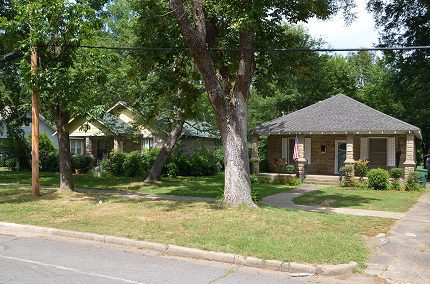 23 Jul 2017

Meeting planned Aug. 2 on Scull Historic District homes

Posted at 11:22 PMh

in

News

The State Review Board of the Arkansas Historic Preservation Program will consider nine Arkansas properties in six counties for nomination — including the Scull Historic District at Conway in Faulkner County — to the National Register of Historic Places when it meets at 10 a.m. Wednesday, Aug. 2, at the Department of Arkansas Heritage Building in Little Rock.

The Scull Historic District features houses at 428 and 432 Conway Boulevard built ca. 1928 in the Craftsman style of architecture featuring ornamental concrete blocks.


"The Scull Historic District has two of the few remaining examples of ornamental concrete-block buildings in Conway," according to the National Register nomination. "The two houses on Conway Boulevard are unique examples of Craftsman style concrete-block construction. The physical appearances of both dwellings largely maintain the original design and the concrete-block is in good condition. It is believed that both dwellings were built by concrete-block contractor Ferdinand Lawrence Scull."


Other properties to be considered for National Register nomination are Darragh Building and Governor's Mansion Historic District Boundary Expansion at Little Rock, Dr. Charles H. Kennedy House in North Little Rock and West-Blazer House near Jacksonville in Pulaski County; Jewel Bain House #4 at Pine Bluff in Jefferson County; Arkansas Research Test Station near Caddo Gap in Montgomery County; Johnson-Portis House at West Memphis in Crittenden County, and Pernot House at Van Buren in Crawford County.


The board will also consider the Bush House at Hot Springs in Garland County, Linwood Cemetery at Paragould in Greene County and the YWCA Building, Memorial Stadium and American Legion Building-TAC House at El Dorado in Union County for listing on the Arkansas Register of Historic Places. The Arkansas Register recognizes historically significant properties that do not meet National Register requirements.


For more information on the National Register of Historic Places program, write the AHPP at 1100 North St., Little Rock, AR 72201, call the agency at 501.3249880, send email to [email protected] or visit arkansaspreservation.org.


The AHPP is the Department of Arkansas Heritage agency that identifies, evaluates, registers and preserves the state's cultural resources. Other agencies are the Arkansas Arts Council, the Mosaic Templars Cultural Center, the Delta Cultural Center, the Old State House Museum, the Arkansas Natural Heritage Commission, the Historic Arkansas Museum and the Arkansas State Archives.