25 Mar

Meet Faulkner County's 'Butterfly Lady'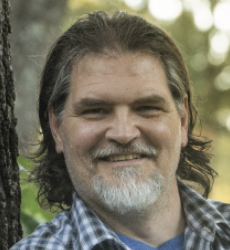 Latest posts by Dwain Hebda
(see all)
Story and photo
by Dwain Hebda
In a lot of ways, Betty Baxter's plot in the Saltillo area of Central Arkansas hasn't changed much over the generations. Every year, there's a large patch of vegetables waving in the sun – corn, peppers, beans and tomatoes – just like there were in the days of her childhood working the soil with her mother. There's still canning and freezing to be done at harvest time too, to preserve summer's produce outside of the growing season.
But in other ways, the gardening Baxter does here around her home, situated on 50 ancestral acres, is very different from days gone by. Baxter, a retired science teacher of some 28 years, has turned the family homestead into a showpiece of gardening diversity, each area serving a different purpose.
"I have a designated butterfly garden, and then I have one bed that's just irises and then I have a rain garden that collects the rainwater from our house," she said. "I have a few shady spots where I have hostas and ferns. I have an herb garden that's separate. I have several different areas around."
The showpiece of the acreage is the butterfly garden and it is here that Baxter earned her fame as the area's Butterfly Lady. The plat attracts several species of the colorful insects, which during her working years she didn't hesitate to introduce into her classroom. She found the subject of gardening for butterflies as irresistible to middle-schoolers as her bright blooms were to monarchs.
Gardening for butterflies requires certain trade-offs, such as viewing chewed-up vine leaves as a sign of successful habitat, not an invading horde to be eradicated. You have to be comfortable around bees, too. Baxter's stand of salvia, passion flower, echinacea and blanketflower buzzes with as many chubby bumblebees as delicate, graceful butterflies.
"Meeting their needs would include having host plants, nectar plants, water, shelter, a good sunny area," she said. "Butterflies will come for the flowers, but they'll stay longer if they have a place to lay their eggs and for their young to grow."
It's hard to believe for all this beauty that Baxter's mother, Ethel Daves, wasn't much of a flower person, favoring more practical vegetables instead. The riotous blooms on Baxter's grounds today is a nod to her aunt, Mame Banks, whose skill raising flowers matched Daves' knack for produce. Time, experience and getting in sync with Mother Nature have done the rest.
"Just going out into nature and seeing where they plant themselves and are thriving well gives you an idea of what to plant in your yard and where," she said. "You can't command them to do this, that or the other. With a little more work, you can have a more manicured look, but you have to let native plants be who they are, really. It's just gonna have a little bit more unruly look to it."
Baxter said the secret to attracting butterflies specifically is to be considerate of all of their needs – food, shelter and water – at each stage of the lifecycle. One easily overlooked aspect of creating butterfly habitat is shelter, she said.
"Shelter would be a brushy area, places with sticks and twigs they can get into," she said. "They actually escape winter weather or bad weather in leaves of trees and underneath branches, so I keep a little grown-up area."
Though retired, Baxter continues to teach; having attained the rank of Master Gardener in 2008, she gives talks and presentations on gardening for pollinators, especially her beloved butterflies. And no matter where she tinkers around in the family dirt, she still finds abundant joy in growing things.
"I grew up with five brothers and sisters and so we always had a large vegetable garden," she said. "As a child it was a chore and it was a necessity because that's what the family was going to survive on through the winter.
"Today it's a sense of accomplishment. I have pride that I can grow good vegetables and beautiful flowers. I just love it."