21 Aug 2019

Maturity key for Golden, Harding Academy Wildcats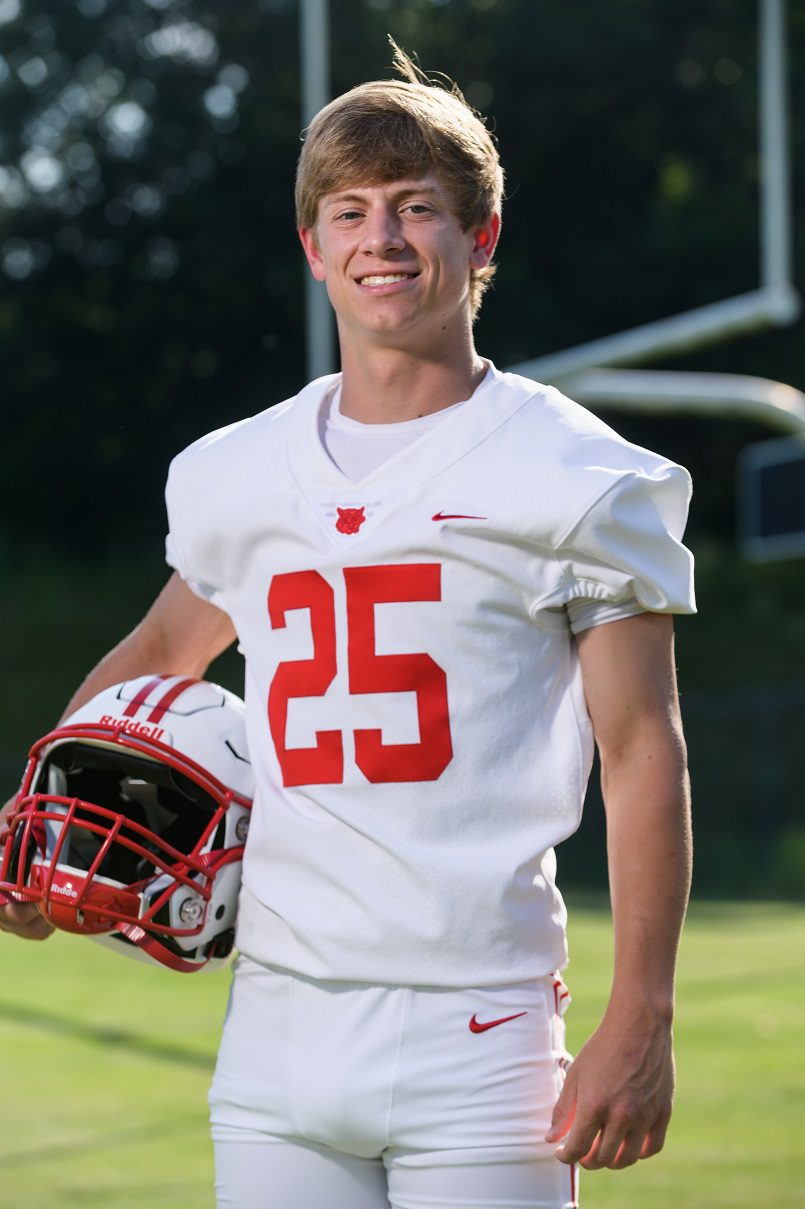 For Parker Golden and the Harding Academy Wildcats, the success of the 2019 football season will depend on maturity. 
The Wildcats finished second in the 2-3A last fall, and felt like they left a few things on the table. 
"Last season, we matured as a team tremendously from the start of the year to the end," Golden said. "We ended last year with a bad taste in our mouth, and we have a lot of the talent we had coming back this year as better and more mature football players. Our team goal is to win and honor God while we do that."
The goal for Golden and his teammates is to take the maturity gained last fall and roll it into the offseason and summer, building momentum leading into the kickoff of the 2019 campaign.
"We went to SEC summer team camps," Golden said. "There is big competition, and we got to spend a few days together as a team and really become more like brothers. We are focused on making our teammates better. When you play soft or 50 percent in practice, it affects your whole team.
"We believe football is the biggest team sport. We will make each other better by competing at a high level in practice, making our team, as a unit, better on Friday nights."
Golden was selected to this year's 501 Football Team – 27 players representing all 11 counties of the 501. The team, sponsored by Conway Regional Health System, First Security Bank and Conway Orthopaedics and Sports Medicine Center, boasts the best the 501 has to offer both on and off the field. The senior defensive back was nominated by his head coach, Neil Evans.
"When Parker was a sophomore, we worked him at free safety at the beginning of the season," Evans wrote in his nomination. "That season resulted in an unusual amount of injuries, having to propel Parker into a linebacker spot; a spot that he should not be able to play, given his size. Last year, Parker, without question, was one of if not our smartest and best leaders on defense. He was responsible for getting everyone in the secondary into the right calls and coverages. I can't remember a time where Parker had a bad practice. He's a relentless worker and a great player for our team. 
"I fully expect him to be THE leader on our team and our defense. There's not many positions we could put him at that he would not flourish."
According to Evans, Golden works just as hard off the field for Harding Academy and the Searcy community.
"Parker is incredibly studious," Evans said. "He works hard on his schoolwork and is serious about his education at Harding Academy, but also about his education in the next chapter of his life. He's a great baseball player and carries the same attributes that make him good at football to the diamond. Parker is involved in his youth group. They've taken mission trips and do a number of service projects around the community."
Evans is also active in Beta Club at Harding Academy. After high school, he plans to attend Arkansas State University and pursue an engineering degree. 
As the start of the season looms, Golden is mindful that a chapter of his life is about to end. 
"I've heard this my whole football career but did not realize how evident it really is until now," Golden said. "Time flies. It feels like yesterday I was strapping on my helmet for the first time. Don't take any game or practice for granted."
Harding Academy opens the season playing host to Bald Knob at 7 p.m. Friday, Aug. 30.

Latest posts by Levi GIlbert
(see all)