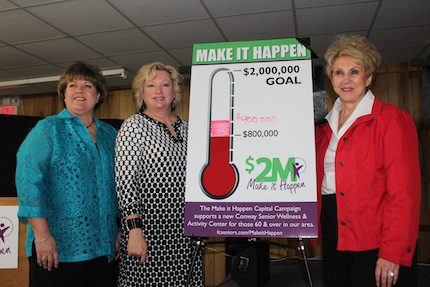 22 Apr 2013

'Make it Happen' – Organizers kick off campaign

Posted at 8:52 PMh

in

News

The Faulkner County Council on Aging, the governing body of the Faulkner County Senior Citizens Center, announced expansion plans Monday morning at a campaign kickoff event that included local city, county and state officials, community leaders and seniors who attend the Conway center.

The expansion will include purchasing the Agora Conference Center in Conway and converting it to the new Conway Senior Wellness and Activity Center. The new facility will more than double the space and allow an extensive development of education and activities to be offered to local seniors.


A capital campaign of $2 million is being led by local business women Linda Linn and Lori Case Melton. They announced at the event the campaign was kick started by early contributions of $900,000. The goal is to have the funds raised by mid-June.


The current facility at 1620 N. Donaghey Ave. was opened in 1980 when Conway was a town of less than 20,000 people. With Conway currently booming at more than 60,000 it is easy to see the need for a new facility.


"Seniors live longer and are moving to Conway in large numbers," stated Debra Robinson, executive director of the center. "The center is a vital link to keeping our seniors active and with a good quality of life."


Robinson has worked and dedicated her life to the center for her entire career. She predicts through their research, 200 individuals at any given time would be in a nursing home without the center providing trips, meals and activities for local seniors.


Meals are served Monday through Friday at the Conway center. In 2012, 39,000 meals were served in Conway as well as 92,000 being delivered to homebound seniors throughout Faulkner County.


The center also has a fleet of 16 vehicles which take those unable to drive to a variety of appointments. More than 20,000 trips totaling 98,000 were logged last year. The organization also oversees five other Faulkner County Senior Citizens Centers in Greenbrier, Mayflower, Vilonia, Twin Groves and Mount Vernon.


The new facility, located at 705 E Siebenmorgen Road in Conway, will undergo a slight renovation primarily with a kitchen remodel. Included will be rooms specifically for arts and crafts, music, games, media, computer, education and a health and fitness center with a walking/running track. Currently these activities are limited to one at a time due to lack of space resulting in many hours being spent taking down and setting up for different programs and activities.


"I've been involved in many causes throughout our community, but none more needed and important than this facility. Everyone will need services provided by the organization if they live to be old enough," Linn said.


Melton added, "Conway was named one of the top 25 places to retire in the U.S. by CNN Money magazine. We must provide for our current needs, plus be prepared for the influx of baby boomers who will utilize this service in the future."


The new center should be available to be occupied this summer. Plans are to sell the existing structure when the organization is able to occupy the new center.


For more information or to make a donation, visit fcseniors.com/makeithappen or call 501.327.2895.