04 Sep 2019

Love greater than fear: Bigelow's Ricardo Rangel

by Levi Gilbert

Ricardo Rangel stepped away from football as a sophomore — a decision he said was made out of fear. But love triumphed over fear.

"I'm a light, small guy, so that's something that really got to me my 10th-grade year that I didn't play football. I was afraid to go up against guys two times heavier and taller than me," Rangel said. "I was afraid of getting hurt and having the unthinkable happen to me. But my love for the game was greater than my fears while playing, and that's why I'm here today playing for the Bigelow Panthers."

Rangel was selected to this year's 501 Football Team – 27 players representing all 11 counties of the 501. The team, sponsored by Conway Regional Health System, First Security Bank and Conway Orthopaedics and Sports Medicine Center, boasts the best the 501 has to offer both on and off the field. The senior defensive back/kicker was nominated by his former head coach, Jeff Starks.

"Ricardo is a loyal, humble young man with a great work ethic on and off the field," wrote Starks, who stepped down as head coach earlier this year, but is still assisting the team as his son, Luke Starks, takes over. "Ricardo treats everyone the same — the way he wants to be treated.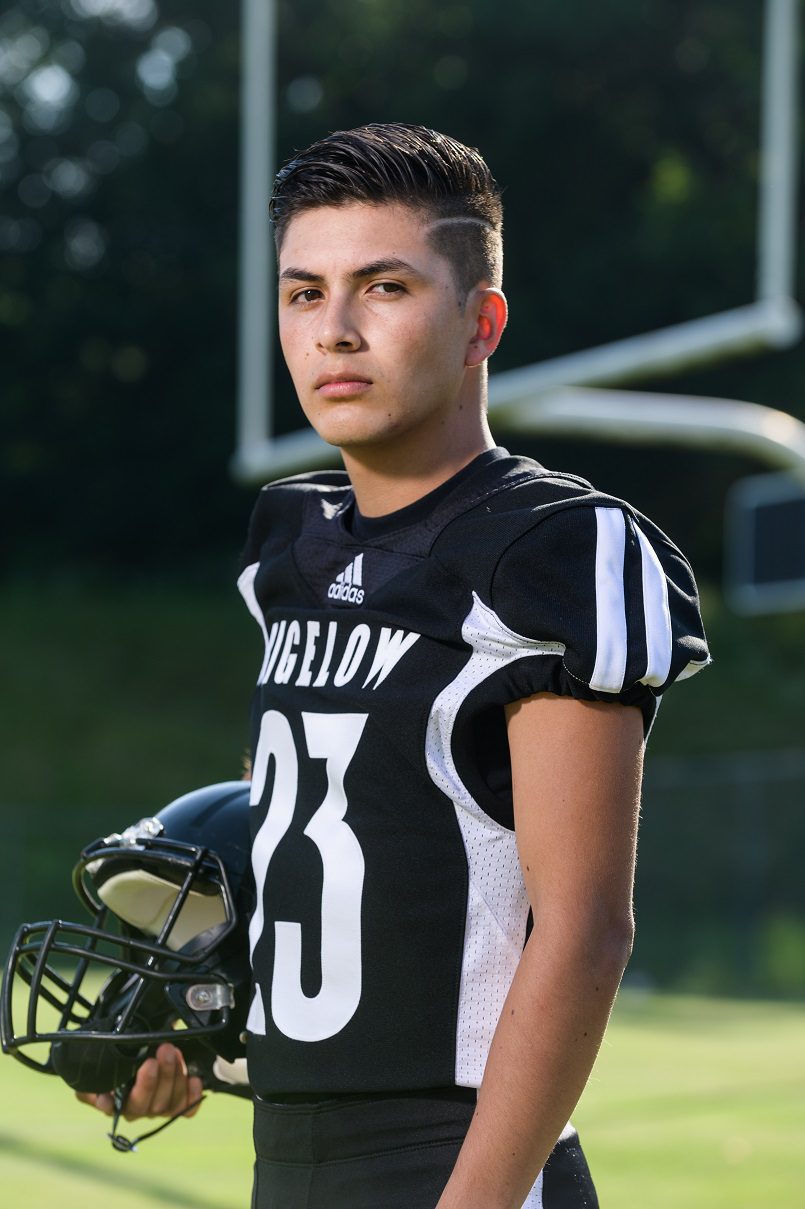 "He is a great student who maintains good grades. He is kind and considerate of all of his classmates."
Bigelow started the 2018 season with three straight wins, but have since lost eight of their last nine games, including last Friday's loss at Magazine, 46-20. Rangel and the Panthers are working to turn the tide.
"Losing happened a lot last season, and that's something that we want to change for this season," Rangel said. "We have to have a winner's mentality and play with heart. We expect to go further than we did last year. Coach Jeff Starks has faith in us, but it's up to us to play as a team, to always play with heart and love for the game and to go home with a win."
This week, Rangel and the Panthers face county rival Perryville. Bigelow got the better of the Mustangs, 53-34, a year ago.
"We're so close and in the same county, so it's a battle of the county to show who is better. Not just game-wise, but also in sportsmanship," Rangel said. "A lot of people attend this game. It's one of the biggest in our season. A lot of people look forward to it, and it's just entertaining for everyone watching from the sidelines to the stands. The environment is so full of that rivalry energy, and it's just a good experience as a player.
"We have to be better both offensively and defensively. There will always be something to improve on each week as the season goes by, but [after Week 0 at Magazine], I would say defense is our main focus. We have practiced way too much, we've put in so much time and energy, not just us but the coaches as well, to go out there against Perryville and play like we did against Magazine."
In addition to football, Rangel runs track for the Panthers during the spring. He serves as an usher at St. Joseph Catholic Church, and in his free time, he dives into music.
"I really enjoy playing music. It's something that just comes naturally to me — a talent passed down from my dad who enjoys music as well," Rangel said. "I like to think of it as a gift from God. The way you can make sounds with a guitar or an accordion just amazes me, and without my instruments and music, I'm nothing."
After graduation, Rangel plans on pursuing an associate's degree and has his eye on an entrepreneurial future.
"Getting a builder's license and carrying on my dad's painting business is the move," Rangel said.
Rangel and Bigelow travel to Perryville this week with the kickoff set for 7 p.m. Friday, Sept. 6.

Latest posts by Levi GIlbert
(see all)