30 Jun

Local man's 'hobby' gains steam

By Dwain Hebda

Cliff McGaha has always been a wizard when it comes to things with wires. The former audio-video technician enjoyed a long career in broadcast and live events for a laundry list of local on-air talent and national touring musicians of every stripe. For all of these gigs, the object remained the same: make them look good and make them sound good.

So, when the North Little Rock native found himself sidelined with a heart procedure a few years back, it was only natural that he would fill the time with the things he knew best.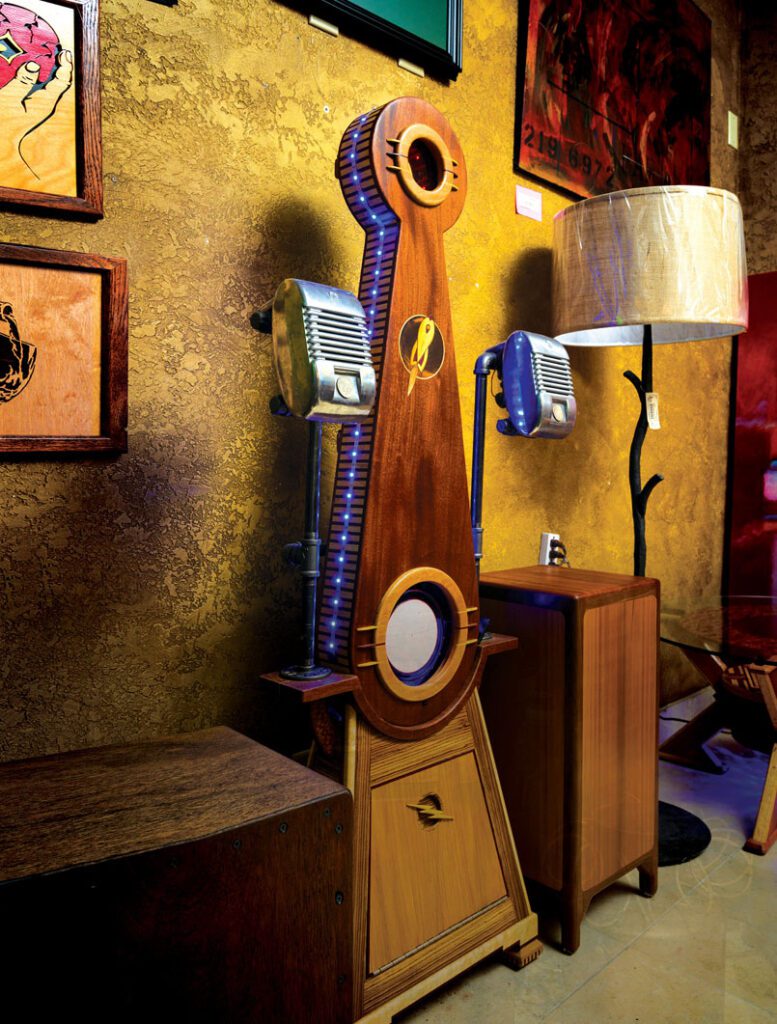 "A few years ago, I had open heart surgery, and when you have that, they make you sit down," he said. "In my recovery, I got bored, and I started making lamps from some stuff I had around the house. My wife and I frequent flea markets, so I started finding cute stuff to make lamps out of."
During this time, he discovered a style called steampunk, which features a heavily industrialized vibe thanks to the use of pipes, gauges, and valves in the design.
"I made a few lamps that way, and then one day it just struck me, 'Wouldn't it be cool if one of these played music?'" he said. "I had enough stuff just laying around the house from all my previous hobbies and work that I put something together."
The result he dubbed a Gizmo, so named because he didn't want to pigeonhole future creations according to a single function. The first prototype had an industrial look while being outfitted with Bluetooth capabilities that, thanks to his professional background, sounded great.
More out of curiosity than anything, he took the original Gizmo to a local shop, and started flipping switches.
"My brother-in-law introduced me to the owner, and when I turned the Gizmo on, it started lighting up and the sound came on," McGaha said. "He said, 'How much do you want for that?' I had never even thought about what to charge for it. He said, 'I can't consign this. I'm going to buy it. I'm going to write you a check for it.' So, he did.
"In just a couple of weeks, he calls me and says, 'I'm going to need you to make me another one because I just sold that one for four times what I paid you.'"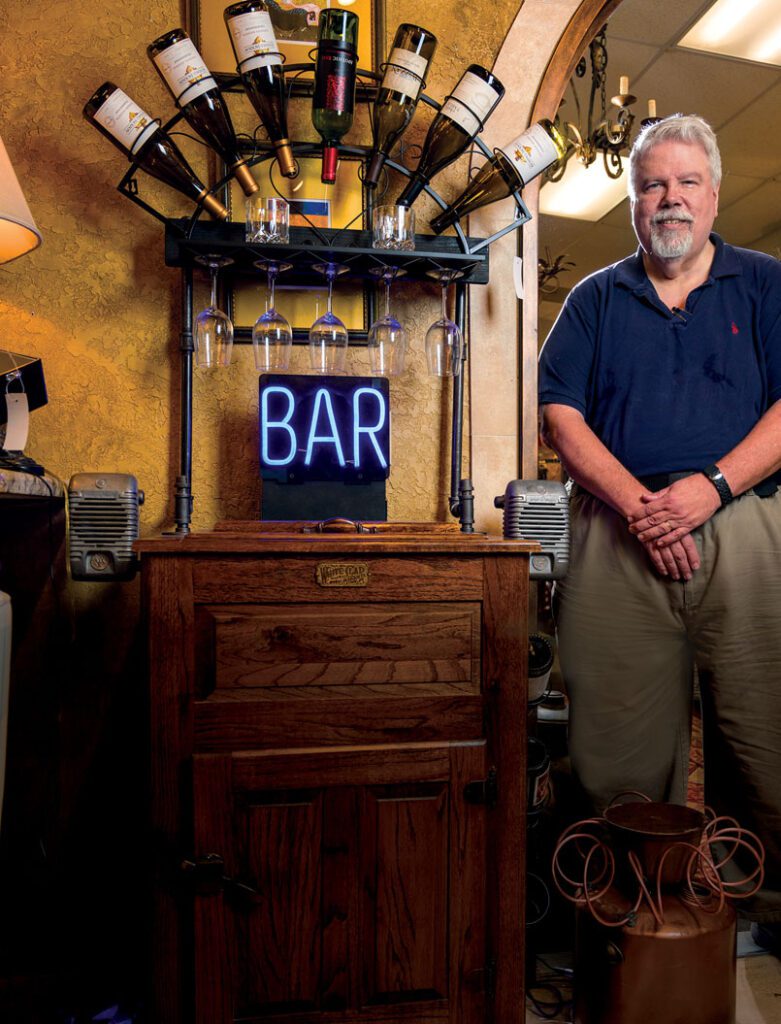 Thus began McGaha's unplanned and unlikely cottage industry, a one-man show that has found a ravenous market for his handmade, one-of-a-kind contraptions. With time and experience, he's made more elaborate Gizmos, utilizing everything from gas cans to a retired pump organ according to what catches his imagination.
"It seems like the more switches and blinking lights that I can put on these things, people go nuts, men especially," he said. "I think it's got something to do with the busy box that used to be on the side of a crib where you turn a knob and something would buzz."
McGaha has filled the gallery space that the store provides him with these creations, some themed to certain bands and others just individual works of audio art. Each one-of-a-kind Gizmo is made by hand and has been met with a rabid response that's gratifying and even a little puzzling to the artist, especially considering the price tag.
"I'm amazed at how much we get, to tell you the truth," McGaha said. "Just to give you an idea, the small ones that are table models average about $2,000, and the floor models made out of the big radios, the average on those now is $4,000. So, I'm getting what I call used car money for these things."
The hobby has evolved in other unexpected directions. McGaha will get unsolicited calls and emails from people with whom he might have spent five minutes in the store, people who have found something at a local flea market or antique store and offer to ship it to him free just to see it made into something. Others have reached out for more personal items.
"Someone will contact me and say, 'I've got the radio that came out of my parents' house. Can you make this look just like it did? I don't want any bells and whistles on it, but I want the stereo,'" he said. "So, I'll go in and I'll hide the lights underneath and behind it and put all the stereo gear inside. I keep it like it was when they were laying on the floor in front of it in their parents' living room.
"A lady literally asked me for that. She said, 'My mom used to have to step across me when I was laying down listening to records.' They'll share those kinds of memories with me. Those are pretty special."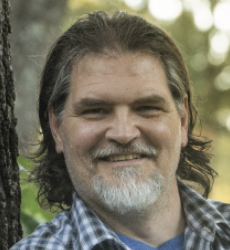 Latest posts by Dwain Hebda
(see all)