11 Sep 2023

Little Rock Rangers give Central Arkansas a season to remember

By Mark Oliver

The Little Rock Rangers made waves throughout the 501 this season, fueled by a gritty, talented roster, an energetic fan base, a vibrant soccer culture and maybe even a little luck sprinkled in, too.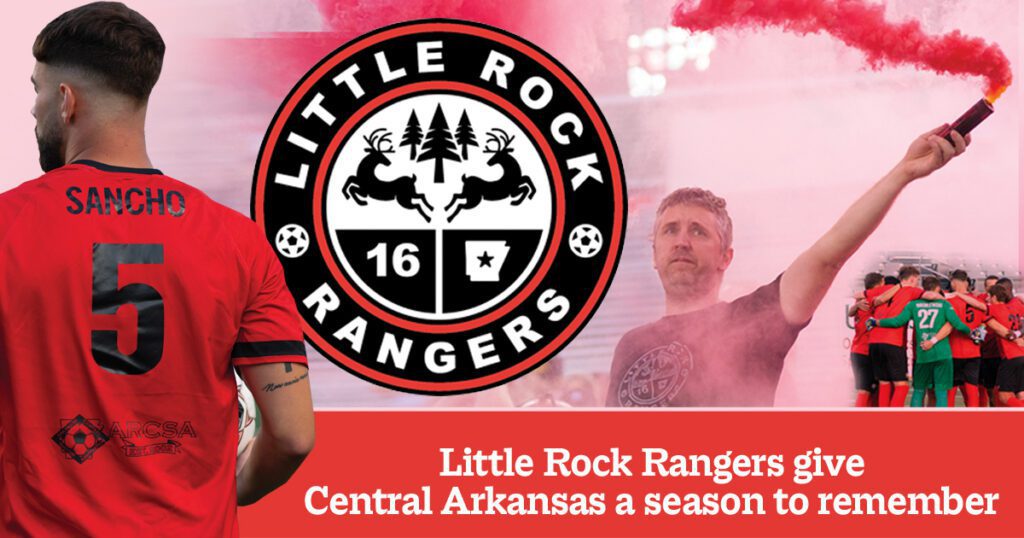 Composed entirely of amateur players who also compete at the collegiate level, the Rangers made it evident early in the season that soccer history was within reach.
"Starting the season 3-0 gave our team a lot of confidence," said Trent Eskola, the Rangers director of media and communication. "There was a moment where we looked at each other and said this was going to be a good year for us. Two weeks later, we played our rival, Texas United, to a 1-1 draw. That match showed us what we were capable of and sparked our progress the rest of the way."
As the wins kept coming, so did the fans. With each passing week, supporters from all across The Natural State flooded the stands at War Memorial Stadium for must-see minor league soccer.
"Our home crowd was incredible this season," Eskola said. "When we kept winning, the fans kept coming. Word of mouth was our best form of advertising and it spread like wildfire. Seeing fans that hadn't been to a match in years or fans that wanted to travel from Jonesboro or Northwest Arkansas to see us was exciting."
With attendance surging, the United Soccer League took notice and upped the ante for Little Rock's postseason push.
"Around the beginning of July, we were told that we would host the postseason if we made the playoffs," Eskola said. "The USL was pleased with our location, our venue and our attendance, and that was all the motivation we needed to keep our foot on the gas."
Mission accomplished. The Rangers (8-2-2) wrapped up regular season play as the USL Mid-South Division's second seed. In front of a record-setting crowd, the Rangers played host to the AHFC Royals in the USL Southern Conference quarterfinals.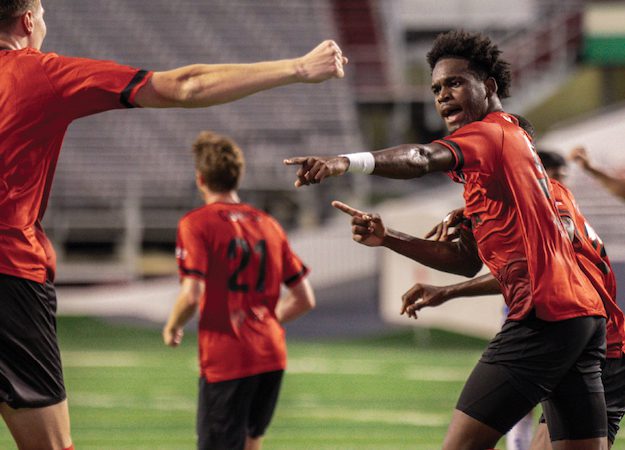 "The Royals had a good record, but we didn't know anything else about them," Eskola said. "We went into the match knowing that we just needed to take care of business to progress. Our fans backed us, too. That match, we broke our home attendance record with more than 7,000 fans in the stands, which exceeds most professional teams in the United States."
Against the Royals, the Rangers jumped out front early and never looked back.
"We got lucky early on," Eskola said. "We took advantage of a mistake and took an easy goal 14 minutes in. From there, we sat back and controlled the game on defense before adding our final goal at 34 minutes."
Taking a 2-0 victory, the Rangers advanced to the USL Southern Conference Semifinals, where they would once again meet rival Texas United.
"After taking a loss and a draw to Texas United earlier in the season, we went into that match knowing that the only result left for us to get was a win," Eskola said. "There were a lot of highs and lows in that match, but we scored two quick goals early in the second half to put it away."
One of eight teams remaining in the nation, the Rangers traveled to Newport News, Virginia, to face The Villages SC in a nail-biting USL Southern Conference Final. "From the opening kick, it was evident that both teams were tired," Eskola said. "We each had chances to score throughout the match but couldn't quite get the ball in."
The Villages SC broke the scoreless stalemate late in the second half, taking a 1-0 lead. In the final seconds of stoppage time, Rangers forward Ethan Blake answered with the equalizer to force extra time.
"I wish I could tell you how we did it," Eskola said. "With our backs against the wall, we gave it everything we had to stay alive."
Deadlocked after two hours, the match came down to penalty kicks, where The Villages SC edged the Rangers and put an end to Little Rock's dream season.
"This season, our goals were to host the playoffs, have record-breaking attendance and win games," Rangers' midfielder Nyasha Dube said. "We managed to achieve all of this through hard work, resilience and perseverance. By believing in ourselves, we'll go even higher next season."
"In our final huddle, the mood was very positive," Eskola said. "Our coaching staff praised our players for grinding for that final goal and fighting to the finish."
With one of its greatest seasons in program history in the books, the Rangers look ahead to a bright future.
"We always believed this group could reach the goals we set at the beginning of the season," said Francesco Brunetti, Rangers assistant coach. "This season was great because we were also able to gain new fans for future seasons. I have no doubt that more people will start to follow the Rangers."
"This season, I believe the Rangers put Arkansas on the map as a soccer state," Eskola said. "From our players to our coaches and even our front office, our culture has propelled us to new levels. Many of our fans attended their first-ever soccer match this season and became lifelong fans. Some are already asking how to get season tickets for next year. As someonewho has played soccer their whole life, it's cool to see soccer become more than just a niche sport here in Arkansas."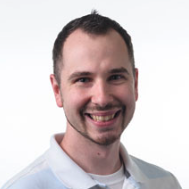 Latest posts by Mark Oliver
(see all)