23 Jun 2019

Life changing: Conway Corp crew helps Navajo households

by Sonja J. Keith

Four Conway Corp electrical workers recently helped provide power to members of the Navajo Nation who were living without — no electric lights, no heating/air conditioning and no appliances. It was a life-changing experience for those receiving power as well as those who made it possible.

The crew of Trey Brown, Lance Heer, Clint Jones and Scott Ussery left Conway on May 2 and made the two-day trip to the Navajo Nation, the largest Native American territory in the United States. Most of their work was in New Mexico, with one day in Utah.

The estimated population of the Navajo Nation is 300,000, with 55,000 homes located on the 27,000-square-mile reservation, which is a little bigger than the state of West Virginia. Of that number, about 15,000 do not have electricity. They represent 75 percent of all un-electrified households in the U.S.

To expedite electrification projects, the American Public Power Association is partnering with the Navajo Tribal Utility Authority (NTUA) to offer the Light Up Navajo mutual aid initiative, a pilot effort to begin electrifying the households without power. Conway Corp was among the public utility companies from across the U.S. to participate.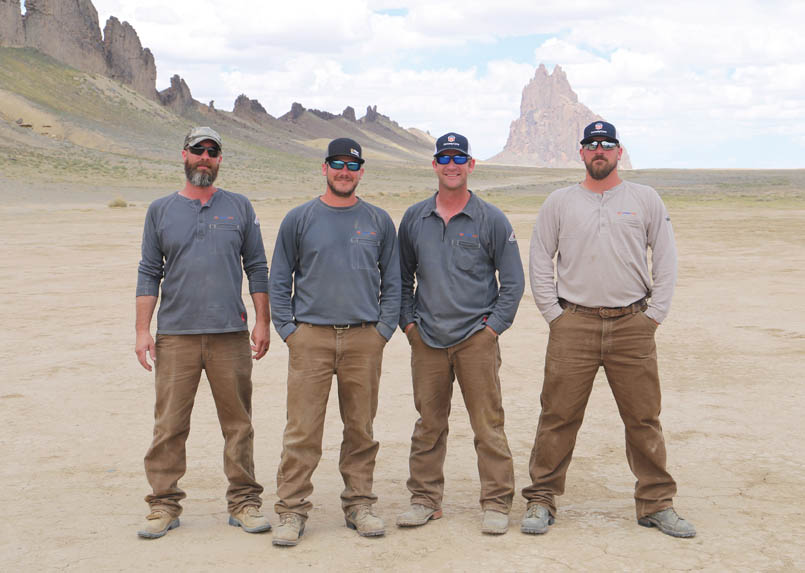 PROVIDING AID
The Conway crew members had traveled out of state previously to help provide mutual aid in Orlando and Tallahassee to help repair storm damage, but this trip was very different. They were helping to provide power to individuals and families who had never had it.
"Everybody wanted to go," said Scott, adding that the four volunteered to go. "I hope another group gets to go next year. It is a very rewarding and worthy thing to do."
"It's something to see," added Clint. "I hope everybody gets to go and see it."
"Those people need help," Scott said, with Clint adding, "Real bad."
Conway Corp Chief Marketing Officer Crystal Kemp pointed out that not only were the employees providing assistance, they also learned and gained experience that will be applied at home. She said that in a mutual aid response, like in Orlando, the municipal utility receiving assistance has reimbursed Conway Corp. This time, the workers were paid by Conway Corp for their time on the project. 
"It's good experience for our teams, because they bring back knowledge and information. It makes us better and helps us better serve the community at the same time we are helping other people, which is in our DNA as a company," she said.
"Everywhere we go we always pick up something," Scott added.
More than 130 volunteers representing 27 utilities registered to be part of the Light Up Navajo project. The Conway Corp crew worked during the fifth week of the six-week project. There were also workers from Arizona, California, Ohio and Massachusetts who participated that week.
CONDITIONS
In addition to air issues related to the altitude, distance to the job and tough terrain were among the challenges the crew faced. "Those are big trucks driving around in a sandy desert with canyons and mountains," said Scott, adding that the longest distance to a job was an hour and a half on rough roads. 
Lance said it rained a couple of days during the week, but with only five days to work, the crew did not slow down. "You put your rain suit on and get with it."
The Conway crew reported they observed families living in harsh conditions. Most buy coal for heating, use oil lamps and only purchase food for a couple of days because it is stored in an ice chest. They shared a story about a student who ran her laptop off a generator to do her schoolwork. Another student used the dome light from a vehicle to do homework.
Scott said he was unaware that in the U.S. there were so many living without electricity. "I had no idea and would not have known it had I not gone."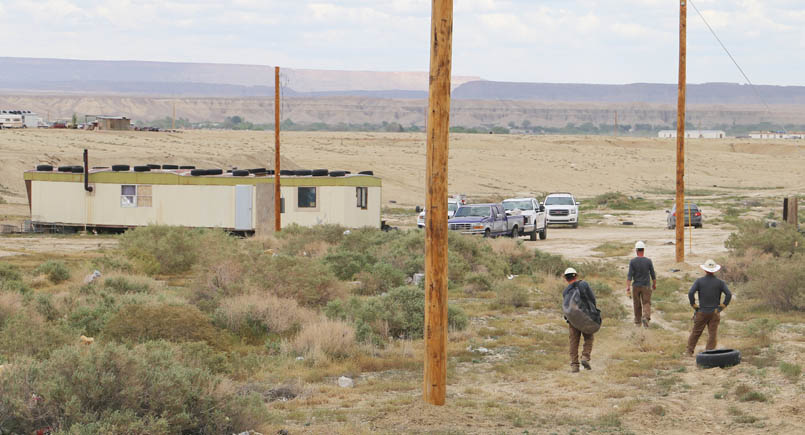 Clint added that he thought everyone had access to electricity.
"These people are United States citizens, and they are living in those conditions," said Lance. "They have all the rights we enjoy, and they are living in conditions that are sub-par to say the least."
While on the reservation, the Conway crew worked alongside Navajo Tribal Utility Authority (NTUA) electrical employees. "They are hard-working and perfectionists. They are good linemen and they put out quality work," said Scott. "The reservation is lucky to have linemen like that."
NTUA provided the materials, equipment, meals and lodging during the project. "They supplied everything," Scott said. "They just needed the help."
"And still do," added Trey.
Scott said that while the Conway Corp crew worked 16-hour days over their week on the reservation, the NTUA workers were in their fifth week of those long work days and time separated from their families.
APPRECIATION
As their time on the reservation came to a close, a special dinner was held in appreciation of the four from Conway. They thought all of the volunteers from the other utility companies would be in attendance, but instead the meal was just for them. Seated up front, the event included a slide show, speeches and a native prayer. And there were a lot of tears.
"They showered us with praise," said Lance. "It made me feel guilty because they were saying thank you so much. All of us, we build lines and it's what we like to do no matter where we live. We got to go out there and do what we love to do but help people at the same time. You don't get a lot of praise or thank-you in this line of work, so to see all of those people super stoked for us to be there was pretty cool."
"Those were the most heartfelt thank-yous I've ever had," Scott said. "They didn't know what to say. They didn't have the words to express…I was hoping they wouldn't cry so I wouldn't either."
"It's hard to put words to it because I've never seen emotion like that," Clint said.
"They were so thankful, for lights," Scott said.
The group was also presented with a gift basket with Navajo coffee mugs and other items.
Throughout their time on the reservation, Lance said there were no negative comments and everyone was "100 percent positive" and "super grateful."
At the end of their final work day, the Conway workers had helped provide power to six customers. "It doesn't sound like a lot of people," Lance said, explaining that instead of hanging a transformer to serve four or five customers, one transformer was serving one customer. Distance and terrain were major factors.
"Everywhere we built to there was no existing structure so we had to build single phase from an existing line to a customer's house, which might be a quarter mile or half mile off the road," Lance said.
The crew recognizes that while it was life-changing for those who received electricity, there is still a lot of work to be done and it is slow going. At the end of the fifth week, 180 families had been connected, which represented a little more than 24 miles of transmission line. 
COSTLY WORK
According to project organizers, electrifying just one household is an expensive endeavor. Each household, on average, requires one transformer, 0.6 miles of wire, nine poles, 16 insulators and two arrestors to connect to the electric grid. The average material cost is around $5,500.
Clint pointed out that in comparison with the work and materials from their one week, 50 to 60 homes could have been energized in Conway.
Crystal pointed out that extending the electricity on the reservation is expensive but the NTUA has made a commitment to do that, where no investor-owned utility would take that on. "Because they are serving the community and the public, this project was a way for them to try to do it and bring in other partners to help them accomplish it. The reason people have been without power for this long is it's costly." 
"It is money that will never be recouped," Scott added.
Crystal added that tax deductible donations are being accepted for the project.
THANKFUL
The crew expressed their appreciation to Conway Corp for the opportunity. Lance said he is thankful to work "for a company like Conway Corp that does have a heart for others and can see the bigger picture."
Crew members are hopeful that the project will continue. "If I'm asked to go, I'll go again in a second. I think these guys will too," Clint said.
"Hopefully there will be a lot of good publicity on the companies that did go and maybe it will give some of the other utilities a little push to jump right in," said Lance.
Scott pointed out that the crew has a special skill set that is not very common, and they love to do it anywhere. "To be able to be a tool to help anywhere, that's pretty cool."
Trey said it was rewarding being a part of a project that provided power to those who had never had it.
"Their lives are changed, and for you guys to be there and see that, that's impactful," said Crystal.
"I think it was life-changing on both sides," added Trey.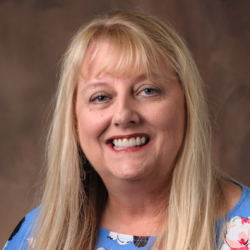 Latest posts by Sonja Keith
(see all)