24 Jul 2020

Let's go on a picnic!

by Julianne Milner

Picnics are one of my favorite things about summertime! I'm not talking about the Downton Abbey picnics, where the servants carry the silver, crystal, chairs and tables and set them up under a lavish tent on the grounds. You can create an awesome picnic without silver, crystal or tables. Come along with me for tips on creating a lovely, casual picnic. Today is the perfect day for a picnic! The weather is perfect, the farmer's markets are in full swing, and I want to GET OUTSIDE!

Planning the perfect picnic is just like planning a small, transportable party. The perfect picnic is nothing more than choosing a fun location, a good group of friends and packing some delicious food and drinks. A picnic can be held anywhere. In your backyard, at the park, lakeside, at the beach — it's your choice.

If picnicking on the ground, choose a waterproof picnic blanket. If you don't own one, a favorite quilt, blanket or throw will do. Just place a shower curtain liner under the one you are using to keep dry in case the ground is damp. If you have an old wooden crate or two, these come in handy to pack items in or use as a shelf or stools. No need to cover them. They give a lovely, rustic vibe.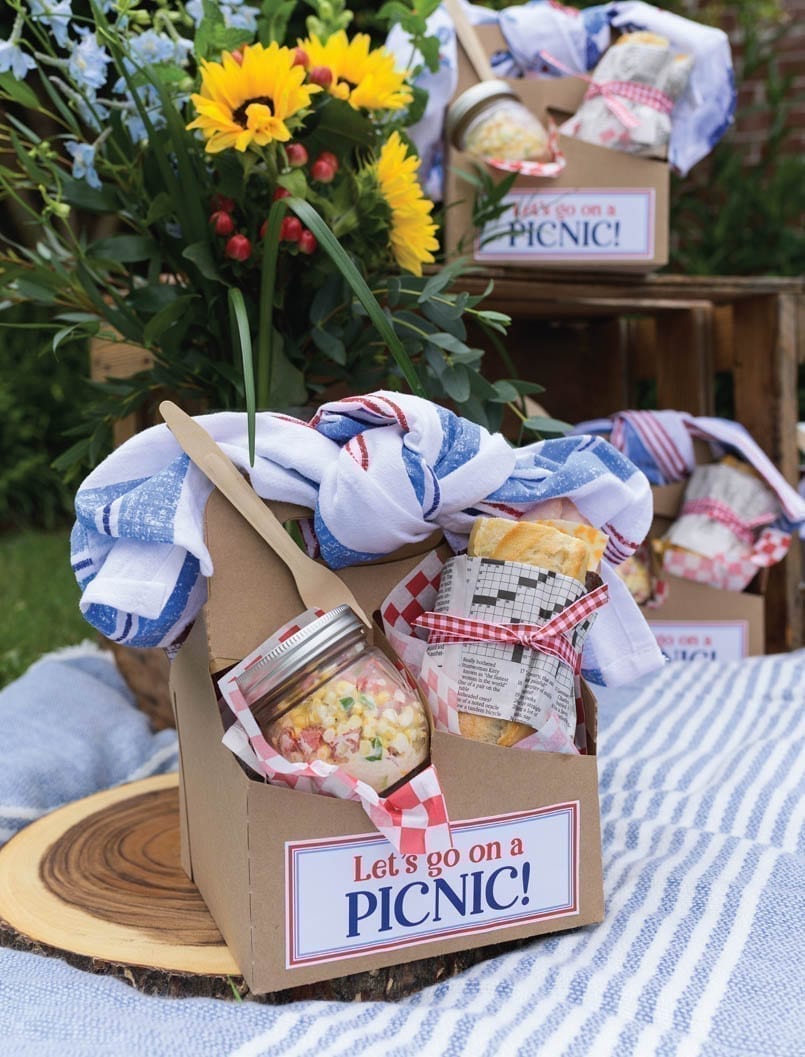 A centerpiece of fruit and flowers will give you the wild garden feel that a picnic is all about.
When I organize a picnic, I like to pack a little lunch box/container for each person attending so everyone is not crawling around dipping from all different containers trying to fix their plate. It's so much easier to just hand out the neatly assembled container to each person and dig in!
The website nashvillewraps.com has many cardboard containers to choose from. I have also used the four-section drink containers that you get when carrying Sonic drinks home. They work perfectly, too! I used kitchen towels tied on the container as the napkin and attached a clothespin to the salad fork so it was easy to access when needed.
I'm keeping my picnic food casual and rustic. I'm loading up baguettes with assorted meats, cheeses and veggies. I'm tying newspaper around the baguettes to ensure that the filling stays in.
A fresh corn salad is the perfect accompaniment to the baguettes. Serving the salad in individual Mason jars makes it easy to carry and consume. I had fun choosing an assortment of carbonated juice drinks by Izze for the picnic. The flavors and colors just add a pop of fun to the casual picnic.
For dessert, a large Hello Dolly bar! These are so rich and decadent! Who doesn't love a mixture of chocolate chips, butterscotch chips, coconut and pecans. You must try this recipe! It will become one of your favorites instantly! Wrapping them in a little paper bag keeps hands goo-free!
Cornhole boards, bocce ball and ladder ball are wonderful games to set up around your picnic.
Any of these are sure to keep the fun going after the meal.
Don't forget to include some wet wipes along with a large bag to gather trash before you leave. You'll want to leave the spot as pretty as you found it and ready for the next picnic!
Happy picnicking from my family to yours!
Fresh Corn Salad
3/4 cup sour cream
1 teaspoon Worcestershire sauce
3/4 teaspoon seasoned salt
3 cups fresh corn kernels (about 5 ears)
1 cup finely chopped red bell pepper
1 cup finely chopped green onions
Combine first three ingredients in a large bowl, stirring with a whisk. Add corn and remaining ingredients, stirring to combine. Cover and refrigerate at least 2 hours before serving.
Yield: 8 servings (about 1/2 cup).
Hello Dolly Bars
1 1/2 cups graham cracker crumbs
2 tablespoons salted butter, melted
1 tablespoon water
1/3 cup semi-sweet chocolate chips
1/3 cup butterscotch morsels
2/3 cup flaked sweetened coconut
1/4 cup chopped pecans, toasted
1 15 oz. can sweetened condensed milk
Preheat oven to 350 degrees. Line the bottom and sides of a 9-inch square baking pan with parchment paper. Cut off excess parchment paper around the edge of the pan.
Place crumbs in a medium bowl. Drizzle with butter and water; toss with a fork until moist. Gently pat mixture into an even layer in the pan (do not press firmly). Sprinkle chips and morsels evenly over the crumbs. Top evenly with coconut and pecans. Drizzle milk evenly over the top. Bake at 350 degrees for 25 minutes until lightly browned and bubbly around the edges. Cool completely on a wire rack.
Yield: 24 servings.