22 Sep 2021

Lentz, Eagles striving for return to winning ways

By Levi Gilbert

After enduring a disappointing season in 2020, Payton Lentz and the Conway Christian Eagles are ready to put the past behind them and earn a Friday night W. 

"We are striving to get better with every snap in practice and in the game," Lentz said. "We are focusing on the small fundamentals that will allow us to execute with excellence as a team."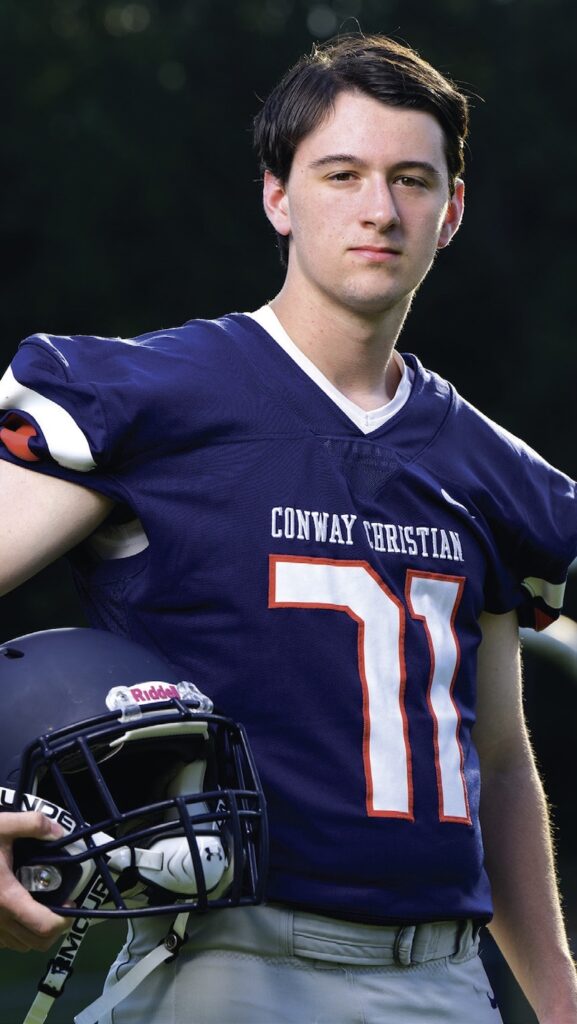 Lentz started on the offensive line at center for Conway Christian last fall. He was selected to this year's 501 Football Team — 23 players representing all 11 counties of the 501. The team, sponsored by Conway Regional Health System, First Security Bank, Moix Equipment & Toy Company and Velda Lueders Coldwell Banker RPM Group, boasts the best the 501 has to offer both on and off the field. The senior was nominated by his head coach, Justin Kramer.
"Payton is a team player," Kramer said. "He will do whatever is asked without complaining and with relentless effort. Payton is a mild-mannered young man that gets nothing but respect from people because that is all he gives them. His character and demeanor are second to none. He is always in a good mood.
"He will be a leader for us on the offensive line and can play any position we need him to. He can play defensive line or linebacker, too. He is very versatile as he is also one of the top five fastest guys on the team."
No matter the need, Lentz is ready to serve his teammates and help the Eagles get back to their winning ways. As 4-2A conference play kicks off this week, Conway Christian (0-3) is still searching for its first win of the season. Lentz remembers the Eagles' past successes, and he's ready to help get them back there.
"I had the privilege to grow up watching Conway Christian Eagle football since I was a child, and I really couldn't wait to start playing as part of the team," Lentz said. "I want to be an encouragement to those coming behind me as so many were for me throughout the years. My favorite football memory would be when Conway Christian won the conference championship my freshman year. It was a home game, and we had so many talented players on that team that were really an inspiration to me becoming the best player I could be.
"I want my coaches and team to know that Payton Lentz gave them 100 percent every snap and nothing less. I also want them to know that I played the game with integrity that represents Conway Christian to the best of my ability."
Lentz also participates on the CCS bowling team and is a member of Beta Club and Drama Club. He attends Beryl Baptist Church in Vilonia and serves within the youth department.
Conway Christian opens 4-2A conference play this week playing host to Quitman at 7 p.m. Friday, Sept. 24.

Latest posts by Levi GIlbert
(see all)