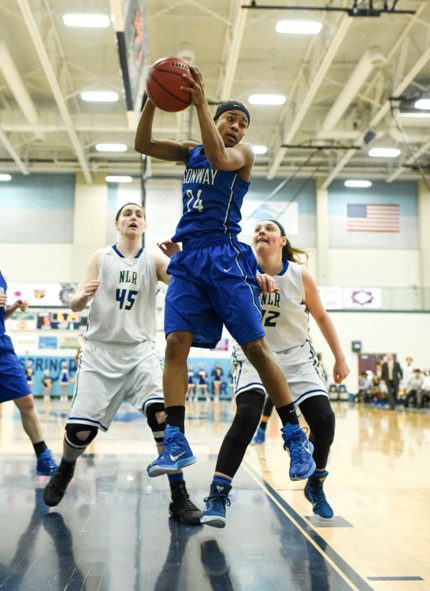 11 Mar 2015

Legacy: Lady Cats return to 7A final

by Levi Gilbert


The Lady Cats are back.

For the second consecutive year, Conway has earned the right to play for a state championship. The Lady Cats defeated North Little Rock 71-64 on Monday in the semifinals of the 7A state tournament in Springdale.

"This past week was a lot of fun," Coach Ashley Nance said. "Our team rose to the occasion. We scored 91 points against a good Springdale Har-Ber team, and any time you can beat North Little Rock, it says a lot for your program."


The win returns Conway to the state championship where the Lady Cats will defend their championship against Fayetteville.


"It should be a great championship game," said Jeff Matthews, play-by-play announcer for Conway High basketball on Conway Corporation's 5 Sports. "It seems we always have memorable playoff games with Fayetteville — in all sports — and Saturday should be no different."


On paper, not much has changed for the Lady Cats from last year's to this year's squad. But the biggest influencer for Conway's continued success can't be found solely in the stats book.


"The difference is the maturity level," said Jordan Danberry, senior point guard for the Lady Cats and a two-time 501 Basketball Team honoree. "We have six seniors on the team who all do a great job collectively in leading this team. And a lot of our juniors and sophomores have stepped up as well when they needed to."


Nance also points to the senior leadership as the catalyst for success.


"They have competed at a very high level and know what it takes to win and to lead," Nance said.


"Two big things stand out about this team," Matthews said. "One is simply the experience that comes from having another year under their belts, and not just any year, but a year that ended with a state championship. The second is the depth. I've never seen a high school team that can legitimately go 10 deep. I've never thought of this team as having starters and a second team — it's just the first five and the next five."


The season hasn't been without its challenges. The Lady Cats didn't play at a consistent level early in the season.


"Keeping them motivated has been the hardest thing this season," Nance said. "Last season we would only focus on small goals and not talk about winning the state championship. This season that is all we talked about. We kept a countdown in the locker room for each game and the last piece of paper on our countdown was a picture of Summit Arena in Hot Springs."


Things finally clicked for the Lady Cats right before the turn of 2015.


"We won the Sandra Meadows Classic in Duncanville, Texas, which is one of the most prestigious tournaments in the South," Nance said. "There were 32 teams in the tournament, and I felt like we controlled every single game. We played together as a team, and it was then I thought we had a chance to make it back to Hot Springs."


Conway's depth was the key, and everything just came together for the Lady Cats during the Classic.


"Everyone on our team was healthy, and we were all giving 110 percent," Danberry said. "We played extremely unselfish basketball and together. We also had an awesome bench! We needed all 12 of our players to win that tournament."
This won't be the first time the Lady Cats have faced Fayetteville. Conway beat the Lady Bulldogs in Fayetteville 63-54 back on Nov. 18. They picked up the win without one of their leading scorers, Alexis Tolefree, who was out at the time due to an injury. Both teams have changed and grown significantly since that November matchup.

"I think offensively we are going to have to control the tempo of the game," Nance said. "We like to get into transition and push the basketball and for us to start early in the game doing that is important. Defensively we are going to have to rebound. Rebounding gets us into our transition and is the key to everything we like to do offensively."

The Lady Cats' defense truly is the key for igniting their offense.

"This team is relentless on defense, and with their depth they can fight the fatigue factor that so many teams battle," Matthews said. "They will come at Fayetteville in waves and play at that speed that they are most comfortable. Coach Nance and Coach Gifford have done a tremendous job letting these ladies find their way, and they are on the verge of something historic."

The Lady Cats and Nance have already left a lasting legacy, but there's still work to be done. Danberry doesn't quite know how to define the urgency.

"It means a lot for me to close the season this way," Danberry said. "Knowing that we could possibly be back-to-back state champions gives me an unexplainable feeling. Not too many seniors can say they played their last high school game ever in the state championship."

This state championship marks Nance's seventh appearance in a state final either as a player or a coach. She played in state championships under the coaching of her father, legendary boys and girls coach John Hutchcraft, from 2001-2003. Guy-Perkins was back-to-back-to-back state champions those three years. She was an assistant coach for Guy-Perkins her first year out of college, and the team
finished as state runner-ups. In 2010, as head coach for Conway Christian, Nance led the Lady Eagles to the Class 2A state championship. And then last year, Nance won her first title with Conway. Hutchcraft's Guy-Perkins teams have won 10 state championships and been runner-ups 10 times.

The Conway-Fayetteville game has even another Guy-Perkins connection. Victor Rimmer, Fayetteville's head coach, is a Guy-Perkins graduate and also played under Hutchcraft. And both Rimmer and Nance will be joining Hutchcraft in Chicago as assistants on his coaching staff for the 2015 McDonald's All American girls' East team.

"I think I speak for Vic and I both when I say we are both extremely blessed to be experiencing the McDonald's All American game with my dad," Nance said. "He obviously has been an enormous impact in our lives and in the coaching profession. For both of us to be graduates of Guy-Perkins, to be competing in the state finals against each other, then going to coach together in Chicago is the perfect story for girls basketball. I believe no matter what school Vic and I have been to or where we are we will always appreciate and remember where we both came from."

The 7A state championship game is 12:45 p.m. Saturday at Summit Arena in Hot Springs.

The AAA has provided tickets for presell. Ticket prices are $8 for adults and $7 for students. Admission at the gate will be $8 per person. Tickets can be purchased at the Conway athletic office from 8:30 to 11 a.m. and 2 to 3:30 p.m. Thursday and from 8:30 to 11 a.m. Friday.
Other 501 teams still competing for basketball championships:

In the 1A, the girls' final will feature two 501 teams — Wonderview and Nemo Vista.
Both England basketball teams will play in their respective 2A state championship games on Saturday. The England Lions boys basketball team will face Junction City at 2:30 p.m., and the England Lions girls basketball team will play Marmaduke at 4:15 p.m.

The 3A boys' state championship game will feature two 501 teams — 5-3A rivals Mayflower and Episcopal.

In the 4A, the Riverview Lady Raiders will play Ozark in the championship game Friday at 3:30 p.m.

The 5A state championship games will feature all-501 matchups — Maumelle and Little Rock McClellan play in the boys' championship Saturday at 6 p.m., and Pulaski Academy and Hot Springs face off in the girls' championship Saturday at 7:45 p.m.

In the 7A, in addition to the Conway Lady Cats, the North Little Rock boys will play Bentonville at 11 a.m.
---
Originally from Johnson County, Levi Gilbert now calls Conway home. A 2010 graduate of the University of Central Arkansas, Levi became involved with 501 LIFE in its early days and now serves as the magazine's associate editor. He and his wife, Brittany, have two sons. Follow Levi on Twitter for more local 501 stories. Send him story ideas at [email protected].