14 Nov 2022

Lawrence crowned Ms. UACCM

Posted at 7:01 PMh

in

News

MORRILTON – Emily Lawrence, 18, of Oppelo was crowned Ms. UACCM 2022 after competing in the fourteenth annual UACCM Pageant on Saturday, Nov. 5, at the University of Arkansas Community College at Morrilton's Fine Arts Auditorium.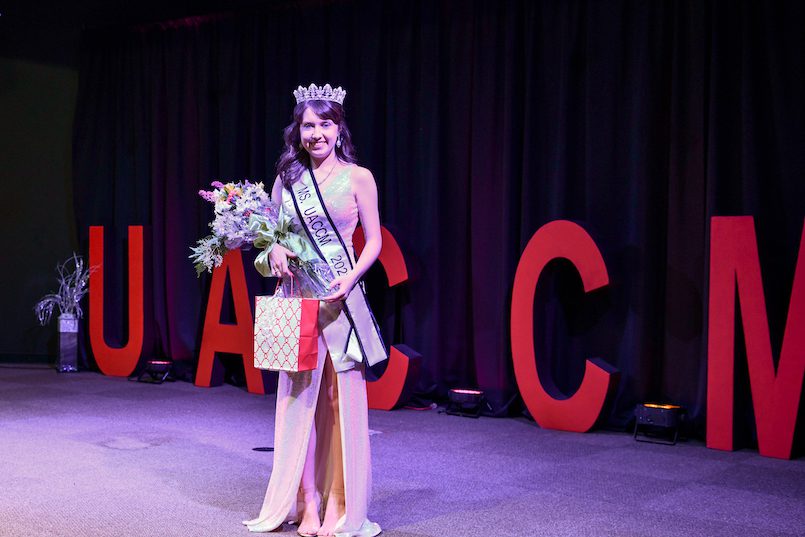 Lawrence is the daughter of David and Kathy Lawrence of Oppelo. She is in her first semester, pursuing an Associate of Science in Liberal Arts. Upon graduating from UACCM, Lawrence plans to pursue a master's degree in psychology to become a school counselor.
Lawrence was awarded a $1,000 scholarship from the UACCM's Chancellor's Office and a floral bouquet courtesy of Plummer's Flowers and Gifts, Morrilton.
The first runner-up, Abigail Valdez of Conway, was awarded a $500 scholarship from the UACCM Chancellor's Office. She is the daughter of Fausto Valdez and Maybelline Hensley. Valdez is in her first semester, pursuing an Associate of Science in Business degree.
Hosted by UACCM's SkillsUSA chapter, the pageant was open to current UACCM students and girls between the ages of birth and 18 years old. Apart from seven additional categories, those who competed for the title of Ms. UACCM were judged on beauty, professionalism, speech presentation, and interview skills.
"We are so thankful for all the contestants who supported our pageant. We couldn't have a pageant without you." Linda Zambrano, pageant director, said. "Also, a special thank you goes to those who came to support the girls who entered the pageant. All the proceeds from the pageant go to the UACCM SkillsUSA chapter to send students to state and national competitions, so our students appreciate the generous support of all." 
The winners of each category are as follows:
Baby Miss UACCM Charleigh Layton, Conway, daughter of Charles Layton and CheRain Woodard
1st Runner-Up Saylor Conley, Perryville, daughter of Nicholas and Kynsey Conley
2nd Runner-Up Richlyn Staup, Conway, daughter of Phillip and Nicole Staup
Tiny Miss UACCM Heiress Massey, Morrilton, daughter of Marquez Massey and Kasja' Thuston
1st Runner-Up Jamia Davis, Conway, daughter of Jordan Davis and Demika Wiseman
2nd Runner-Up Kayla Hoelzeman, Morrilton, daughter of Kenny and Jennifer Hoelzeman
Petite Miss UACCM Jersey Massey, Morrilton, daughter of Marquez Massey and Kasja' Thuston
1st Runner-Up Aubrey Moore, Dover, daughter of Erin and Bill Moore
2nd Runner-Up Avery Bane, Greenbrier, daughter of Jeffrey and Dana Bane
Little Miss UACCM Linley Hamlin, Bigelow, daughter of Joseph and April Hamlin
1st Runner-Up Kynsley Born, Vilonia, daughter of E. J. and Natasha Born
2nd Runner-Up Payslee Crotts, Lamar, daughter of Jonathan and Lacey Crotts
Princess Miss UACCM Brylee Heath, Jessieville, daughter of Trey and Brittnie Heath
1st Runner-Up Keira Born, Vilonia, daughter of E. J. and Natasha Born
2nd Runner-Up Bella Rose Heath, Greenbrier, daughter of Jeremy and Bailey Heath
Pre-Teen Miss UACCM Isabella Rogers, Morrilton, daughter of Christopher and Jennifer Rogers
1st Runner-Up Kynlee Little, Morrilton, daughter of Derrick Little and DeAnna Turner
2nd Runner-Up Brinklee Heath, Jessieville, daughter of Trey and Brittnie Heath
Teen Miss UACCM Madelyn Whiteside, Fordyce, daughter of Jeremy and Alanna Whiteside
1st Runner-Up Sierra Hoelzeman, Morrilton, daughter of Kenny and Jennifer Hoelzeman
2nd Runner-Up Addison Briggler, Plumerville, daughter of Michael and Kim Briggler
Ms. UACCM Emily Lawrence, Oppelo, daughter of David and Kathy Lawrence
1st Runner-Up Abigail Valdez, Conway, daughter of Fausto Valdez and Maybelline Hensley
2nd Runner-Up Nicole Slatton, Vilonia, daughter of Tommy and Sally Wise
3rd Runner-Up Madison Wright, Conway, daughter of BrandyWright
4th Runner-Up Audrieanna Corcoran, Conway, daughter of Jared and Rikki Corcoran