19 Jan 2022

Kussmaul, Guy-Perkins focus on strong finish

By Levi Gilbert

Trinity Kussmaul has worked her way back onto the court for the Guy-Perkins Thunderbirds after missing her junior season a year ago.

"She provided a leadership and motivation for the team even though she was sidelined last year with a season-ending injury," said Guy-Perkins Head Coach Millie Herndon. "I expect her to be among our leaders in rebounding this season and be an all-around good player and a team leader."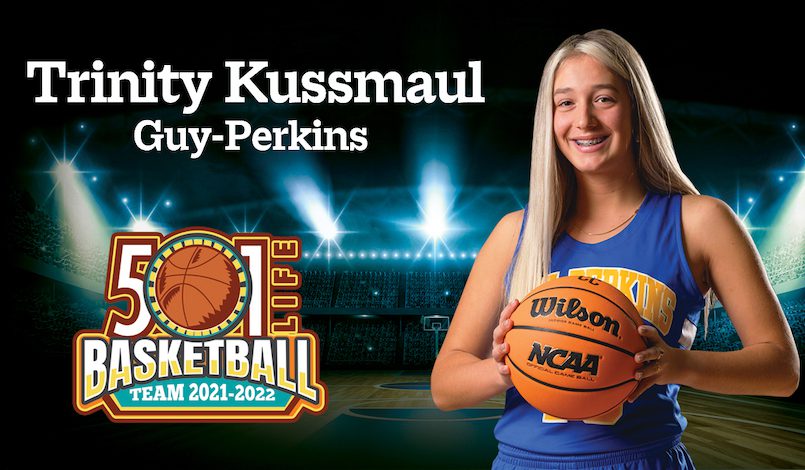 Kussmaul, a senior forward, has helped the Guy-Perkins (9-9, 3-3) make strides and improvements this season after a 9-17 record last season.
"Her court vision, shot making, rebounding and leadership are some of her best attributes on the court," Herndon said. "She has a great personality, helps others and is respectful to all. She maintains a positive attitude and helps to build up her teammates on a consistent basis. She also keeps her teammates accountable for all of their actions.
"She gives back by motivating and inspiring her teammates to be the best that they can be. She is also quick to volunteer to help someone in need."
Kussmaul was selected to this year's 501 Basketball Team — 40 players representing the best the 501 has to offer both on and off the court. The team is sponsored by First Security Bank, Conway Regional Health System, Moix Equipment and Toy Company and Velda Luders of Coldwell Banker RPM Group. She was nominated by Herndon.
Off the court for the Thunderbirds, Kussmaul is a valuable asset in the classroom.
"She engages with teachers in a respectful manner," Herndon said. "She is a straight A student and helps her classmates in tutoring them."
With the final stretch of the regular season ahead and the district tournament nearing, every game ahead for Kussmaul and her Thunderbird teammates is crucial for playoff seeding.
Guy-Perkins plays host to Sacred Heart in 1A-4 conference play at 5 p.m. Friday, Jan. 21.

Latest posts by Levi GIlbert
(see all)