02 Mar 2022

King 'heart and soul' of nationally ranked Lady Cats

By Levi Gilbert

On a team that is stocked with an incredible amount of depth and a wide mix of basketball talents, senior Kalayna King fills an invaluable role on the nationally ranked Conway Lady Cats. 

"Kalayna does all the things on the court that nobody wants to do," Conway Head Coach Ashley Hutchcraft said. "She gets every hustle play, she is one of our best rebounders, she has a high basketball IQ, she is a vocal leader and her energy and effort are contagious.

"Kalayna is a star at her role on our team. She puts the team first. If it requires her to guard the best player or sit on the bench, she is willing to do whatever for our team to be successful. She is a leader on and off the floor for us."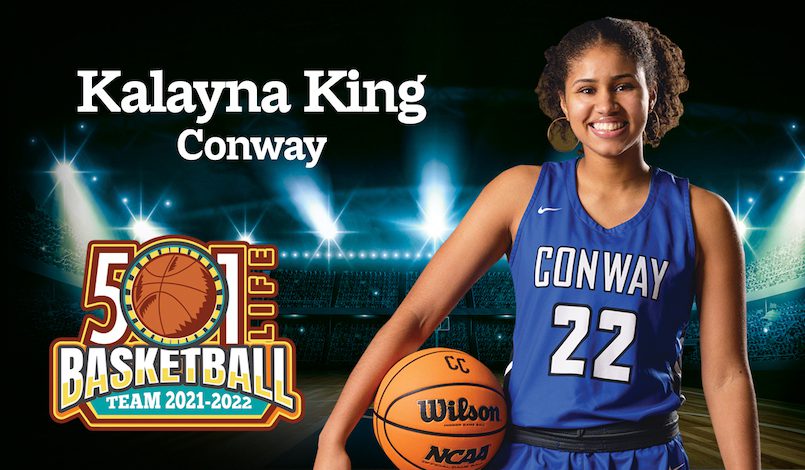 King and the Lady Cats (28-1, 14-0) finished off 6A Central conference play and a perfect conference record with 73-66 win over rival North Little Rock last Saturday. It was rowdy crowd at Buzz Bolding Arena and a playoff primer for both sides. It was a matchup of the top two teams in the state (Conway ranked No. 1, North Little Rock ranked No. 2), and it could be a preview of an eventual 6A state championship matchup if both teams continue their winning ways in the state tournament this week.
As the No. 1 seed out of the 6A Central, the Lady Cats earned a first-round bye in the state tournament and will open play in the 6A quarterfinals this Friday.
King earned 6A Central all-conference honors last year as a junior. The Lady Cats have lost in three consecutive 6A semifinals, and King and her Lady Cat teammates are looking to end that streak this week.
"My personal goals for the season include being one of the leading rebounders for my team, bringing energy on the defensive end and contributing on offense," King said. "Our team goals and expectations are to go undefeated in conference and win a state championship. We will achieve these goals by pushing each other in practice every day and not letting adversity set us back.
"I think one of the biggest things we have faced is our three consecutive year semi-finals losses. I think the biggest adversity is getting over that hump this year and finding our groove as a team. When my teammates and I are on the court and everything is going smoothly, we are in sync and it makes me feel like we are unstoppable."
King was selected to this year's 501 Basketball Team — 40 players representing the best the 501 has to offer both on and off the court. The team is sponsored by Velda Luders of Coldwell Banker RPM Group, Moix Equipment and Toy Company, Conway Regional Health System and First Security Bank. She was nominated by Hutchcraft.
King is one of nine senior Lady Cats on this year's squad, and one of two senior starters.
"We have two seniors that start in Kalayna King and Jaiden Thomas," Hutchcraft said previously on the Conway Corp Lady Cat Coach's Show. "If you've watched the last three and a half years, you've seen Jaiden Thomas come in an as a young girl and continuously watched her develop into a remarkable young woman on and off the floor. And the same goes for Kalyana. They're not just great basketball players. They're great people. That's what's going to be hard to replace. It's going to be replacing them in the locker room that's going to be hard."
Heading into this week's state tournament, King is averaging four points per game for the Lady Cats. She's racked up 103 rebounds, 55 assists, 44 steals and nine blocks.
"In my mind, Kalayna is the heart and soul of this team," said Tim Roach, color analyst for Lady Cat basketball on Conway Corp. "She does a little of everything, and really, flies under the radar. She doesn't put up big points, but she can knock down the 3 and does a great job of flying to the basket. In the 1-3-1 zone that the Lady Cats run, she is usually the one in the back of the zone, which means she has to cover baseline to baseline and help in the lane as well.
"Even with her relentless approach defensively, she has to be in constant motion on the offensive side. Working the baseline, diving to the middle and back up top — she is everywhere. The Lady Cats would not be where they are without her play on the court, but I think, as great as that is, they would not be there without her leadership and spirit. All you have to do is spend five minutes with her to know what an absolutely wonderful young lady she is. I am just a huge fan of Kalayna."
The Lady Cats, who are ranked No. 10 in the ESPN High School Girls' Basketball Top 25 national poll, haven't lost to an in-state opponent all season. Their single loss on the year was at Duncanville (Texas) on their home court. Duncanville is ranked No. 16 nationally in the same ESPN poll.
Off the court, King is involved in Caring Cats and the Chamber Choir at Conway High School. In choir, she serves on the leadership team and is the alto section leader. She is involved in the youth group at First Presbyterian Church and also participates in the church's session council.
King and the Lady Cats tip off their postseason journey in the 6A quarterfinals at 4 p.m. Friday, March 4 at Little Rock Southwest High School. They will play the winner of the Fayetteville/Central first-round game.

Latest posts by Levi GIlbert
(see all)