05 Dec 2018

Jiles 'very thankful' for basketball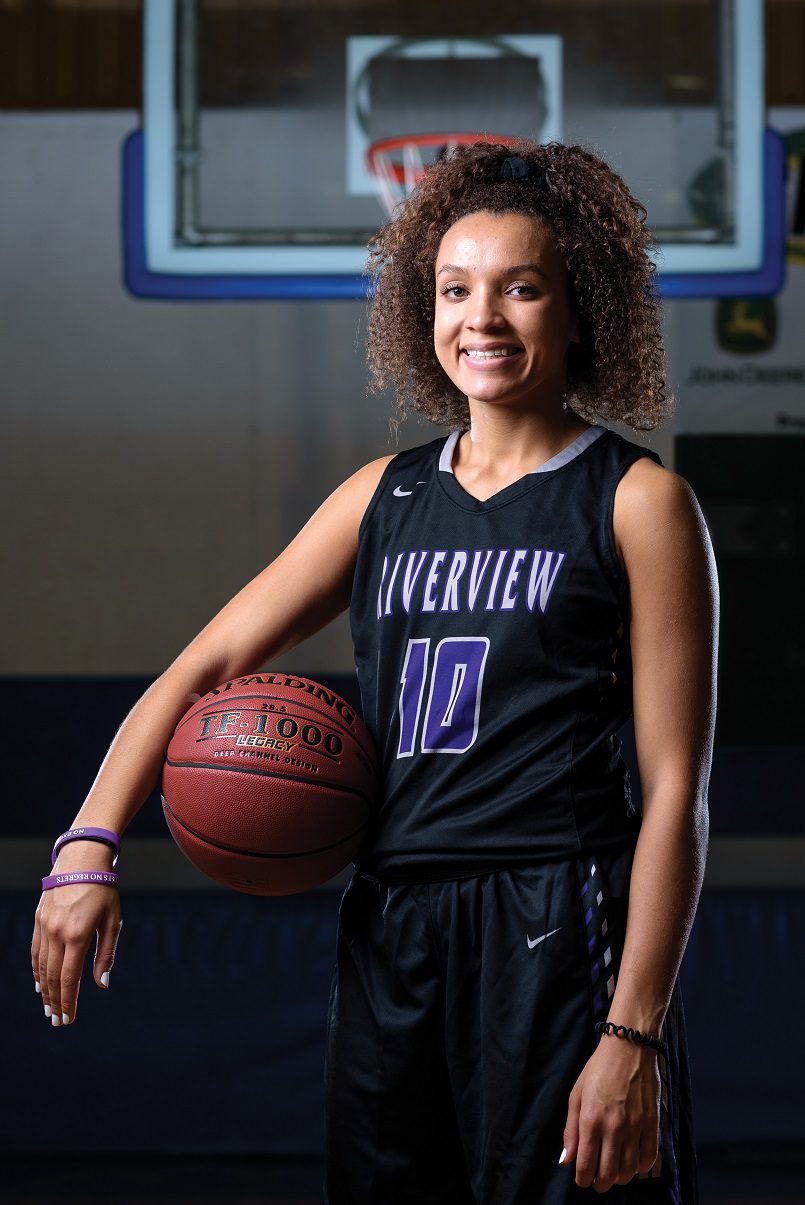 by Levi Gilbert
Abbie Jiles is playing out of her mind.
Just eight games into the season, the senior is averaging 26.3 points per game in her early quest to lead the Riverview Raiders back to the state championship. Back in March, Jiles led the Raiders with 18 points in defeat against Central Arkansas Christian, 68-57, in the 4A finals.
"I've been working to get my shooting average up from last year," Jiles said. "That means a lot of extra time in the gym."
It's working.
So far, her lowest output in a game was 16 points (in a 49-47 win over Cave City on Nov. 30). She scored 29 points against Mountain Home (the Raiders scored 33 total points), 33 against Central Arkansas Christian (the Raiders avenged the state championship loss with a 56-54 victory in the rematch on Nov. 19) and a staggering 46 points against Bald Knob.
Jiles, a senior guard for the Raiders, was selected to this year's 501 Basketball Team — 34 players representing the best the 501 has to offer both on and off the court. The team is sponsored by Conway Ortho and Sports Medicine, Conway Regional Health System and First Security Bank. Jiles was nominated by her head coach, Ryan Smith.
"Abbie brings leadership with her positivity, work ethic and athleticism," Smith wrote in his nomination. "She leads by example, is positive, very encouraging and puts her teammates first. She is arguably the best player in 3A. She is tenacious on both sides of the floor. She leads our team in scoring and is the best defender. Everything we do will run through her."
Basketball started early for Jiles, and it has been a family affair at times with her father coaching her in youth sports. "When I think back, I can't remember a time basketball was not in my life," she said. "I started to practice with an AAU team in Jonesboro in about the third grade. We drove an hour to Jonesboro twice a week just for an hour and a half of skills and drills.
"When we lived in North Dakota, my Dad was my coach, and when we would be down a little bit in a game, he had this saying. He'd say, 'It's gut check time.' This meant it was time to kick into high gear and go as hard as you could. It was just great getting to have him as a coach. He always pushed me to go harder."
Jiles and her family moved from Pocahontas (Randolph County)to North Dakota during her eighth-grade year. Two years later, they moved back to Arkansas. In what could have been a difficult time, Jiles stayed positive.
"On my first night in North Dakota I was literally standing on the edge of the United States looking across icy Lake Metigoshe at Canada," Jiles said. "Saying goodbye to so many friends from Pocahontas was hard, but I met lifelong friends in North Dakota. Then saying goodbye to my North Dakota friends was again hard, but I now have great friends in Searcy. Moving is hard, but it's not the end of the world. I have learned that great adventures and wonderful people await in all areas of the country. I wouldn't change a thing from my high school years. It doesn't matter where I am, North Dakota or Arkansas, I always come home thankful for the laughter and the fun times I have together with family and friends."
Another challenge Jiles has faced on the court is hypoglycemia, so if you see her sneaking a snack during a game, don't fret.
"During the game, I will snack on Skittles to keep my sugar level up," Jiles said. "I have even eaten a cheeseburger at halftime."
Jiles is a multi-sport athlete for the Raiders. This fall, she made the all-state volleyball team. She's run track since seventh grade. She placed fifth in the triple jump in eighth grade, and as a sophomore, she won the state long jump in North Dakota. She's also been known to play some softball, but basketball is her first love. Her goal is to continue playing basketball on the college level at Harding.
"I am very thankful God has blessed me with the ability to play basketball," Jiles said. "It is something that I really love, and none of it is possible without Him."
Jiles and the Raiders take on cross-town rival Harding Academy at 6 p.m. Friday.

Latest posts by Levi GIlbert
(see all)