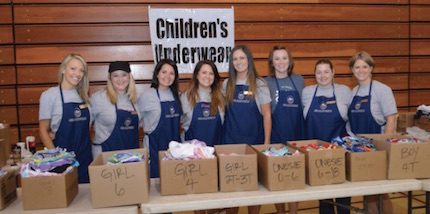 29 Aug 2015

JA of Searcy sponsors Covering Kids project

Posted at 10:47 PMh

in

News

Junior Auxiliary of Searcy recently participated in the 19th Annual A Day of Caring.


At the event, as part of its Covering Kids project, JA of Searcy gave underwear to approximately 618 White County children in need.

Ashley Harvey, the chairperson of the Covering Kids project said, "I love Covering Kids because we actually see the kids we help. The entire Day of Caring is a very humbling experience. The families that come through are so thankful for everything we are doing to help them."


In addition, JA of Searcy also helped to prepare and serve 1,900 lunches to all of the A Day of Caring families and volunteers.


"There are many local businesses that come together to make it possible for us to provide lunch," said JA President Leah Cook. "Unity Health provided the hot dogs and buns and Centennial Bank grilled all of the hot dogs. Other business that contributed included First Security Bank, Simmons Bank, Western Sizzlin, Orr Toyota, BoldDental, Bliss Salon, AR Care, Tropical Smoothie Café, Which Wich, Firehouse Subs and Subway."


Junior Auxiliary of Searcy was chartered in 1962 and currently has 32 active members who dedicate their time throughout the year on a variety of projects that focus on local children and families in need of assistance. In addition to Covering Kids and A Day of Caring, other JA of Searcy projects include Sunshine School, Searcy Learning Center, Food Baskets and Angel Tree.


For more information on Junior Auxiliary of Searcy, and to keep up with all of their projects, "Like" them on Facebook.