30 Jun 2022

'If I think it, I can make it'

By Vivian Lawson Hogue

Tucked away in a quiet office mall on Wingate Street in Conway is a shop called Sew Unique, operated by Birder Harris. It is aptly named because she can make ripped cloth look like nothing ever happened or alter something to seemingly take 10 pounds off with a few nips and tucks.
"Birda" was born in Benton, Mo., with its fields and land where families made their livings raising crops and animals. "My mother was a seamstress who was a clothing factory supervisor in Cape Girardeau, Mo.," she said. "My father was a pastor who loved God, and from that love, he pastored two churches. In addition, he was always working on building houses, working the fields, or whatever brought in money. He kept the nine of us siblings busy with cooking, cleaning, and other chores.'
"My parents owned some land where they farmed with a horse, a goat, cows, pigs, chickens, a couple of dogs, and lots of cats! The cows and pigs were sold or processed for our freezer," she said. "We also had gardens where we raised vegetables for canning and winter storage. Our peach trees provided fruit to preserve or freeze, and plum trees produced fruit from which wine was made.
"My mother was a seamstress and a factory supervisor. She taught my sisters and me how to sew. We had a sewing center on our property near where clothing factories discarded manufacturing rejections. My father would take us to the factories, and we would collect items, taking apart hats from the hat factory, then use pieces to make quilts, hats, coats for ourselves or to sell. In this, I always did my best, an attitude I still hold today. I have always loved the thought of making something from fabric that comes from God's creation."
She explained her observational experience with cotton plants by adding, "We also worked in the fields, and that is where I found my passion in cotton! I picked cotton as fast as I could so I would be free to enjoy God's nature. I noticed a cotton plant was simple but held lots of potential. To the eye, just a green bush, but as it ages, it adds lots of little balls, which grow into knots. As they enlarge, they are filled with cotton packed tight and shaped like orange slices. They grow until they burst, and as they burst, the white tips show. The sun dries the bolls, and the cotton fluffs up and spills out of the boll. A newly formed boll can be pulled and show tiny strands of fiber packed together like a tiny rope. Had you looked where I stopped on my rows, you would see where I pulled them apart learning how they formed and matured.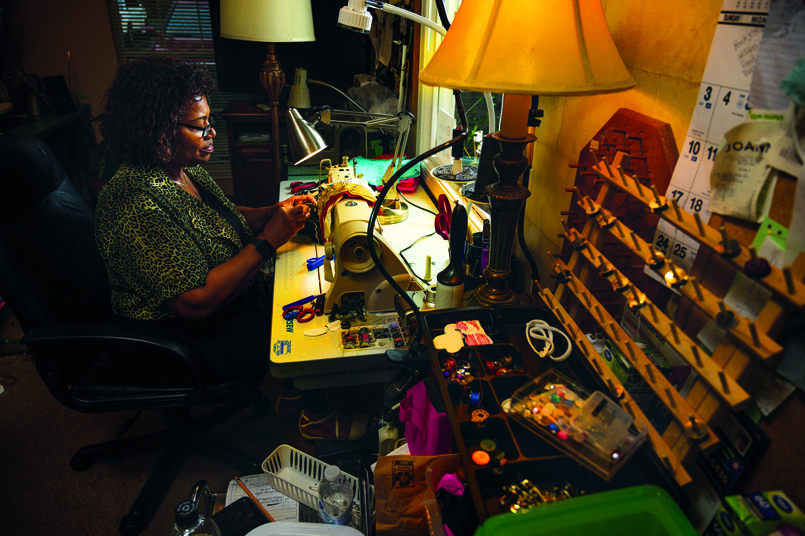 "After high school, I worked at the factory where my mother worked. She found the hardest job for me. We made jackets for the Army, and I began in the section that made the front zipper on leather jackets. My best experience also came from bridal shops and a car seat factory. Before opening my alterations shop, I took a tailoring class at Southeast Missouri State. I also taught a sewing class for 10 years through the University of Central Arkansas outreach program. All molded me into who I am today, giving me knowledge and skills used in my shop.
"As a child, I took things apart and put them back together and it taught me how to measure and fit. I once made a groom's mother's dress with just the fabric and her measurements! I do not need a pattern to make something. If I think it, I can make it!"
Birder does occasionally sew for herself but likes sewing for others best. "I sometimes give private lessons in my shop to people who want to learn to sew, and I hope they will find the same joy that I know," she said. "I have had my shop for 14 years, beginning on a machine where you use foot rhythm to make it sew. I now work on computerized machines. I may have an order to hem sleeves of one shirt, or an order of 350 shirts with the same need. I have all kinds of machines and I use them all!
"I plan to sew until I can't. My husband, Fred Swan, is one of the best husbands in the world. He is a 9-to-5 kind of person, but I can go to my shop any time of day or night and he won't say a word. He may bring me something to eat, check on me, and give me time to finish up my work. My daughter, Geminesse Bell, and sons, Adrean Harris and Danieel Swan, all know how to sew and make something from a piece of cloth, but aren't really interested."
But I'll bet they haven't studied a cotton boll lately either!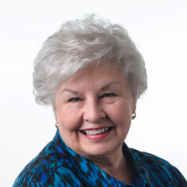 Latest posts by Vivian Lawson Hogue
(see all)