15 Sep 2021

Hutto leads on both sides of the ball for Clinton

By Levi Gilbert

The move up to 4A proved to be a bumpy transition for the Clinton Yellowjackets, but a 2-9 season has left senior Jacob Hutto with a maniacal level of motivation.

"My personal goal for this season is to be the most intense and prepared, mentally and physically, person on the field," Hutto said. "Stats are cool, but at the end of the day, I want to play to the best of my ability, fill in and make plays however my team needs me. We are working to win games, make the playoffs and compete for a state championship. This year, we are a lot more cohesive as a team, and we are working this off-season to make those goals a reality.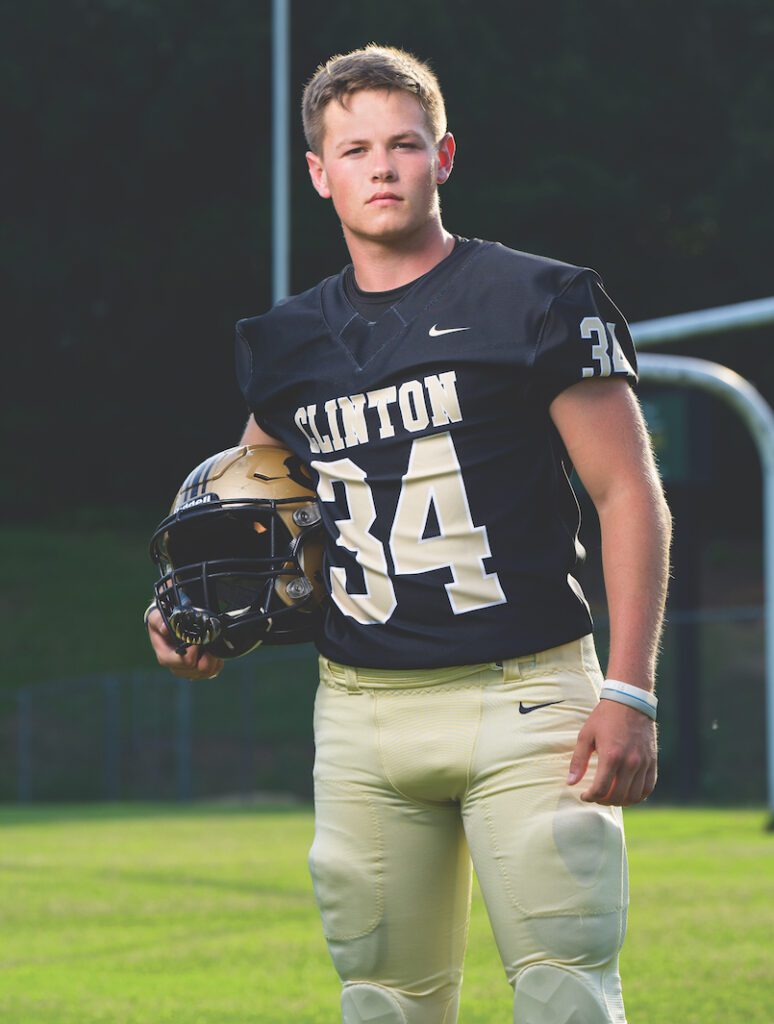 "I want to be remembered as someone who played every snap with intensity, passion and knowledge of the game."
Hutto was a two-way player for Clinton last fall, finishing second on the team with tackles, second in rushing yards and tied for first in touchdowns scored.
"Jacob is a super hard worker and plays at 110 percent every play," said Clinton Head Coach Chris Dufrene. "And he's a great young man off the field. He stays busy in the youth group at Calvary Baptist Church."
Hutto was selected to this year's 501 Football Team — 23 players representing all 11 counties of the 501. The team, sponsored by Conway Regional Health System, First Security Bank, Moix Equipment & Toy Company and Velda Lueders Coldwell Banker RPM Group, boasts the best the 501 has to offer both on and off the field. The senior was nominated by Dufrene.
A big part of Hutto's fighting spirit was forged in 2019 alongside his friend, Devon Wooten.
"Off the field in 2019, one of my best friends, Devon Wooten, ended his battle with cancer," Hutto said. "Devon was a big part of our community and effected everyone in some way. Devon showed me how to battle through adversity and still be faithful in Christ. Every game, I put a piece of gold duct tape on my towel to represent brain cancer, and I write FDS with two crosses to represent 'Forever Devon Strong.'"
On the field, Hutto has also faced physical challenges, breaking his fifth metacarpal bone in his left hand his sophomore year, forcing him to sit out of the playoffs.
"Getting an injury late in the season showed me that nothing is guaranteed and to play every game like it could be my last," Hutto said. "Last year, a big adversity everyone faced was COVID-19. It taught me that life will throw obstacles in the way, and how you react to those obstacles will determine your true character."
Hutto also participates in shooting sports at Clinton High School. The Yellowjackets shooting team qualified for state in his junior year. When he's not competing in athletics for Clinton, Hutto is an avid outdoorsman.
"I love to hunt, fish and do other outdoor actives whenever I'm not playing or practicing for sports," Hutto said.
After high school, Hutto said he plans to play college football and pursue a degree in business or psycology.
"I would like to thank my amazing coaches, Coach Dufrene, Coach Wilson, Coach Hudson, and Coach Benson, for teaching me the game of football while also building my character," Hutto said.
Clinton (1-1) hits the road this week to take on Dardanelle at 7 p.m., Friday, Sept. 17.

Latest posts by Levi GIlbert
(see all)