02 Feb 2022

Hooten presents 'matchup nightmare' for opponents

By Levi Gilbert

For Jaylea Hooten, her junior season has been all about building bonds and improving on the court, and with two games remaining in the regular season, the Heber Springs forward is ready to leave it all on the floor.

"No wins or conference championships could compare to the memories made in the weight room," Hooten said. "The atmosphere created by the team is what helps us bond over the years. I love the team aspect of the sport. Being around a group of girls I've known my entire life and fueling our bond to become a family has been a fantastic experience."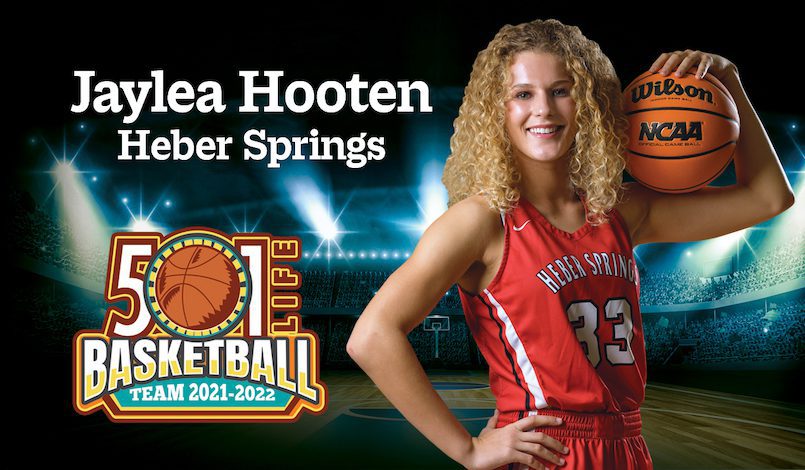 Hooten earned first team all-district last year as a sophomore. She was selected to this year's 501 Basketball Team — 40 players representing the best the 501 has to offer both on and off the court. The team is sponsored by Velda Luders of Coldwell Banker RPM Group, Moix Equipment and Toy Company, Conway Regional Health System and First Security Bank. The junior was nominated by her head coach, Spencer Gay.
"Jaylea was the bulk of the attention last year," Gay said. "When she walks on the floor, you have to know where she is. Her athleticism and size demand so much attention from the other team. I expect Jaylea to step up and grow into the leader that I know she's capable of being. She's already come so far, and that's more than exciting. But, I know that Jaylea is going to transform her game.
"Jaylea is an incredible athlete. She possesses incredible explosiveness to get past defenders. She has an unbelievable motor, allowing her to score in numerous ways. She can stretch the defense by stepping behind the arc, and she can take defenders off the dribble. She's a matchup nightmare for opposing teams because of her abilities."
After starting the season strongly, 4A-4 conference play has proven to be a challenge for Heber Springs (10-12, 0-8). But for Hooten and her teammates, the close of the season brings an opportunity to finish on a high note.
"Jaylea is the hardest worker I've ever gotten to coach," Gay said. "She truly has an unparalleled work ethic in everything she does. Jaylea works numerous hours training younger players in the gym and on the track. She constantly looks for ways to improve her game. She sets a standard that pushes others to elevate their game."
Hooten's contributions extend beyond athletics for Heber Springs.
"She constantly volunteers her time to encourage and promote the Heber Springs youth," Gay said. "She is an active member of the Macedonia Church. She volunteers time picking up trash to help keep the community clean. She also volunteers for Tacos 4 LIfe to put together food boxes for the needy.
"Jaylea excels in the classroom. She is in the top 15 percent of her class, taking her studies as seriously as she does everything else."
In addition to basketball, Hooten competes in tennis and track for the Lady Panthers. She's a member of Fellowship of Christian Athletes and the Renaissance Club. She plans to continue her basketball and track endeavors in college and major in nursing to pursue a career as a nurse anesthetist.
Heber Springs plays host to Clarksville in 4A-4 conference play at 6 p.m. Friday, Feb. 4.
"I want to be remembered for my hard work and determination, even when the odds are against me or my team," Hooten said.

Latest posts by Levi GIlbert
(see all)