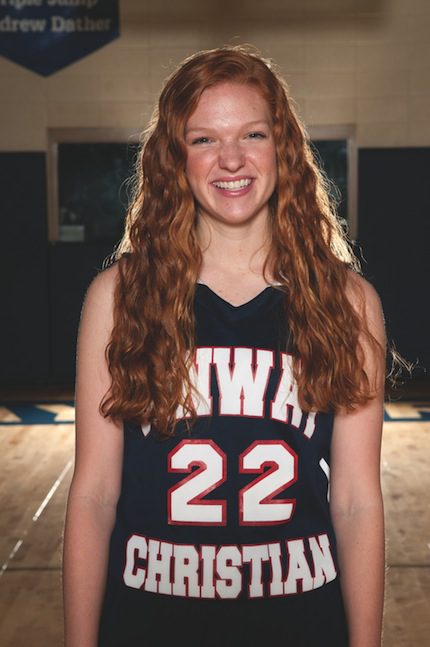 08 Jan 2014

Henley honored with 501 Basketball Team selection

by Mark Oliver


Conway Christian forward Katie Jo Henley had big plans for her junior season. That was until tragedy struck during a practice last month.


"I had a bad landing on a drill during practice and tore my ACL," Henley said.

Henley's knee injury required season-ending surgery. Now, one of the Eagles' biggest supporters on the court will serve as an even bigger encourager from the bench.


"I'm just the cheerleader on the bench now," Henley said. I can't help as much on the court as I'd like, but I will help off the court in any way that I can. I will still go to practice and all the games. I want to be there for my team."


Henley was nominated by her coach, Jeremy Carson, and was selected for the inaugural 501 Basketball Team. Nominations were weighted equally between on- and off-the-field attributes.


"Katie Jo is a strong and vocal Christian first and foremost," Carson said. "She's devoted to her family and her friends. I admire the joy she lives with day in and out."


Since Henley's Dec. 4 injury, the Eagles have lost only one game.


"They have stepped up very well," Henley said. "They have really stepped up to fill the hole I left. I'm proud of what they've done so far and I'm excited to see what they do this year."


As for Henley, she said her basketball career is not over yet.


"I'll be back," Henley said. "I'll be in the gym as much as I can, once I'm ready. I will be working hard during the summer to strengthen my leg back up."


Like many youth in Conway, Henley got her start with Upward basketball, a Christian sports league that promotes the discovery of Jesus through sports.
"My parents were very involved in bringing Upward to Conway," Henley said. "I was always at those games. My dad grew up playing and I decided I wanted to play, too. I started in the first grade and have been playing ever since."

After a disappointing loss to Mountainburg in the Class 2A regional tournament last year, the Eagles have reloaded in 2014 and look to soar to the next level.

"We would really like to make it to the state tournament this season," Henley said. "I want to see us give it a good run and go as far as we can this year."

One of Henley's favorite memories on the court is beating St. Joseph in the junior high district championship two years ago.

"It's always super exciting to play against St. Joseph," Henley said. "I always look forward to that game every year. It's intense and the fans are always into it. We always know it's going to be a good game that will come down to the wire. It's one of my favorites."

Off the court, Henley is involved in a myriad of activities in her classroom.

"Being at a small school like Conway Christian gives me the opportunity to do many things," Henley said. "I love Drama Club, Beta Club and History Club."

Off campus, Henley devotes her spare time to strengthening her faith.

"I'm very involved in my youth group at Woodland Heights Baptist Church," Henley said. "I sing in the youth choir and go on mission trips with them all the time. We've been to northern Arkansas, Tennessee and we even went to Portugal one summer. That was really exciting."

No matter where her travels take her, Henley says she loves life in the 501.

"I like the atmosphere here," Henley said. "We're southern, and I love everyone's hospitality here. My parents and grandparents have lived here their whole lives and I know a lot of people here. It feels like family. It feels like home."