30 May

Hendrix student wins Fulbright award

Hendrix College is pleased to announce that Elizabeth Jones, a history major and German minor from Mount Vernon, has received a Fulbright U.S. Student Program award to study at Royal Holloway, University of London for the 2021-2022 academic year from the U.S. Department of State and the J. William Fulbright Foreign Scholarship Board.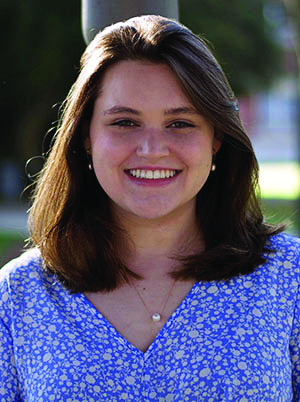 Elizabeth Jones is one of over 2,100 U.S. citizens who will study, conduct research, and teach abroad for the 2021-2022 academic year through the Fulbright U.S. Student Program. Recipients of Fulbright awards are selected in an open, merit-based competition that considers leadership potential, academic and/or professional achievement, and record of service. As Fulbright alumni, their careers are enriched by joining a network of thousands of esteemed alumni, many of whom are leaders in their fields. Fulbright alumni include 60 Nobel Prize laureates, 88 Pulitzer Prize recipients, and 37 who have served as a head of state or government.
Jones's focus within Holocaust Studies is women's Holocaust experiences. Her current research centers on the creation of surrogate families in concentration camps and their importance to women's survival. She plans to use her Fulbright award to continue researching women's Holocaust experiences at Royal Holloway, University of London.
"What an honor for Elizabeth Jones to be named a Fulbright Finalist and be able to experience the benefits of participating in our government's flagship international exchange program," said Hendrix College President W. Ellis Arnold III. "We are proud to have her join the many students, faculty, and staff from Hendrix who have benefited from applying for a Fulbright Program grant, and we are excited that she has been selected to receive an award. We congratulate Elizabeth and look forward to seeing where her research interests take her in the coming year and beyond."
The Fulbright U.S. Student Program is administered at Hendrix College through Professor Daniel J. Whelan of the Politics Department. "As Fulbright advisor, I've been working hard to emphasize to our students how well the Hendrix experience positions them to compete for these awards, as competitive as they are," Whelan said. "Elizabeth's proposal for the Royal Holloway award – which was extraordinarily competitive – was exemplary in that respect. I'm so excited for her to embark on the next stage of her journey."
The Fulbright Program is the flagship international educational exchange program sponsored by the U.S. government and is designed to forge lasting connections between the people of the United States and the people of other countries, counter misunderstandings, and help people and nations work together toward common goals. Since its establishment in 1946, the Fulbright Program has enabled more than 390,000 dedicated and accomplished students, scholars, artists, teachers, and professionals of all backgrounds to study, teach and conduct research, exchange ideas, and find solutions to shared international concerns. The Fulbright Program is funded through an annual appropriation made by the U.S. Congress to the U.S. Department of State. Participating governments and host institutions, corporations, and foundations around the world also provide direct and indirect support to the Program, which operates in more than 160 countries worldwide.
For more information about the Fulbright Program, visit http://eca.state.gov/fulbright.