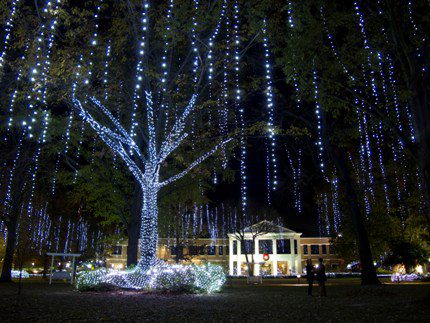 24 Nov 2015

Harding University brightens up campus with annual lighting ceremony

Posted at 9:37 AMh

in

News

On Monday, Nov. 30, Harding University will kick off the holiday season with its annual lighting ceremony at 6 p.m. on the school's front lawn in the quadrangle near the American Heritage Center.


The crowd will be led in a countdown at the end of which more than 100,000 LED lights will illuminate the campus.


Harding's Director of Physical Resources Danny DeRamus and his team work on preparing the lights all year, and the team begins hanging lights in October.


"We begin preparations when we take the lights down the previous year by replacing bulbs and repairing the wiring," DeRamus said. "About a month before homecoming, we start checking and building new light strings for new areas that we try to incorporate every year."


Junior Bri LaFerney said the lights brighten up campus during a gloomy season.


"The sense of community is a major reason so many people choose Harding, and the feeling of connection that spans generations of Harding alumni and students really manifests itself in the lighting ceremony," LaFerney said.


Senior Maeghen Carter enjoys the lighting ceremony because it puts her in the Christmas spirit.


"Sometimes when you live really far away from your home it's hard for the holidays to feel like the holidays," Carter said. "The lights are by far the most likely to get me in the spirit and make me feel like its Christmas. Seeing them makes me feel like I'm home."


Harding is not the only stop in Searcy to add to your list of light displays to visit. Searcy Holiday of Lights will be illuminated with a lighting ceremony at 5 p.m. Tuesday, Nov. 24, at Berryhill Park and at the Searcy Courthouse Square at 6 p.m.


There are many events happening on campus this holiday season. From concerts to plays, the whole family can enjoy Christmas at Harding. For more information, visit harding.edu/calendar.