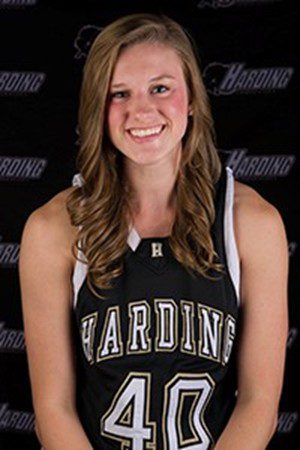 20 Aug 2014

Harding student named scholar-athlete

Harding University's Kristen Celsor was recently named the Central Region Female Scholar-Athlete of the Year by the NCAA Division II Conference Commissioner's Association.

Celsor, a native of Searcy, recently graduated with a 3.91 grade point average in communication sciences and disorders.


A two-sport star, Celsor was the Daktronics NCAA II Central Region Women's Basketball Player of the Year and the Great American Conference Player of the Year. She averaged 16.9 points and 7.8 rebounds and led the Lady Bisons to a 29-3 record and the team's first-ever appearance in the NCAA II Tournament.


Celsor was also Harding's top high jumper for the women's track and field team and ran one leg of the school's nationally-ranked 4×400-meter relay team.


Celsor earned Capital One Academic All-America honors in both basketball and track and field.


Sixteen regional winners of the NCAA Division II Conference Commissioners Association Scholar-Athlete of the Year Award were announced. A male and female Division II Scholar-Athlete of the Year will be selected from the 16 regional winners, eight men and eight women.


The commissioners from each Division II basketball region selected the regional winners. The Central Region is comprised of universities in the Great American Conference, the Northern Sun Intercollegiate Conference and the Mid-America Intercollegiate Athletics Association.


To be nominated for consideration, a student-athlete must have attained a 3.0 cumulative grade point average and possess outstanding athletic credentials.


This award, sponsored by the Division II Conference Commissioners Association, provides the opportunity for Division II to highlight the extraordinary achievements of its student-athletes. Steve Murray, Division II CCA president and commissioner of the Pennsylvania State Athletic Conference, noted that the award showcases the academic and athletic talent at the NCAA Division II level.


"The CCA Scholar-Athlete Awards highlight the great achievements of our student-athletes both on the field and in the classroom," said Murray.


The national award winners will be announced in September.