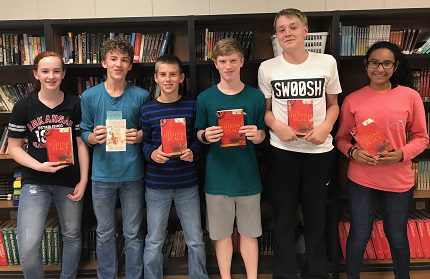 29 Oct 2017

Harding issues invitation to join literacy project

Posted at 12:07 PM

in

News

Harding University has teamed up with libraries and schools across Central Arkansas to expand the impact of its annual campus literacy project, Harding Read. The expanded program, "Join the Harding Read," invites students in surrounding communities to read this year's selection, Corrie ten Boom's "The Hiding Place," along with the Harding community of students, employees, alumni, parents and friends. The University is also hosting a number of events connected to the Harding Read that area students and families are invited to attend.


"The Harding Read not only enables participants to benefit from an inspiring story, it creates the opportunity for conversations. These conversations build community and we wanted to invite our neighbors to join in," said Jana Rucker, vice president for communications and enrollment.


To date, Harding Academy, Searcy Schools, White County Regional Library System and Central Arkansas Library System have partnered with the Harding Read, with more expected to join.


"We are excited to partner with Harding University in the Harding Read this year," said Darla Ino, director of the White County Regional Library System. "Love Corrie ten Boom's book and look forward to participating in the activities planned."


Harding has donated more than 100 copies of the book to area schools and libraries so that more participants can join.


"We at Searcy Public Schools are so pleased to be included in the Harding Read program," said Betsy Bailey, director of communications for the Searcy School District. "Our teachers at the junior high and high school levels are excited to be able to encourage students to read outside of class and participate in the educational activities that Harding is offering."


To enhance the Harding Read experience, the University has created a series of events that relate to the experiences of Holocaust victims and survivors in the book.


At 7:30 p.m. Tuesday, Nov. 7, in Benson Auditorium, Harding will host a free American Studies Institute lecture featuring Holocaust survivor and forgiveness advocate Eva Kor. A select group of teen participants will attend a private reception with Kor prior to the event.


Through Nov. 7, the University's Stevens Art Gallery is featuring a free exhibit, "A Town Known as Auschwitz: The Life and Death of a Jewish Community." The exhibit, which originates from the Museum of Jewish Heritage – A Living Memorial to the Holocaust in New York City, contains historical photographs and records from the 16th century through the post-war period.


"Eva Kor, Corrie ten Boom, and this exhibit all tell a story about the importance of community, the power of faith and the need to forgive and be forgiven when we are faced with severe trials … and we most assuredly will be at some time in our lives," said Dr. John Keller, professor of art and curator of the Stevens Art Gallery.


"We are excited to partner with Harding University on this community-wide reading project," said Ellen Samples, youth services coordinator for the Central Arkansas Library System. "Encouraging people of all ages to read and share their personal stories helps strengthen and unify communities."


Schools and libraries interested in joining the Harding Read may contact Jonathan Murphy at [email protected] , or 501.279.4108. For more information about the Harding Read, visit hardng.edu/hardingread. To learn more about special events and services offered by the University, visit harding.edu/community .