19 Aug 2018

HARDING: Bisons prepped for GAC title run

Conference: Great American
Coach: Paul Simmons
'17 Record: 11-4

Things didn't look good for the Harding Bisons — to say the least — after starting the 2017 season 0-3. But the Bisons were resilient and put together 11-straight impressive wins before falling in the Division II semifinals.

"It was a perfect case of a team holding together through adversity," said Scott Goode, Assistant Athletic Director for Sports Information. "Last season, the team had a new head coach, new offensive coordinator, new defensive coordinator and eight new starters on defense. It took a little bit of time for all of that to come together, but once it did, it was an amazing run.

"Coach Paul Simmons' toughest job last season was holding the team together after the rough start, and he did a masterful job, especially for a first-year head coach. Eleven straight wins and a berth in the national semifinals were evidence of that."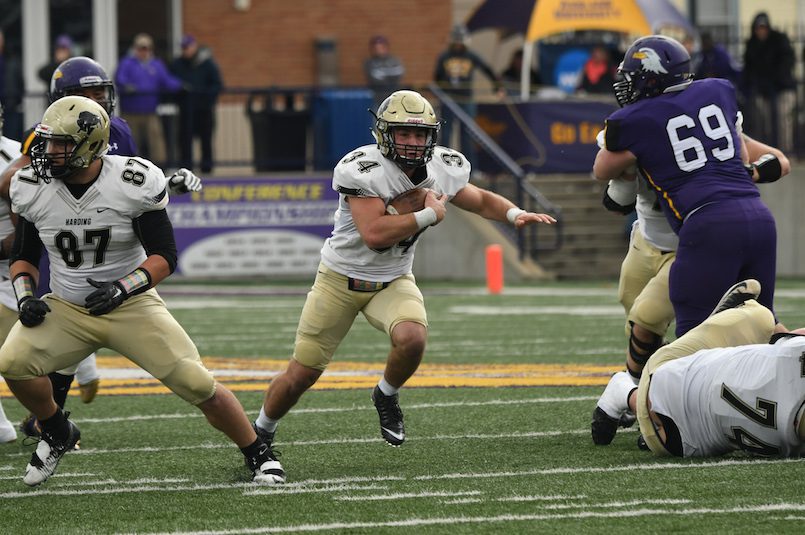 The entire Harding backfield will be comprised of sophomores. Quarterback Preston Paden takes over at quarterback after starting in the semifinal game last year. Paden rushed for 143 yards in that game. Tristan Tucker and Taylor Plaia-Bissel start at slotback, and Cole Chancey returns at full back after rushing for 1,347 yards and 15 touchdowns as a freshman. Senior Kohl Blickenstaff and junior Bobby Green lead the receivers. Three starters return on the offensive line in seniors Keith Pledger (left guard), Bryce Bray (center) and Heath Pledger (right guard). Sophomores Sam Wilson and Mason Hutto are new starters at the tackles.
"Offensively, Harding's strengths will be on the offensive line, led by senior center Bryce Bray, and at the fullback position, where sophomores Cole Chancey and Romar Reades will carry the load," Goode said.
Senior T.J. Winslow and junior Toni Montez return to anchor the defensive line at end and tackle, respectively. Senior Devyn Comer gets the start at the other end, and sophomore Daniel Anderson disrupts at noseguard. Sam Blankenship is a stalwart at linebacker. The senior put up 130 tackles, 3.5 sacks and three interceptions last fall. Sophomore Shedrick Robinson gets the nod at the other linebacker spot in the Harding Eagle defensive scheme. Four starters are back in the secondary — seniors Dra Smith, Christian Witt, Frank Herbert and Tony Becton — and senior Daylon Markham rounds out the defensive back starters.
"Harding has its most experienced, deepest defense in recent years, led by senior All-American linebacker Sam Blankenship and senior defensive end Devyn Comer," Goode said. "The battle for the top spot will be as tough as ever in the GAC. Ouachita has experience at all of the skill positions offensively, except quarterback. Southern Arkansas has dangerous senior Barrett Renner at quarterback, and many expect Henderson State to bounce back after going 6-5 last season."
5 Players to Watch: 
Preston Paden (Soph. QB)
Cole Chancey (Soph. FB)
Bryce Bray (Sr. OL)
Sam Blankenship (Sr. LB)
Devyn Comer (Sr. DL)
1 Must-see Game:
"Harding and Ouachita Baptist will likely be the top two teams in the GAC preseason poll. Always a great game, this season in Searcy." — Goode
2018 Schedule:
Aug. 30at Henderson St.
Sept. 8 Southern Ark.
Sept. 15 at Southern Nazarene
Sept. 22 Oklahoma Baptist
Sept. 29 at UA-Monticello
Oct. 6 Ouachita Baptist
Oct. 13 at SW Okla. State
Oct. 20 NW Okla. State
Oct. 27 at East Central
Nov. 3 SE Okla. State
Nov. 10 Arkansas Tech