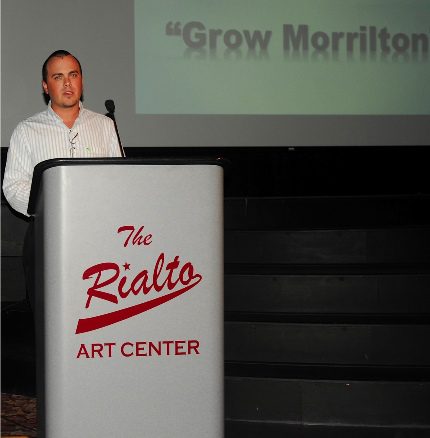 28 Oct 2013

'Grow Morrilton' meeting held

Posted at 10:31 AMh

in

News

by Janna Virden


About 75 citizens from Morrilton and Conway County attended a planning session held last Thursday at the Rialto Theater in Downtown Morrilton to learn more about a 10-year plan to help improve the town of Morrilton and surrounding areas. The Morrilton Area Chamber of Commerce along with Main Street Morrilton hosted the meeting.

Brandon Baker, president of the Morrilton chamber, unveiled the results of a "Grow Morrilton" survey in which citizens were asked to rank the needs of the community. He said the No. 1 concern was job creation.


From this survey, the Chamber developed nine different priorities that will be developed into a 10-year growth plan. Those priorities are Keep Morrilton Learning; Keep Morrilton Clean; Keep Morrilton Memorable; Keep Morrilton Working; Keep Morrilton Building; Keep Morrilton Active; Keep Morrilton Confident; Keep Morrilton Unique and Keep Morrilton Creative.


Under each priority were sub-plans such as job creation, bike paths and trails, public safety, etc. Baker urged the people attending the meeting to sign up to be on a sub-committee geared toward their own interest, and then give the Chamber their ideas on how to accomplish what they wanted to see improved. "We can't move forward, if you don't take the first step."
Baker said the Chamber is working to develop an execution process for the 10-year plan, and creating a rough draft. He hopes to have a plan ready to present to the city and county governing bodies by early next year.

"If we don't have a plan, nothing will change."