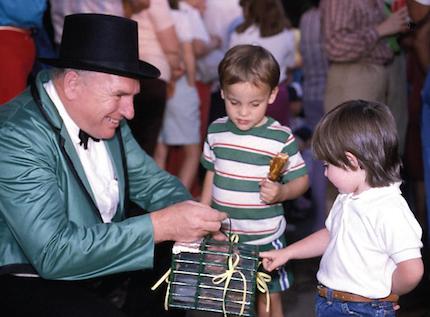 16 Jan 2016

Group hosts evangelist Antony Simon

Posted at 7:29 PM

in

Faith

by Donna Lampkin Stephens

Antony Simon walks the streets of Israel daily sharing the gospel of Jesus Christ, and in the fall, this "Bible-believing Jewish Englishman" visited the 501 to share his evangelism story.

"He can sit in a coffee shop and have a cup of coffee and exchange pleasantries with another person, and somehow he is able to take a nugget of information and engage them in talking about Jesus Christ and eternity in the most kind and gentle way," said Adair Howell of Conway, one of Simon's 501 hosts. "He's not a Bible thumper; he does it in love."

Simon's ministry is titled Voice in the Wilderness: Preaching the gospel in Israel. According to its website, voice-wilderness.com, the ministry includes trips throughout Israel and Jordan, "evangelizing and speaking to the local people about the Messiah." The group hands out "books, Bibles and invitations to receive videos," and promises those who join the effort "you will return to your local church vitalized and energized to serve in a new way."

Howell affirmed that promise.

"With his clarity, with his kind instruction, he is helping us to be able to have conversations with others about, not the end times, but their end times, of where they will go in eternity, about living for Christ now and in eternity," she said. "He knows the difference between heaven and hell. He knows and wants us to have that same compassion for others."

Howell has traveled to Israel multiple times over the last 10 years, both with her husband, Ritchie, and with others, including Don Chandler, senior pastor at Central Baptist Church in Conway; Dede Roberts, director of the United Methodist Church's Arkansas Conference Center for Clergy and Laity Excellence in Leadership and former associate pastor at Conway's First United Methodist Church; and Jan Shaddox, a leader of a Bible study fellowship in the Springdale-Fayetteville area.

At first, it was simply to tour the land where Jesus walked.

"After coming to Christ, I had a desire to see and understand," she said. "I could not figure out this land. My mind has to see it to understand.

"Then I went back with Jan one year and she was doing something different. She had met Tony's daughter, Rachel, in England during the time of the Olympics (in 2012). They were literally giving Bibles to the spectators and perhaps participants in the Olympics, but primarily in Jewish neighborhoods and to Jewish spectators."

Simon, born in Manchester, England, to Jewish parents, attended Jewish schools, but at 18, according to his testimony on his website, he was born again, "repented of my sins and trusted Christ as my Savior."

That led to his ministry.

Howell and Shaddox were among a group of eight Arkansas women who traveled to Israel in 2013 to learn about Simon's ministry, which aims at Jews and Arabs in Israel as well as visitors to the Holy Land.

"He taught us about evangelism, and the following summer we went back again, and last summer, I did not go, but another group of eight women did," Howell said. "He calls it 'street evangelism.' He takes us out, and we have in our backpacks multiple Bibles, in French, English, Spanish, Arabic, and we're talking to the locals who live there as well as this huge mass of visitors, the tourists who have come into Israel from all parts of the world.

"Many are viewing the sites, but they may not have the relationship with Christ."

That's where Simon's ministry comes in, she said. Three evenings a week, he preaches from his pulpit, where he's invited the people with whom he has shared the scriptures.

"It's the most eclectic group of people — Korean, Jewish, English," Howell said. "He is literally on the streets every day walking, talking and sharing Christ."

As part of the itinerary for his trip to the United States in the fall, Simon returned the visit of the Arkansas women. Howell said among the goals for his visit were:

To inform "as many individuals and churches as possible about the enormous work of providing physical and spiritual needs to those refugees in Iraq who have fled the onslaught of ISIS; to generate interest and financial support as he returns to serve the refugees . . . to meet their needs during the upcoming winter with heaters, fuel, food, Bibles, audio-Bibles and the Gospel message; to generate interest in mission trips to Israel, Iraq and other locations; to encourage evangelism as a lifestyle."

By all accounts, the visit was a success.

The Howells, along with Janet and David Crow and Karen and Dr. Bart Throneberry of Conway, helped to host Simon during his week-long visit to Central Arkansas. He had stops at a variety of churches, including Central Baptist and First United Methodist of Conway and Fellowship Bible of Little Rock, and also met and visited with individuals.

"What is in common is studying the Bible and knowing Jesus Christ," Howell said.

Janet Crow said she found Simon to be "a very committed person who has sold out to the Lord."

"He really wants all people everywhere to know," she said. "I find Tony fearless in his desire to reach people and let them know about the Lord Jesus. He is selfless and courageous and not afraid. He goes into a lot of places that, frankly, you and I would think twice about. He uses what I call intentional evangelism — using every opportunity wherever he is to talk to people about the Lord."

For more information about Simon and his ministry, contact Howell at [email protected] or visit voice-wilderness.com.