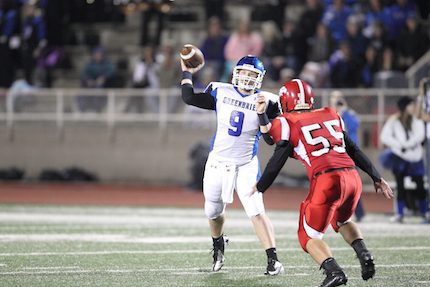 12 Aug 2014

Greenbrier: Panthers built around strong offensive line

Conference: 5A West
Coach: Randy Tribble
'13 Record: 4-7 (3-4)

The Greenbrier Panthers returned to the playoffs in 2013 despite a losing record. A 3-4 conference mark in the 5A West was enough to take the Panthers into the post-season, thanks in large part to regular season closing win over rival Vilonia.

The Panthers were bounced in the first round, 48-6, by Batesville, but a return trip to the playoffs off the high of beating Vilonia left Greenbrier with a good feeling heading into the offseason.


Coach Randy Tribble, now 43-27 at Greenbrier since arriving in 2008, returns all of his starters on the offensive line from last year's squad. Seniors Sam Colbert, Jacob Cummins, Jordan Pearson and Tristan Carter along with junior Logan Cope will give the Panther offense a solid foundation at the line of scrimmage.
The Panthers even have two viable options at quarterback — senior Will Drewry and junior Harold Ross. Drewry started seven games for the Panthers last fall before injuring his knee. Ross took over for the last four games of 2013. Senior running back Carson Matthews rounds out the returning starters.
The Panthers are solid at several spots offensively, but one weakness, according to Tribble, is a "lack of experienced receivers."
Only four full-time starters return on the defensive side of the ball — senior defensive ends Chase Weatherly and Cody Smith, linebacker Tyler Bush and safety Austin Porter.

"We had other guys start one or two games," Tribble said.
Newcomers to look out for this season include senior receiver/safety Kyler Gamblin, quarterback Carter Burcham, running back Cody Hopper, defensive linemen Kyle Harshberger and Jimmy Strough and linebackers/receivers Paxton Wallace and Hunter Milligan.

"We'll be in the run for a playoff spot," Tribble said. "If things come together, we could compete for a conference championship."