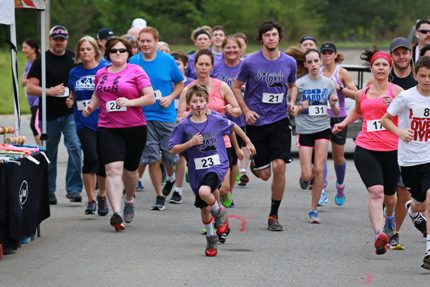 29 Apr 2015

Greenbrier Mayor's Challenge wraps up with Big Event

The Second Annual Mayor's 107 Mile Challenge wrapped up with a Big Event on April 18 in Greenbrier.

The challenge was part of Greenbrier Gets Fit, a free community wellness program promoted by the City of Greenbrier through the Melton Cotton City Event Center. The program was designed to encourage people to get motivated, get moving and get fit! To participate in the challenge, individuals walked, jogged, ran or rolled 107 miles between Jan. 1 and April 18, and logged their miles online. Participants completed their last mile with Greenbrier Mayor Sammy Joe Hartwick on April 18. Trophies were awarded to Pam Malabanan, the overachieving individual who completed more than 610 miles. Mike Bennett was a close second with 601 miles. The overachieving team was the Greenbrier Church of the Nazarene which collectively completed 3,365 miles. A spirit award went to Mike and Brenda Bennett who completed nearly 1,170 miles as a couple. Collectively, all participants logged nearly 8,500 miles. That is the distance from Greenbrier to New York City to Los Angeles, twice!


This year, Hartwick wanted to encourage participants to go above and beyond the 107 miles and approximately 25 percent of the nearly 100 participants did just that. Also, to go above and beyond, the city added the Moustache Dash 5K which involved 36 participants.


There was also a beard and moustache contest at 11 a.m., with judging by representatives from the gold level sponsors: My Country Y107, King Graphics, OSP Imaging, 501 LIFE and the Greenbrier Chamber of Commerce. The Red Cross Blood Mobile was on site along with a wide variety of vendors. Kneady Knots Massage provided mini-massages and Conway Regional Health System had an athletic trainer on site. OSP Imaging sponsored a fun photo booth and provided free pictures to participants as mementos. Over 25 prizes were given away and participants enjoyed fresh grilled healthy food samples. CrossPoint Baptist Church sponsored a Kidz Zone with bounce houses and games for kids.
"It is so encouraging to hear about all the positive results people are experiencing through this challenge and Greenbrier Gets Fit as a whole," said event center director Shellie O'Quinn. "Some people just need a little motivation and encouragement to start improving their health. Creating a sense of community around an event like this can provide that. Hopefully, participants will find it becomes a way of life, and that is good for everyone! I have already heard from one individual who has set a new goal and plans to continue logging their miles throughout the year, and that encompasses the whole purpose of the program.

"The mayor has been behind this challenge from the very beginning and I am very thankful for his support and encouragement."

The challenge and 5K are part of Greenbrier Gets Fit, a free community wellness program that began with the help of the Arkansas Department of Health and has been partially funded by grants from the Arkansas Coalition for Obesity Prevention. Greenbrier was recognized as an Emerging Community by ArCOP in 2014 for its efforts to improve the health of Arkansas communities. Greenbrier Gets Fit is promoted through programs offered at the Melton Cotton City Event Center. For more information about Greenbrier Gets Fit, please visit greenbriergetsfit.com or contact Shellie O'Quinn at 501.679.6362 or [email protected]. For more information about the Melton Cotton City Event Center or the City of Greenbrier, please visit cityofgreenbrierar.com.