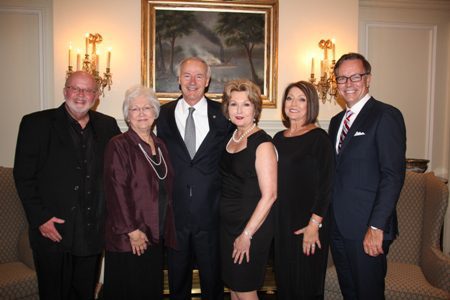 12 Oct

Governor, First Lady support Renewal Ranch campaign

by Sonja J. Keith


Gov. Asa and Susan Hutchinson offered a helping hand at a special event to kick off fundraising efforts for a multipurpose building at Renewal Ranch.


The "Road to Recovery Campaign 2015" event at the Arkansas Governor's Mansion was described as a historic landmark in the Renewal Ranch history. Renewal Ranch is a faith-based ministry that helps men break the chains of addiction through the power of Christ.


Both the governor and First Lady spoke at the event and Renewal Ranch representatives outlined the need for the Restoration Center, which will be located on the 102-acre campus in Perry County. Leaders have identified five specific needs for the building: to hold chapel services, to provide office space to counsel residents, additional beds, a dining facility for daily and group meals, and classroom space.


The First Lady welcomed the sold-out crowd to the mansion. "I do hope you will enjoy your time here and this great evening here and this great cause," she said. "The Lord is really big on renewing us and re-establishing relationship with Him. I appreciate Renewal Ranch so much for so wisely reaching out and being a safe place for adults to re-establish their lives and their hearts and their walk with our wonderful Lord and Savior."


The Rev. Larry Pillow, chairman of the board and chaplain for Renewal Ranch, thanked those in attendance. "Our objective is to restore broken lives through Christ."


Pillow listed communities that had experienced tragic loss at the hands of murders. "As someone who has been involved in Renewal Ranch for the last seven years, as high a risk as the gun cabinet may be, the medicine cabinet is a far greater risk and danger to them," he said. "We started Renewal Ranch to try to do something about it. We are trying to show a better way so the children of our community can be spared the ravages of struggling with addiction to alcohol and drugs."


Pillow said he was the son of an alcoholic and the father of a child who struggled with addiction and died from a prescription drug overdose. He wants to spare others similar pain. "The passion of my heart and the objective of Renewal Ranch is to help provide an opportunity for every child to have a sober parent and every parent to have a sober child."


The cost for the building is estimated between $1.5 and $2 million and the project has been in the works for about three years, according to Pillow. He added that the goal is to have between 100 and 200 beds on the Renewal Ranch campus. "This building will help us meet our objective of restoring broken lives through Christ."


Josh Kear, his wife and father also shared what Renewal Ranch had meant to them and their family.


The governor thanked Don Bingham, administrator at the Governor's Mansion, for introducing him and the First Lady to Renewal Ranch. He said he appreciated the opportunity to attend the kickoff, hear more about the Ranch from those impacted and see the community come together to show its support. "I recognize that you are addressing by your work and your sacrifice a very serious problem we face in our nation and in the state of Arkansas."


Hutchinson said he has seen addiction from many perspectives and it is a difficult problem to tackle. The governor said through his service he understands and believes more and more in the concept of a limited government. "The government cannot touch a person's heart. The government cannot minister in the name of the word of God. The government cannot give hope and faith where there has been none previously. The government is truly limited in its ability to require an outcome. Certainly, the government has responsibilities but government cannot address the challenges of addiction in our society without our faith-based organizations."


The governor said that each life transformed at the Ranch represents someone who can make a contribution. "Renewal Ranch works and it needs to expand, and it needs to be financed. Thank you for what you are doing."


James Loy, director of the Ranch, shared his testimony as a 23-year addict. "I'm proud of God's amazing grace and mercy that has been poured out in my life." During his addiction, Loy said he went to 13 different rehab facilities, paying as much as $50,000 for a 28-day stay. "Some of them were in terrible, terrible conditions," he said. "After I gave my life to the Lord, I was fortunate to have some men who invested in my life and showed me a different way. I'm so thankful to know that God doesn't look at me as an addict, or an alcoholic, or a dope head or a crack head. He says that I am His child, created in His image."


The evening included a special presentation by Renewal Ranch participants who shared their "cardboard testimony" by holding up signs with words they were told and/or believed about themselves "before" the Ranch, with words on the other side describing the truth about themselves "after" the Ranch.


"What I want for you to leave with here tonight is we serve a mighty God who still has the power to save. The power to restore men and families, the power to rescue and secure what is lost. To give back hope when all is gone," said Johnny Adams, chairman of the steering committee for the capital campaign. "God is doing big things in big ways at a little ranch next to the Arkansas River. He is giving hope where there was no hope."


Adams said even the campaign kickoff event was sold out without any advertising.


"They need more room to continue this amazing program that is at the heart of what God does. I can't think of a better investment," he said, explaining that there is a long waiting list for men to join the Ranch. "Which of the men on the waiting list, which of the wives, which of the daughters, which of the kids are not worth this investment? It's making a difference in the lives of those restored from addiction but even more, it's making a difference for the children, the community and all of us."


The event raised over $225,000 to begin the fundraising efforts. Lead gifts announced at the event were donated by Linda and Danny Linn ($25,000), Bible Fellowship Church Renewal Ranch Small Group ($25,000), and Ron
nie and Janice Mobley ($30,000).


In closing, Loy expressed his appreciation for the support that Renewal Ranch has received. "God's at work at Renewal Ranch. We can't do it alone. It's people like you that make this possible. We are so humbled and thankful for your support."


Road to Recovery Capital Campaign Committee members are: Johnny Adams – Chairman, Greg Addison, Alan Bettis, Don Bingham, Jerry Boyer, Bart Castleberry, Karin Foster, Eddie Glover, Doug Goodman, Dr. Spencer Gordy, Donna Gray, Roe Henderson, Dr. Gary Hollingsworth, Rick Kear, Mike Lefler, Darrel Levy, Kathy Linn, Linda Linn, Al Major, Stewart McConnell, Lori Case Melton, Ray Nabholz, Pat Ott, Paul Roberts, Ret. State Senator Stanley Russ, Kyle Seal, Margaret Smith, Robert Wells and Stefanie Vann.


Renewal Ranch Staff include James Loy, director, Josh Kear, assistant director, Larry Pillow, chaplain; and Brooks Walthall, community relations director.


Renewal Ranch Board members include: Larry Pillow, chairman, Jerry Boyer, Don Bingham, Bob Etters, Jayme Mayo, Ronnie Moore, Marsha Rawls, David Stobaugh and Louis Young.


Renewal Ranch is a 501(c) 3 non-profit organization. All gifts and donations are tax deductible. For more information or to make a pledge to this life changing ministry and the Road to Recover Capital Campaign visit therenewalranch.org or contact [email protected] or call 501.680.4895.