Jun 23, 2019

Furry friends: Summer care, dog park tips listed

Dr. Greg Hartman and the staff at Hartman Animal Hospital in West Conway are dedicated to providing quality care, treating all as if they were a member of the family.

"Our clinic welcomes an opportunity for a personal relationship with people and their pets and to offer high quality health care for all of our patients," Hartman said. "Our mission is to provide the best overall health and quality of life care that we can for pets and to treat each pet as our own and as a member of the family."

According to Hartman, the most common problems associated with summer and pet care are heat exhaustion, external parasites and allergies.

Pet owners are encouraged to be mindful of the hot summer weather. If the temperature outside is hot and uncomfortable for humans, it's probably not safe for pets. Humidity can also be a factor in dehydration and heatstroke. Please make sure your pet has plenty of water.

DOG PARK TIPS

Summertime may afford more time to take your pet to one of the dog parks located throughout Central Arkansas.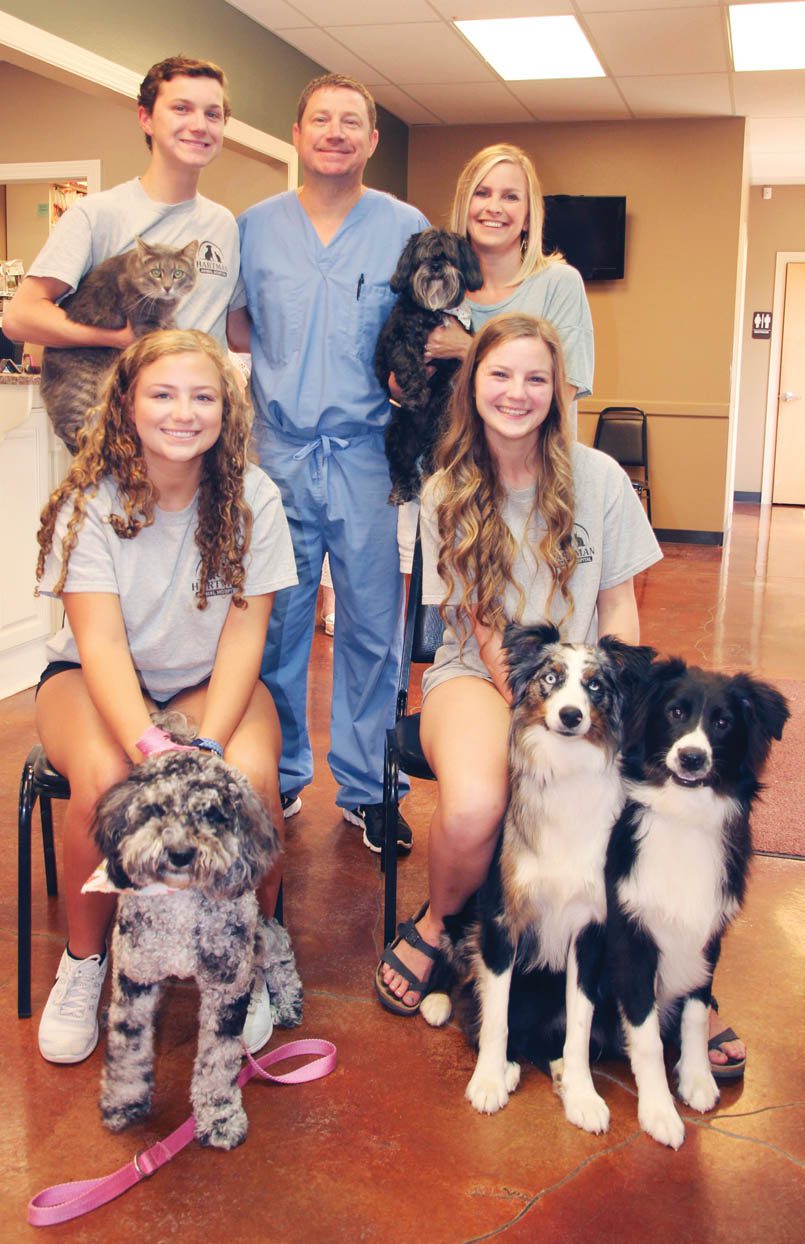 The local dog park is as common today as the local playground. Some people say that dogs are the new "kids," but it's important to remember that dogs are very different than your average preschoolers. If you take your dog to the dog park, follow these safety tips:
Before you go to the dog park with your dog, check it out by yourself. Have a look at the park's posted rules. Ask other dog owners about the vibe at the park — are the other dogs friendly? Are they mostly big or small dogs?
Make sure that your dog is socialized to other dogs. Some dogs are afraid of or aggressive toward other dogs. If you have an anti-social pup, consult a behaviorist or trainer to help you socialize him before you become a regular at the dog park.
When you first take your dog to the dog run, try to go during an off-peak hour. It can be very crowded after work or on weekends, and your dog may be intimidated by all of the activity. Have his first experience at the park be fun!
Make sure that your dog's vaccinations are up to date before taking him to the park.
Never take a female in heat to the park. Some parks have rules against intact males.
Remove your dog's leash as soon as you enter the park. Leash aggression is common when one dog is on a leash and the others aren't.
Keep a flat or rolled nylon or leather collar on your dog at all times. Remove a choke or prong collar if you use one.
If you bring toys to the dog park, prepare to share them with other dogs. If your dog is not good at sharing, leave his beloved toys at home.
If you bring treats, make sure they are secure in a pouch or pocket. Other dogs will hound you for a treat — ask their owners before you indulge them.
Recognize the difference between play and aggression. Some dogs play roughly and growl or bark. Many dogs like this level of play, and those that don't usually avoid the rambunctious player.
Recognize aggressive behavior — this includes raised hackles, bared teeth, and growling. If your dog is being aggressive, call him to you and remove him from the park for the day. If another owner's dog is the aggressor, let him or her know that you feel uncomfortable with the way their dog is behaving — but do it nicely!
If a fight breaks out, don't get in the middle of it! Throw something into the fray, like a coat, or turn a hose on the brawlers. If your dog is involved in the fight, remove him for the day. Do not grab your dog by the collar if he's in an aggressive mode; this will only fuel his hostility. If your dog is not involved in the fight, grab him before he can join in.
Dogs can team up on other dogs, so watch that a weaker dog doesn't wind up on the wrong end of a gang fight.
Watch your dog at all times. It's inappropriate to leave your dog in the run by himself, talk on your cell phone (to distraction) or read a book.
Don't bring young children to the dog park. If you do bring an older child, enforce a few rules: Don't approach a dog you don't know until you ask the owner if the dog likes kids; don't run around making loud noises as this can provoke the prey drive in some dogs; don't try to take a toy or food away from any dog; and always keep your shoes on.
With a few simple precautions, time at a dog park can be enjoyable.
Regardless of the time of the year, Hartman encourages new owners to contact their veterinarian for wellness exams and vaccine protocol, and to enroll in a new pet/puppy training course.
Hartman Animal Hospital opened in 2004 and offers services in companion animal medicine, surgery and boarding. There are 15 employees of the clinic, which primarily cares for cats and dogs. It is located at 385 Hogan Lane.
For more pet care tips, visit hartmananimalhospital.weebly.com. Additional information is available by calling 501.450.6444 or emailing [email protected]