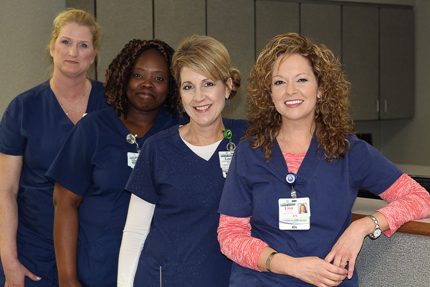 01 May

Four Conway Regional nurses among state's 100 top nurses

Four registered nurses with Conway Regional Health System have been selected for statewide Great 100 Nursing recognition.


An awards program honoring Great 100 Nurses from throughout Arkansas was recently held at the Embassy Suites in Little Rock. "The award recognizes you for your concern for humanity, your significant contribution to the profession of nursing and mentoring of others," stated PK Scheerle, RN, founder of the Great 100 Nurses Foundation, in a letter to recipients.


"These exceptional nurses not only represent Conway Regional each day by providing outstanding care for our patients and setting a great example for their co-workers, but they will also represent us among the state's very best in the nursing profession," said Angie Longing, RN, Conway Regional's chief nursing officer.
Conway Regional honorees are:


• Lori Reynolds of Greenbrier, BSN, RN, cancer program outreach coordinator and staff nurse for the short stay outpatient unit. She has worked at Conway Regional for 20 years, 17 of those in oncology. Of receiving the award, Reynolds said, "I can't describe it, overwhelming, honored, surprised!" She added, "I became a nurse because the Lord called me to become a nurse. I am an example that God equips the called. He does not necessarily call the equipped."


• Julie Sindle of Conway, BSN, RN, nurse manager for surgical services. "It is a tremendous honor to be acknowledged for doing what I love and am passionate about," said Sindle. "I've wanted to be a nurse since I was very young. I was always the one who took care of my siblings boo-boos. I started right out of UCA nursing school, so Conway Regional feels like home to me. There is always something new and exciting to learn." She has been a nurse at Conway Regional for eight years.


• Lisa Speer of Conway, BSN, RN, charge nurse in labor and delivery. She has worked at Conway Regional for more than 11 years, since graduating nursing school at UCA. "This is a huge honor to receive this award. We are blessed to have so many great nurses that we work alongside every day. I love being a nurse. I feel like it is truly a calling as I know it is for many of my fellow co-workers. Being a part of bringing a new life into the world is one of the most amazing and rewarding experiences. We want every family's experience to be the best that we can make it, whether it is a happy time or a sad time, the expected or the unexpected. I'm very proud of our work family and great care we provide to our patients and their families."


• Mercy Vaughn of Conway, BSN, RN, nursing manager for CCU, CVICU and OIU. "I must say I am humbled and honored and at the same time excited to know that I have made an impact on my co-workers for them to choose to nominate me for this award," said Vaughn. "I have always loved critical care nursing; Conway Regional has an amazing team of critical care nurses and doctors. I enjoy working here because everybody cares about patients. It's the dedication that the staff members have that keeps me going." Vaughn has been a nurse at Conway Regional for five years.


The Great 100 Nurses Celebration was founded in New Orleans 31 years ago and has since honored thousands of nurses in Louisiana, Oklahoma, North Carolina and Texas. This is the first year the recognition has been given in Arkansas.


For more information about Great 100 Nursing, visit g100nurses.org.