23 Jun 2019

Flying high: 'The bank with the big flag'
by Sonja J. Keith
By the looks of the big American flag at most of its locations, it is obvious that patriotism and service to others are among the values held by the Greenbrier-headquartered First Service Bank. In fact, the American flag has become iconic with the financial institution.
A majority family-owned and operated bank for 57 years, First Service employs 105 people at 11 locations around the state. There are locations in Greenbrier, Conway, Marshall, Mountain View, Dermott, Shirley, Yellville, Flippin, Clinton and Little Rock. The bank is planning a new West Little Rock location on Financial Centre Parkway that will also display a large U.S. flag that will be seen from Interstate 430 and 630.
First Service chief executive officer and president Tom Grumbles said the bank began displaying the American flag in Dermott in the early 1990s during Operation Desert Storm. "It started out in support of our country and military," he said.
In 1999, when the bank moved its charter to Greenbrier, First Service began flying the large flag. Tom recalled that when he was growing up a Coca-Cola plant in Monticello flew a large American flag "We wanted a bigger flag down there (in Dermott), but we just couldn't get it," he said, explaining that with the move to Faulkner County he included plans for a large flag to demonstrate patriotism. 
According to First Service Bank Marketing Officer Jon Patrom, the poles are 90 feet tall at the Greenbrier and Conway locations, and the flags measure 40 feet by 60 feet. In Flippin and Marshall, the flags are 30 feet by 50 feet. In Dermott and Shirley, there are logistical constraints that prevent the use of a large U.S. flag, but the bank has found different ways to incorporate the flag.
"People take pride in the flag," said Jon. "Across all lines, the flag just unites everybody; everyone joins together and wants to see the flag raised."
Tom points to his father's and uncle's military service in World War II for his sense of patriotism, which is also reflected in the culture at First Service.
"Patriotism is one of our core values," Tom said. "We are proud of our flag and the freedom it stands for. We display the American flag as an icon at each of our locations to symbolize our patriotism and to show respect for our active military and veterans who fight to protect our lives, our families, our home and our freedom. Freedom isn't free. They are willing to pay the ultimate price."
According to Tom, bank locations get positive feedback and thank-you messages via calls and emails from motorists who see the flags. Some are retired military who thank the bank for showing its support for the country. "People stop and take a picture of the flag," said Tom. "It evolved into a symbol of First Service Bank."
Likewise, if the flag has been removed, the bank also gets calls from the community. "We hear why is the flag not flying," Jon said. "It becomes part of the community and people expect it and anticipate it."
First Service hosted an all-day retreat with its officers last summer to identify the company's mission and values. "Patriotism came out of that meeting. It wasn't just me. Of course, we already had the flag going at that time."
In addition, when the First Service logo was re-designed, elements of the flag and patriotic colors of red, white and blue were incorporated. "We wanted to identify with the flag," Jon said. 
Bank associates wear logo attire with patriotic colors – red on Monday, white on Tuesday, blue on Wednesday. "You can spot, even down to our clothes, the patriotic colors coming through," Jon said.
"I think it's an extension of our patriotism and our values," Tom added. 
The bank has for several years also produced a calendar with a patriotic theme using photographs taken by First Service associates.
A lot of time and attention is given to proper flag etiquette and maintaining the bank's flags, according to Jon. He said there are at least two back-ups on hand at each location in the event of damage. The flags are also properly lit at night. In addition to a sunny day, Jon said he thinks the prettiest time to view the flag is in the evening with the lights brightly shining on it.
The bank website includes flag procedures and etiquette.
During bouts of winter weather or during storm season, the flags are lowered. The bank also follows presidential proclamations and federal holiday protocol when lowering the flags. "We try to post on our social media feed why we have flags lowered," Jon said. "It takes a small, little army to get them raised if there is any sort of wind in the air."
Tom said that he is not aware of any criticism the bank has received for flying the U.S. flag. "With all the division in our country, I think it helps remind people in our communities to think of the bigger picture," he said. "It's important to us and what we stand for."
"People call us the bank with the big flag," Jon said. "We want to stand by what the flag means."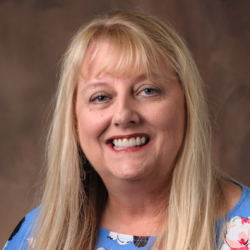 Latest posts by Sonja Keith
(see all)