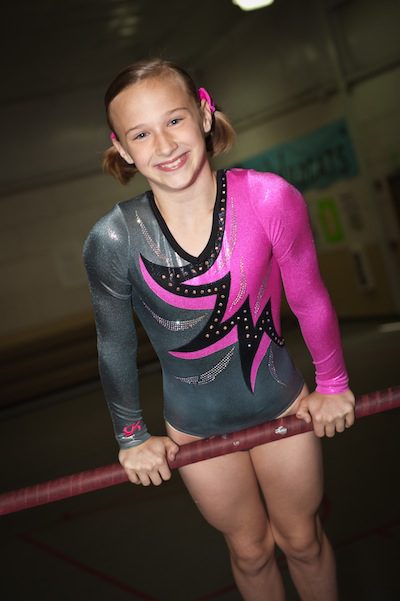 21 May 2011

Flip- tastic: Bryant gymnast taking talents to national level

by Donna Lampkin Stephens
Todd Owens photos

For several years, Deborah Shaw of Bryant has been one of the state's best gymnasts.

But now it's official. She's also one of the best in the country.

Ten-year-old Shaw is 4-foot-4 and 72-pounds of solid muscle. The fourth-grader at Collegeville Elementary School was selected to the Talent Opportunity Program national B-Team, qualifying her to train at the Women's National Team Training Center at Bela Karolyi's Ranch in Houston.
Karolyi became well known in the gymnastics world in the 1970s as the coach of Olympic champion Nadia Comanechi, who became the first gymnast to score a perfect 10 in Olympic competition. She won three gold medals in 1976 and retired having won nine medals overall.
According to a press release, USA Gymnastics, the national governing body of the sport, conducts an annual talent opportunity program to identify young gymnasts who excel. Regional testing took place last summer, with about 2,800 gymnasts participating. Of those, 250 gymnasts from across the country were invited to TOPs national testing at the National Team Training Center in Houston in October.
National testing included physical abilities tests such as pull ups, leg lifts, flexibility, sprints, rope climb, vertical jump, handstand hold and press handstands as well as required skills on vault, uneven bars, balance beam and floor exercise.
Of the 250 gymnasts at national testing, 55 among four age groups (8, 9, 10 and 11) were selected to the TOPs National A-Team, with about 60 named to the Tops National B-Team.
"This really is a gathering of the girls who will become America's elite female gymnasts," said Gary Warren, women's program director for USA Gymnastics. "The girls you see at National Camp will be showing up in the Olympics in 2016 and 2020."
Shaw, who trains 21 hours per week at River City Gymnastics in Little Rock, went to her first TOPs camp in December, where she spent about four days at Karolyi's gym.
"She learned so much," said her mother, Stephanie Shaw. "I could really tell a difference in her gymnastics when she got back. They are able to take a skill and break it down to its most minute detail and then fit those little pieces back together."
Shaw returned to Houston in April and may go again in July.
"This year they've decided that they want to have more contact with the top gymnasts so they can track them better," Stephanie said. "She did go to Houston in April and loved it. She and her coach said that she learned so much. She can't wait to try all the drills and new skills in her own gym."
Deborah said the highlight of her gymnastics year was her TOPs experience.
"They showed me lots of corrections," she said of the national coaches working with her. "They were nice; they weren't snotty and all. I tried to do those corrections, and they actually worked."
She said she hoped the coaches would be able to see her progress in April.
USA Gymnastics features 10 levels. Gymnasts advance to the next level only when they master the set of required skills. Stephanie said college gymnasts were at Level 10 or at the Elite level.
Two years ago, Shaw won the title for 8-year-old Level 6 at the United States Association of Gymnastics Arkansas State Meet. Last year, she won the state title for 9-year-old Level 7.
In March, she finished fourth in 8-11-year-old Level 8. She tied for first in uneven bars, her favorite event.
Starting with Level 8, the top three in each age group move on to Region III competition. But the next three highest all-around scores, regardless of age group (ranging up to age 18), also qualified, and Shaw's all-around score was good enough for her to compete at the Bart Conner Gymnastics Academy in Norman, Okla., in April.
"She was in a very tough age group this year," Stephanie said. "She did some of her best routines at regionals. I was very proud of her. But she felt like she let everybody down."
Conner, the 1984 Olympic champion, is married to Comaneci.
Stephanie Shaw said if Region III weren't the toughest, it's the second-toughest region in USA Gymnastics.
Shaw, a straight-A student, took her first gymnastics class at age 3. Despite the discipline and physical requirements of her sport — she works out four to five hours a day, five days a week — she's nowhere near burned out.
"I want to learn new things," Deborah said. "If I don't learn new things, I get tired of it."
Stephanie and her husband, Brad, asked their daughter recently if she still loved gymnastics.
"She said, 'Are you kidding me?'" Stephanie recalled. "Right now she loves it, and we're going to let her keep on as long as she does."
And although the Olympics are a long shot — gymnasts must be 16, so the first time she would be eligible would be the Games of 2020, when she would be 19, and only five gymnasts make the team — Stephanie is supporting her daughter's dream.
"It's not like the NFL where hundreds make it," she said. "There are only five. So I cannot see that happening. But what I do see happening is her getting a college scholarship and performing with a team and in a team atmosphere."
Although she has been a Georgia GymDog fan, based on one of her early role models, Chelsea Byrd, a former River City gymnast who earned a scholarship to UGA, Shaw's loyalties have shifted to the Arkansas Gym'Backs, who earned their best-ever finish (fourth place) in the Southeastern Conference Championship in March.
"But she's said, 'I'll go anywhere where they give me a scholarship,'" Stephanie said.
Shaw is coached at River City by Jamie Russenberger and Stanton Robinson.