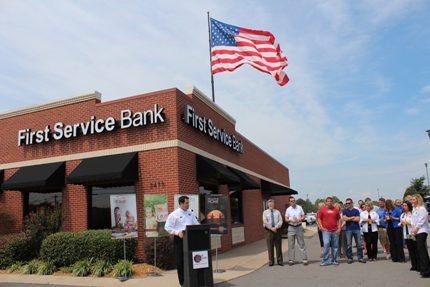 25 Jun 2012

First Service hosts grand opening at Conway

Posted at 4:17 PMh

in

News

First Service Bank recently hosted a grand opening celebration with a flag-raising and ribbon-cutting ceremony at their new location in Conway.


Located at 2475 Washington Ave., the Conway location is the bank's 10th branch and represents a new market for First Service.

"We are very excited about expanding First Service Bank's area of service to Conway, and we know this will be a very strong market for us," said Donny Bradley, Conway location president. "We look forward to working with the people of Conway as well as providing a convenient new location to our existing customers in the area."


The bank completely renovated an existing building in Conway.


Reflecting its new "dream big" advertising and marketing campaign, the Conway location is creatively engaging the community. The bank is loaning a First Service Bank lemonade stand to children in Conway allowing them the chance to run their first small business.


"This is a great way for us to engage our future customers and support them in their small business dreams," said Bradley. First Service Bank will donate one of the custom-built lemonade stands to the Boys and Girls Club of Faulkner County.


"Our team will continue the same service and offer the same quality banking products you will find at any of our locations, and we thank all of the residents of Conway for welcoming us so warmly," Bradley said.


First Service Bank has been in operation for 50 years and has locations in Greenbrier, Clinton, Shirley, Marshall, Yellville, Flippin, Mountain View and Dermott, with its headquarters in Faulkner County.