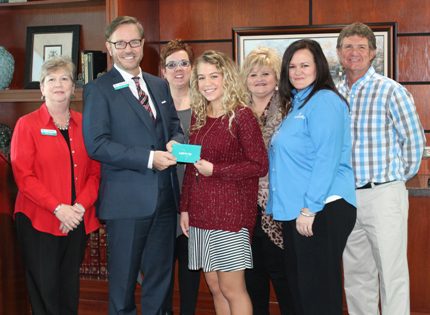 18 Mar 2016

First Security recognizes Conway High student

Posted at 1:49 PMh

in

News

First Security Bank in Conway recently recognized Conway High School student Tara Bates as its Capstone winner.


Tara Bates, a daughter of James and Nicole Bates of Conway, is a member of the National Honor Society, Key Club, FBLA and Faulkner County Youth Leadership Institute.


Capstone is a semester class designed to prepare high school seniors for life after graduation – whatever their chosen path (military service, college, tech training or immediately entering the work force).


The program had a modest start 10 years ago and has now grown to seven classes, two instructors and approximately 200 students. Teachers are Coach Johnny Kennedy and Coach Noel Boucher.


First Security Bank has been involved the past four years and this year was responsible for the entire career preparation portion of the class. It involved six employees from the bank making a presentation on the interview process, covering everything from resumes, job applications interview tips and what to do once offered a job. Building a strong work ethic was also included. The bankers conducted more than 200 interviews, selected Tara as the top student. She won a VISA gift card.